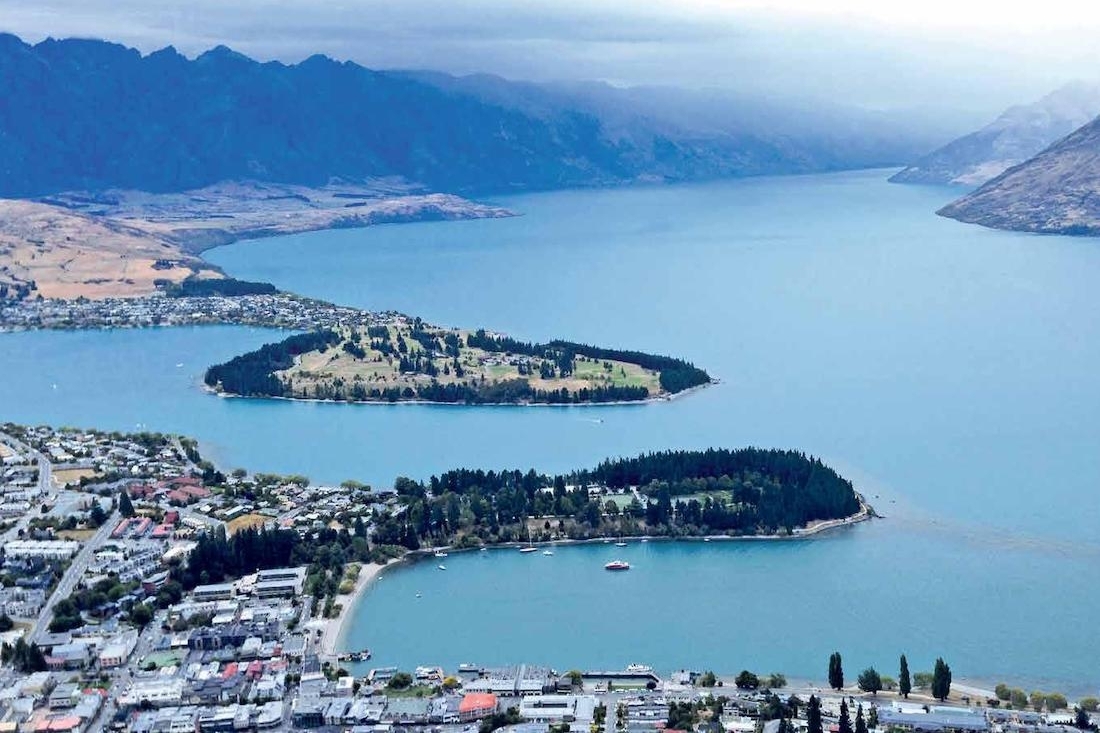 View of Auckland city from the Sky Tower.
Road Trippin' Across New Zealand
The Danish author Hans Christian Anderson once said to travel is to live. Our lives maybe on pause at the moment and the very idea of travel a far away dream, this simply does not mean that we can't reminisce old memories to channel some adventure during these turbulent times. Take a mental break with Tanvi and Harsh Kataruka as they travel through New Zealand and take in the scenic view to the fullest:

We often dream of places we don't end up visiting, make a bucket list that doesn't really kick-off, or plan holidays that don't really materialize. Soon it becomes a sad collection of all the amazing things we never end up doing. I too, was guilty of this when I first made my bucket-list in January 2013. Initially, it was very exciting to imagine doing the craziest of things and drawing up a list, but soon I realized that it would require a whole lot of determination to complete it. Halfway through the year I almost lost hope, until my husband took up the task to help me complete my list. So, we decided to do a road trip across New Zealand! The only place where we could live like nomads away from the hustle and bustle of city life, soak in nature at its best, jump off a bridge, cliff or plane, guzzle freshly brewed spirits amidst friendly kiwis, romance under the starry sky, and just go wild clicking pictures of every inch of the country. That pretty much sums up most of the things on my bucket list. So, it couldn't have been more perfect.
Since both of us like to plan in advance, we planned our trip to the tee. Booked our accommodation, rentals, activities, spoke to people who've been there or live there, read up blogs and reviews, looked through other people's itineraries, then chalked out our route, our days and even a few nights. We landed in Auckland—City of Sails after a 16-hour journey and checked into our accommodation at the Skycity Hotel, and headed towards our first adventure—Waiheke Island. Although, we set off without many expectations, we didn't realize where one hour sailed by as we watched the sky tower at a distance, the sailing boats cruising along, the seagulls flying by scavenging for food and just the breeze ruffling our hair. Waiheke Island seemed tiny before we departed, but on reaching we realized we wouldn't be able to cover much in just a few hours. So, we just went where the road took us and didn't bother ourselves much with planning. We hopped on the free shuttle provided by the ferry to the main street, and then scavenged for food ourselves. I had possibly the best calamari I have had in a beautiful café called Ricky's Cafe & Bar, overseeing the pleasantly blue Hauraki Gulf with free music in the background from a local street musi- cian. After feeling satiated, we made our way to the nearest vineyard, Cable Bay, and plonked ourselves on the plush green grass with a glass of their crystal clear Chardonnay. Even though I had no intentions of moving away from the beautiful view of the island overlooking the vineyard, we had to catch the last ferry back if I wanted to try my hand at gambling that night. We entered the Skycity Casino all geared up to make a small buck, but we had no luck at all. What happened to all that beginner's luck I was supposed to have? But, at least it was one thing struck off my bucket list. Drained and drowsy, we retired for the night, hoping that the next day would be as good and exciting as our first.
Our next escapade was Rotorua, but before that we planned a quick halt at Hobbiton in Matamata to explore the mystical set of the Shire from the Lord of the Rings and the Hobbit series. Although the tour started off on a rainy gloomy note, it made the shire look more picturesque. And since every single thing there was either made of plastic, wood or imported from somewhere, there was no chance of the rains destroying any of the 'natural' beauty. So, after a quick bite and a big mug of apple cider at The Green Dragon Inn, we set-off on our onward journey. We reached Rotorua and hit the Polynesian Spa, known for its thermal pools with sulphur water, for a refreshing bath. I do wish they had pre-warned us that you feel really dehydrated after a while in the water. We rushed out of the pool after half an hour of relaxation to a store which had the most amazing and exotic bath products. That provided us with the perfect souvenir gifts for everyone back home. The spa, followed by a good draught beer and an appetizing portion of potato wedges, made the perfect end to a tranquil day. Next morning, after a quick tumble down the hill in a water- filled orb (Zorbing as it is famously known), we were enroute to the distinctive and delusional Waitomo Glowworm Caves. A mind-bogglingly beautiful experience, it was just like sailing across a starry sky on a chilly night. We reached our next destination, Taupo around early evening, and I couldn't contain my excitement when we saw our accommodation. A quaint little outhouse turned into a boutique BnB made extra special by the affable hosts and their tiny personal vineyard within the property. So, instead of eating out the next day, we decided to stir up some pasta ourselves as we enjoyed a quiet evening sipping some vino, exploring the vineyard and just staring at the starlit sky. I was falling in love with North Island, and its art, culture and wilderness. I felt like renting out the BnB for the rest of my life. But life has to go on, plus going down south only means more fun, more adventure and lots more madness. And that's exactly how one would describe the bustling city of Queenstown.

Be it dancing on a bar top at Buffalo Bar, eating the best ever burger at Fergburger after an hour of waiting, drinking LIIT from a teapot at The Find, jumping off a plane from 12,000 feet up in the sky or just borrowing a Google glass from an absolute stranger and using it; this city truly brings out the wild-side in you. Also, it was the perfect place to celebrate Valentine's Day, where we decided to take a leap in our relationship by jumping from the Kawarau Bridge together. It just got more 'perfect' when our wallet, which had all our money and both our driving licenses, went missing mysteriously. That was definitely the last thing we needed while on a road trip in a foreign country. Even after the berserk events of the day, my husband was sweet enough to surprise me with a dip at the Onsen Hot Pools overlooking the Shotover River, beautifully lit up with candles, with a basket of sparkling wine and grapes to go. This was definitely the perfect way to end an eventful day.
Described by Rudyard Kipling as the 'eighth wonder of the world' and by me as 'the most enchanting wonder of the world', Milford Sound was a place I would not have liked to miss. Carved by glaciers during the ice ages, this sight is breathtaking in any weather. Cruising through the fiords so high, with the cold breeze flying through my hair, drinking mugs of coffee to keep warm, watching a baby seal take its first dive in the water, and just enjoying being under the waterfall with my hands stretched out; the 5-hour drive to Milford Sound through the lush greens and the zigzag boule- vards all seemed worth the effort. Now, after experiencing the best of both worlds we could certainly say, Queenstown was truly a 'remarkable' place. With evergreen, ever-beautiful memories packed in our minds we made our way to Mt. Cook, another much awaited destination. The drive to Mt. Cook through Arthur's Pass was as mesmerizing as the place itself, with blue lakes shimmering under the bright sun on our right, the emerald green valley on the left and the mighty 3,754 meter high snow-capped mountain staring at us through our windscreen. We kept driving along with our eyes stuck on the majestic beauty, until we reached a slick little cafe, The Old Mountaineer's Cafe, where our hunt for the best pizza ended for this trip. After a disappointing start the next day, as our scenic flight over the glaciers got canceled due to bad weather, we left for our next destination, Christchurch.
I believe that all things happen for a good reason; had we hopped on the flight to see the glaciers we would have missed out on what I would say was the 'star location' of our trip. Claiming to have the best coffee between earth and sky, Astro Cafe at Mount John Observatory overlooking Lake Tekapo was the paramount of all experiences. The place gained its popularity through its notorious Scottish Shepherd's sheep-stealing tale, worked out for the best for us as we did a bundle of cheap merino wool shopping here. After a good fill of the best that Lake Tekapo had to offer, wondrous view, woolen clothes, and warm coffee, we were on our way to Christchurch. The earthquake trodden city, now boxed up in shipping containers, was a cool and innovative way of making the best of what one has. As colourful and funky as it looks, no one could guess that this place had once gone through a black and white phase; unless they look at the Christchurch Cathedral right in the middle of the town, which looks completely trampled upon.
Making our way towards the last destination of our trip, Blenheim, I realized two things—that I hadn't taken a single picture of a sheep, nor had a strawberry. So my agenda for the last few days was to gaze at the sheep, eat strawberries, drink wine, and be merry. With a warm welcome from one of the sunniest towns of New Zealand, and our hosts who rented us the shepherd's cottage in their farm; we felt truly in tune with nature. The cottage was cozy, self-sufficient and packed with organic goodies from the farm like homemade honey, lime, strawberry marmalade, free range eggs and lots more. So, after a good fruitful breakfast we set-off to explore the fruits of the vineyard's labour.

Since Marlborough is New Zealand's largest wine growing region with over 40 cellars, we were left totally confused about which vineyards to reconnoiter. Based on our hosts suggestions, we started with the Wither Hills Vineyard, an ideal place to unwind with the Wither Hills range in the backdrop and a glass of zesty sauvignon blanc in hand. After a taste of the fruits of the region, there was no looking back, we managed to cover seven vineyards in a matter of a day. The icing on the cake was our visit to a boutique chocolate factory, where we didn't expect to have the most delightful and crunchy chocolate squares. It was a tease, watching the chefs make chocolates through the glass window. It was our last day in this gorgeously luscious country, and what better way to end it than by visiting a strawberry farm and plucking some yourself? It was a definite treat for the eyes and taste buds. So, we packed a huge box of those juicy strawberries, along with some fruitful memories, 3000 kilometers worth of photographs and exotic bottles of bubbly in our bags and drove to the airport.

This travelogue was initially published in our July 2014 issue and is a part of our extensive archive.

Text Tanvi Kataruka
Photography Harsh Kataruka