---

Munem Wasif
Munem Wasif's first solo show, Jomin o Joban, seeks to depict the underlining politics that often governs geographical territories

How to Travel Light
Editor-turned-author Shreevatsa Nevatia on the complicated relationship a writer shares with his bipolarity
---
---
---
---
'I don't think I'm going to be at all famous, I don't think I could handle it. I would probably go mad.'
Amy Winehouse, Singer-Songwriter
---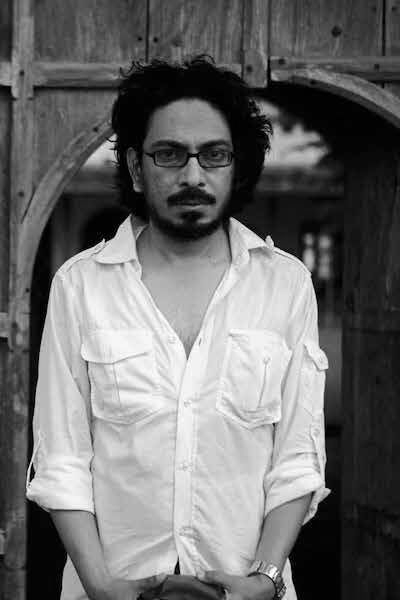 Short Take
Pablo Batholomew, Photographer

First memory of photography?
Age five - watching my father develop contact prints by gaslight on our summer holidays in the hills.

The one incident that has most influenced you?
Being expelled from school.

The living person you would most like to photograph?
The Dalai Lama.

If the world were ending in 10 minutes time what would you do?
Have a Charminar!

The one artist from any genre who you can't stop admiring?
Satyajit Ray.
---
---
pg. 19

Cover Story

Rajkumar Rao and his acting journey.

pg. 25

Listed

Eight films. Eight Narratives.

pg. 43

Forecast

Four filmmakers that have both written and directed their screenplays.

pg. 62

Design

Designers decoded: Johnny Ganta,The Brinery, Parth Sharma.

pg. 68

Music

From the underbelly of the city to the world of rap: Divine's journey.

pg. 76

Photography

Kanza Fatima's emotional journey through the month of Muharram.

pg. 81

Inform

Aliya Rashid and her brainchild Wonderflip.

pg. 87

Style

THE TRIP. Lensed by photographer PAT.

pg. 130

3 Minutes

We ask Dayanita Singh some offbeat questions.

pg. 120

Life's Realities

Inside Vaishali Sinha's film, ASK THE SEXPERT.

pg. 132

Centrestage

Jai Wolf on his music, collaborations and upcoming EP.

pg. 149

EAT.LIVE.DRINK

A look at these Micro restaurants that are taking over the world.
---
Newsletter
Let the platform newsletter keep you up-to-date with all things art, fashion, lifestyle, design, film and music