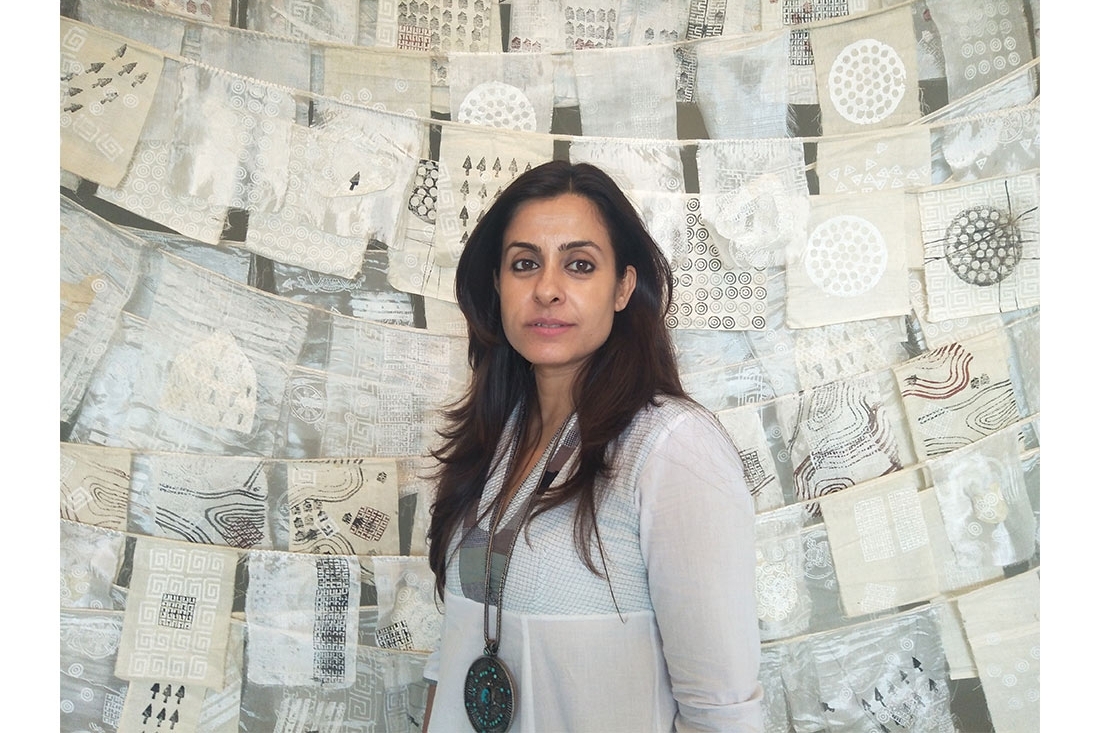 A Place To Which We Belong
Shalina S Vichitra
As I walk into Gallery Art Motif, I am greeted by Shalina's warm smile. Having familiarised myself with her previous works and where she gets the fodder for inspiration, I enter the gallery surrounded by works from her latest show A Place to which we belong. Shalina's work draws metaphors from geographical spaces, as she eloquently brings these spaces and the stories that reside within them, to life. She engages in constructing deconstructing, positioning – dis-positioning… locating – dislocating, peeling layers and evolving the thoughts and associations with these places, giving rise to an experiential space.
Such is the experience of A place to which we belong, where each artwork and installation while expressing her ideas, builds upon excruciatingly powerful metaphors which transform this tangible art show into an immensely palpable one.
'I have been travelling to Ladakh for about twenty years now, not that all my work is about Ladakh but I get a lot of visual stimulation there in terms of architecture and landscape. What a lot of people do is take it as a representation of a landscape or a place but it is something that is more than just that, it is something that born out of experience. It has nothing to with a particular place in general. I just happen to go there. Any place can stimulate you. Sometimes you haven't even been to a place but the notion of going to that place can stimulate you.'

Her current show enlivens her exact words by exploring far larger ideas than just geography. It employs dualism to address emerging consumerism alongside the threats faced by indigenous communities, resulting from the former. It portrays cultural disintegration and the plight of communities who undergo it. It raises questions as to whether outside intervention into a space inhabited by an age old local community, is actually a boon or a curse. Finally, it urges one to pay homage to Earth through gratitude and to conserve it, amidst all the damage that has already been done. As Shalina takes me through the exhibition, dismantling the story behind each work, it baffles me, the extent to which she uses depth and intelligibility in bringing concepts to life. The works exhibited play with cartographic elements as the background while Shalina infuses her own symbols to convey her ideas, but what draws her so immensely to imbibe cartography in her work? 'I think it is the sense of space that I keep trying to relive and I think using those cartography elements make it closer to the kind of place I am trying to imagine. It is kind of a rendering tool for me, like the story is there but you always need some kind of a rendering tool so those elements keep coming into my work.' Amidst the cartography and abstraction, lie layers of emotiveness. For instance, in one of her works, Chagpori Hill, which shows a TV tower in front of a hill shaped like the medical centre which used to be atop it, she depicts the story of how the Chinese on invading Tibet dismantled the very medical centre uptop the hill across from Potala Palace, which was the only place where the locals could propagate the science of Tibetan medicine, thus aiding in their slow cultural disintegration, 'Although I myself haven't been to Tibet but I have heard stories from friends, from people who have been there. When till today I talk to some Tibetan refugees, they are teary eyed. The chinese cannot destroy the Potala Palace, that would be too blatant so they want to destroy the key items/places which bind the Tibetans together. Earlier there was a stupa in between which would connect the hill and the palace, so the Chinese have broken down that Stupa as well and built a red light there. So the local people have connected the hill and the palace with white prayer flags so it's a very interesting idea as to how they are connecting their beliefs again.' Shalina explores a similar idea in one of her installations, A thousand white flags.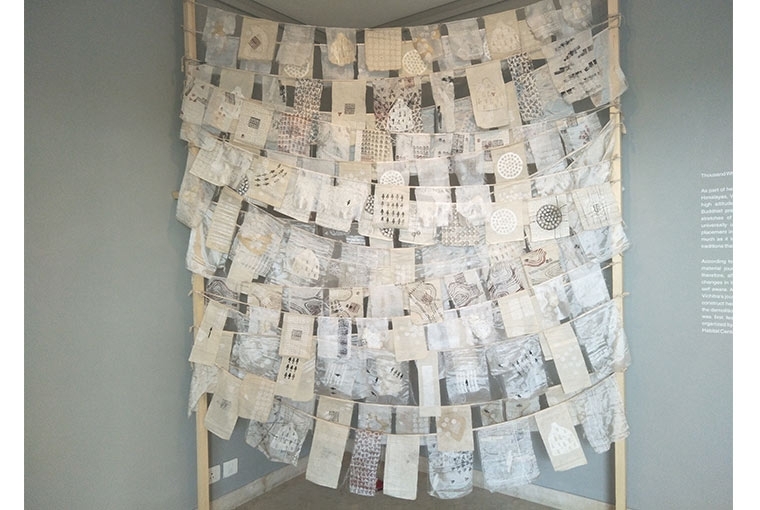 Her creative process always begins with the idea that she wants to communicate, however the image that she has in mind constantly evolves and changes as she hits the canvas, more often than not, her work is telling as to what visual representation works and what doesn't. Although the show truly immerses the viewer, what led Shalina to develop such an eloquent style of abstraction? 'To be very honest, it is a journey. You are kind of working and evolving. The issues and concerns are always on similar lines but each time there is a new experience, each time there is a new thought. The overlying thoughts have been similar since I have been working. Also it is not a very conscious and deliberate effort. When I look back ten years,there are some works that I look at and think this what concerned me back then and it is coming back to me now. Sometimes even your work tells you about yourself and you know these are the things that keep coming back to you. It is not conscious and deliberate-it is very subconscious and you realise later when you kind of filter through all that you have done. For me everything is an outcome of a personal experience. Your experiences may be small but when you kind of start thinking about it that's what leads to a larger issue, so at every point I feel that people who are concerned with larger issues have always gone through something smaller and something personal'.

A Place to which we Belong is on till the 30th of April, 2018 at Gallery Art Motif, Delhi.

Text Supriya Jain