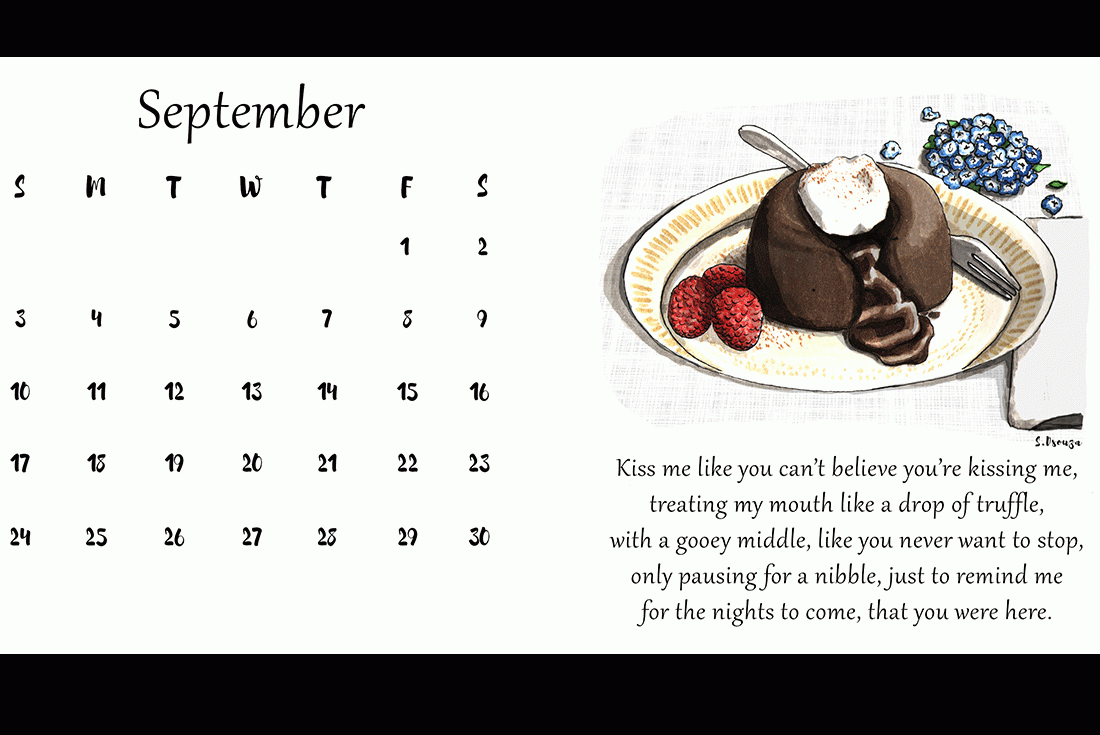 A Poem for Each Day
#ayearoflove
You will never see Aastha Atray without an infectious smile. Her art shines through it, through her prose, her poetry, her songs and her memes that talk to almost everyone deep inside. India's second Mills & Boon writer, she is now making mediums come together with her new poetry calendar, #ayearoflove, which has heart-warming illustrations by Shawn D'souza in addition to Aastha's prose-poetry inspired from slice-of-life feelings and experiences of intimacy and love. And just as the rest of our lives or turning a new leaf can happen anytime, the calendar starts September, marking change that breaks convention.
'I write poetry and micro-fiction on Instagram. In the last few months, I have managed to get a steady following that reads everything and interacts with me, and a lot of them say I know exactly what people are going through—most of it is about heartbreak! I have become the local heartbreak girl. I have realised, when in love, most people feel the same, and all they want to know is that someone else also feels the same. For me, love is all about turning every heartbreak into art. All that pain and strife can be channeled into art—in my case, these words that connect me to all these people around the world. So I decided to make a calendar called #ayearoflove, which starts with prose that deals with one falling in love, to falling out of it, to healing and being ready for love again. It makes you feel that one can always come full circle, and even if you loved and lost, you can love again,' says the author and culture journalist.
The lines are simple yet relatable; everyday expressions that oft go unarticulated. Each page tries to make you smile or go back to a sweet memory. And the illustrations alongside are visual poetry as soulful. 'Love is truly one of the best and most complex feelings I have ever felt. Reading these verses transported me right back there. Working on #ayearoflove was great, it was like a walk down memory lane. Every emotion right at the surface. The illustrations for #oneyearinlove are based on these experiences of mine. When Aastha connected with me, reading these poems threw up all these images in my head. I felt just like I did when I was going through each of these emotions. I love being in love. The good and bad—I think love is one of the best drugs and one of the best motivations in life! You become a better person—kinder, loving, empathetic and not just towards that one person but to the world at large. This calendar was therapeutic in a way. So while it brought up these memories in a sweet way, it helped me put them to rest. There's always the hope of love again,' says Shawn, who is an illustrator and textile designer based in Mumbai.
Apart from the anomaly of marking mid-year beginnings for many of us, the calendar is created in such a way that you can match the prose of your choice and mood to the month you want. Talk about creating your tailormade date!

Follow or write to @aasthaatray and @dsouza_ee on Instagram to get #ayearoflove or see more art.


Text Platform Desk