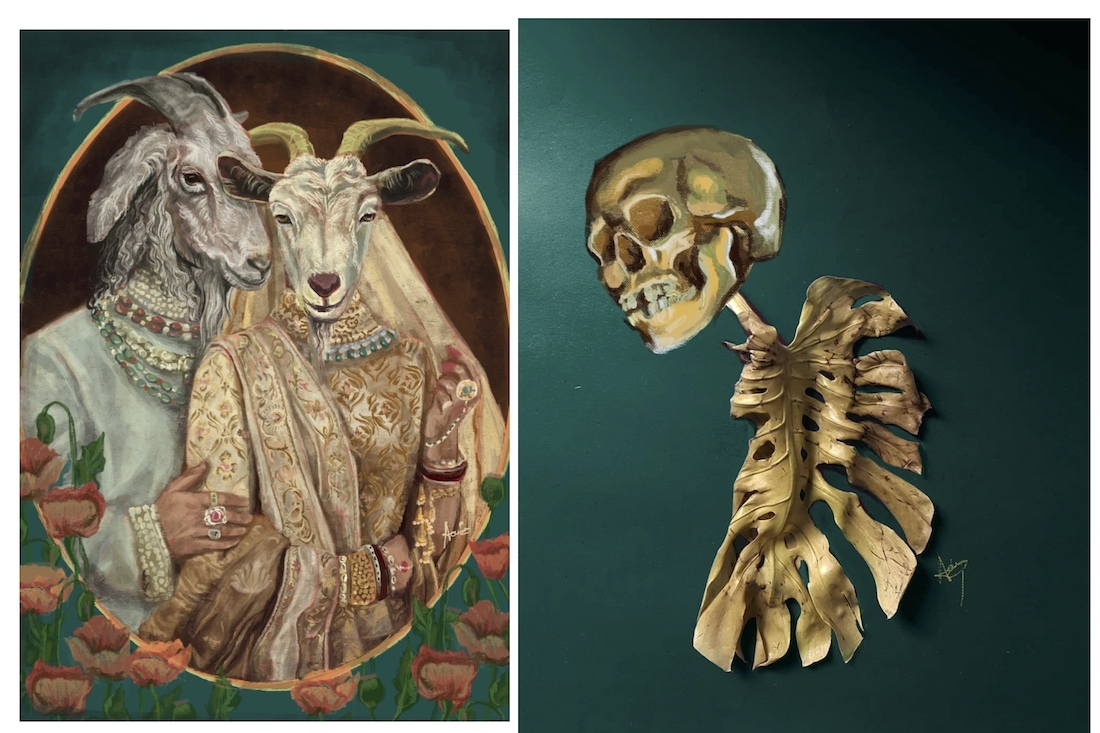 Rawalpindi based visual artist and illustrator, Aamina Hashmi's practice is multidisciplinary. To box her into one category would be gravely unfair to the kind of work she does. One scroll through her Instagram feed clearly showcases that the carefully curated content stands for a lot more than what meets the eye. It's easy to gauge her earnestness for nature and natural imagery. The plants used in her botanical sculptures and illustrations speak for themselves, with an urgency that draws one more and more towards them.
Aamina's journey with the visual arts and design started the moment she began pursuing her formal education in the field. A degree in fashion design didn't challenge her creativity, rather only limited her since the focus was mainly on deadlines and the tedious process of juries. She adds, 'However, after I was done with it, I started to seriously invest time and energy into my creative side.'
Aamina had never been specifically drawn towards plants, but was always fascinated by nature as a whole. Gardening entered her life as a means of working on her mental health and as she started progressing in that department, her love for plants and the need to take care of them and nurture them grew inadvertently. She explains, 'I'm always intrigued by the way you can arrange and create different structures from plants. It all came from pure observation during my daily gardening. I also collected flowers I personally took care of from each season, and preserved their petals to use them later in my work. This led me to represent different biomes using these materials that I had collected over time. I think it allowed me to honour the seasons, and the biomes I represented with these.'
With the kind of eclectic work that she does, her process isn't run-of-the-mill. She relies heavily on observation and research. Her entire process is holistic, it isn't just about using her plants as props, she attempts to manifest all biological processes at play in nature in her work. She elucidates, 'A lot of my series are inspired by not only plants, but things around them, like insects, birds, decay, and life. It's all connected and I end up creating pieces that come from that connection.'
Currently bewitched by the detailed and almost mechanical structures of arthropods, she plans to incorporate them in her work. She tells me, 'I'm working with them to give some structure to the free-flowing visuals of plants. My series Beautiful Head is a tribute to them.' Aamina's practice further works around multiple materials. Working with varied mediums doesn't restrict her, a factor which has also become a defining factor of contemporary times. Free of boundaries, every artist's alchemy reaches newer heights.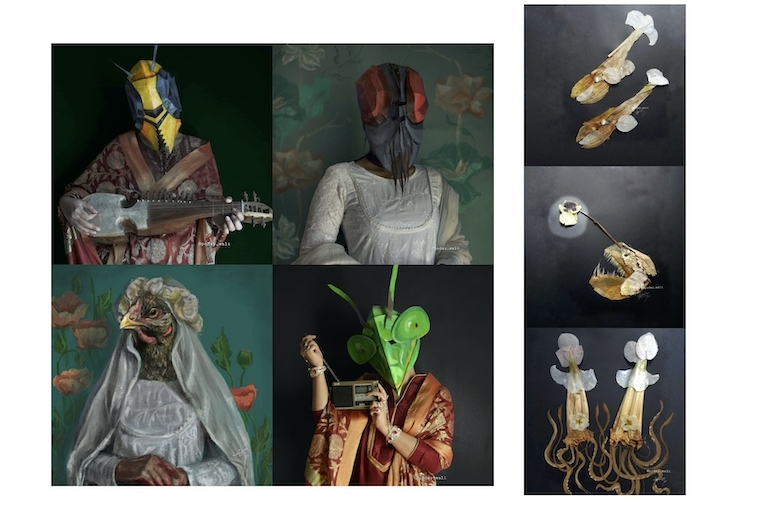 L: Beautiful Head ; R: Leaf Sculptures
She adds, 'I think there's something to be gained by being invested in multiple art-forms, as you might find something you like more than what you were previously invested in. It also helps when you can combine multiple mediums to create something even better and unique in the end. Being involved in multiple mediums also helps with art blocks, as you can always fall back on a different style or art-form. This keeps your creative side active, and you can keep creating new pieces.'
The near future includes lots of action for Aamina, she wishes to continue working on her ongoing series through her Instagram account, Poday Wali. Other than that, she's expanding and creating a more interactive space by including more educational posts and tutorials related to gardening. One of her goals for the year involves being able to exhibit her work, once the situation becomes better. As a freelancer who works mostly from home, the lockdown didn't restrict her creativity. She managed to work on a series called Desperate Gardener during it.
Text Unnati Saini
R: Her water propagation station