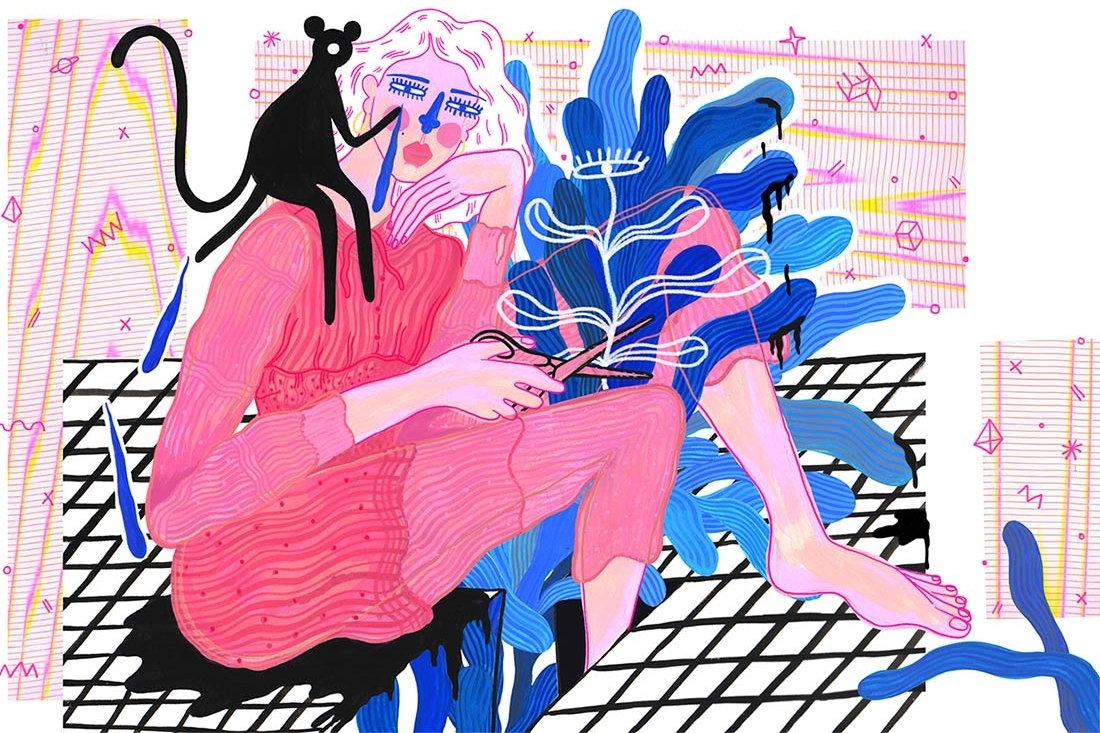 Aditi Damle
#Sayhellotomybrain
Aditi Damle's art is quirky, weird and playful. It is a riot of colour that embodies a maximalist yet an eerily emotive vibe. Undertones of surrealism and darkness very inconspicuously reveal themselves from underneath her fluorescent colour palate. The choice of these colours as well as her purposely drawn jagged lines add the playfulness to her illustrations. Part Illustrator, part paper mache artist and part sculptor, she documents her work under the hashtag #sayhellotomybrain on Instagram, which lets us in on the workings of her discreet mind. Uniting her three trades is her style of expression reminiscent of a child's vigour yet immaculately profound.

Where do you draw inspiration from?
I think in the world that we live in today, we are constantly bombarded by information and visual queues from social media and the internet. As a fresh resident of Brooklyn, it has been a whole new world of things being thrown at me in all different directions. While I do invest time to absorb all these things, I tend to look inward for inspiration for my work. I would describe my work as being self reflective, asking questions about my identity, my existential dread and putting forth this imaginary world I have created inside my head. This is where the idea of "#sayhellotomybrain" came from. I came up with the name in undergrad and it still sticks and can be contextualised with everything I do. If I had to think of more tangible things that inspire me it would be my granny's garden that I grew up in back in Pune, my golden retriever Lola & words from songs and books Im into which include Gaga, Lana Del Rey, Patti Smith, Flannery O'Connor, Murakami, Patti Smith to name a few.

Does your work connect to your personal life in any way?
It most certainly does. I think of it literally as tiny parts of me in different forms detached from my physical body.

I see hashtags of anxiety in your illustrations as I scroll through Instagram. Is art a cathartic process for you? And do your emotions find their way into your artistic expression?
I guess this is where it makes sense for me to identify most as artist instead of titles like illustrator or designer because most of the work I make is based on how I am feeling and finding ways to abstract that. Drawing has always been a release and the best way I know to get through difficult things in life, like the severe anxiety which I suffer from.

I am fascinated by themes of melancholy, boredom, depression, loss and anger and my work might look happy, shiny and playful on the surface, just like me, but I feel like there is more to it if you observe closely.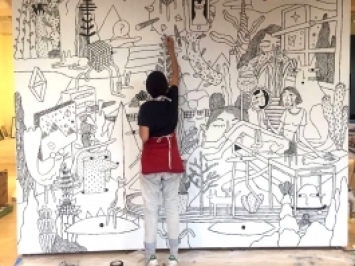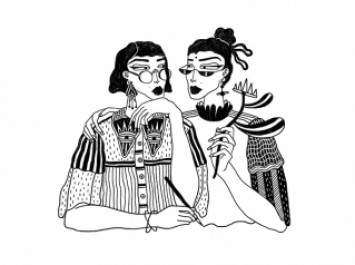 How did you find your own personal style of work?
If you were to take away anything from my work it would be that "Process & Experimentation" is key. I strongly feel that with each new piece I create, my work is evolving and turning into something new and that thought for me is really exciting. This has come from my thinking that everything I make is unfinished and has the potential to be better "next time". Most times I don't know what the final image is going to look like and either it is a pleasant surprise or a complete disaster but I learn from that and the next thing I make will always have the soul of everything I made before. I don't like the idea of having a "style" and the hope is to keep transforming and never being "the same".

How did you get into sculpture,ceramics, paper mache dolls and making GIFs?
I went to grad school at MICA (2015-2017) in Baltimore,Maryland and the program allowed me to experiment with various different materials other than traditional techniques of drawing and using the computer. This truly informs the work I am doing now. I am really intrigued by how something that I might have thought of in two dimension turns into something that looks and feels very different in three dimension. The process of interacting with different mediums like clay and paper is meditative and therapeutic for me. It's almost as if I am in conversation with this inanimate thing and I am willing it to turn into something else. Like magic.
When it comes to making gifs, again, it was a way of giving a different form to a flat drawing and I just wanted to have fun!

What was the inspiration for your sculpture The alternation between affection and moodiness? What was the creative process?
The reason I made that particular sculpture was to try something new. It was also the beginning of my process of exploring paper mache as a medium. I had never worked in paper mache before and it was just something I was interested in trying out.
The inspiration and meaning behind it actually stemmed from my relationship with my boyfriend at the time - It was very volatile and so through the bright colors I was trying to express my feelings of deep affection vs the giant tear expressing my sadness because of highly erratic moods and fluctuating emotions.
What materials and mediums do you like working with the most?
I think I go through phases of working in one particular medium at any given point of time. I don't think I have a favorite because I love trying new things and I think I will always look towards doing something different in the next project. For example I want to try making giant sized ceramic sculptures or designing art zines with poetry I wrote or paintings in acrylic gouache that i have been dying to make.

How have the years at Maryland Institute College of Art made you evolve as an artist?
When I started grad school, my background was in Graphic Design and I honestly believed that I didn't know how to draw. It was a big insecurity and the way I got through it was doing it ALL the time. I believe in putting those 10,000 hours into whatever you do and school definitely turned me into the hard worker I never knew I was.
I was also exposed to a community of brilliant, creative, weird-as-hell minds and being able to bounce ideas off of them and surrounding myself with this community affected how I was thinking and what I was pursuing and I will always be very thankful for that.

Any illustrators/artists you look up to?
My entire MICA Illustration Practice cohort that you can find on http://www.micaillustrationpractice.com/students/
The rest is a secret.

What's next from here?
I think I have finally, after years of struggling, found my purpose in life which is to create beautiful things filled with emotion and to be able to share them with the world. I want to make really large murals, have a solo show someday and perhaps have a shop where I can sell all the things I make. I hope to continue on this path of discovery and find true freedom for my insides and hopefully make some money on the side. O.K. that's a lie I want to make lots of money.


Text Supriya Jain