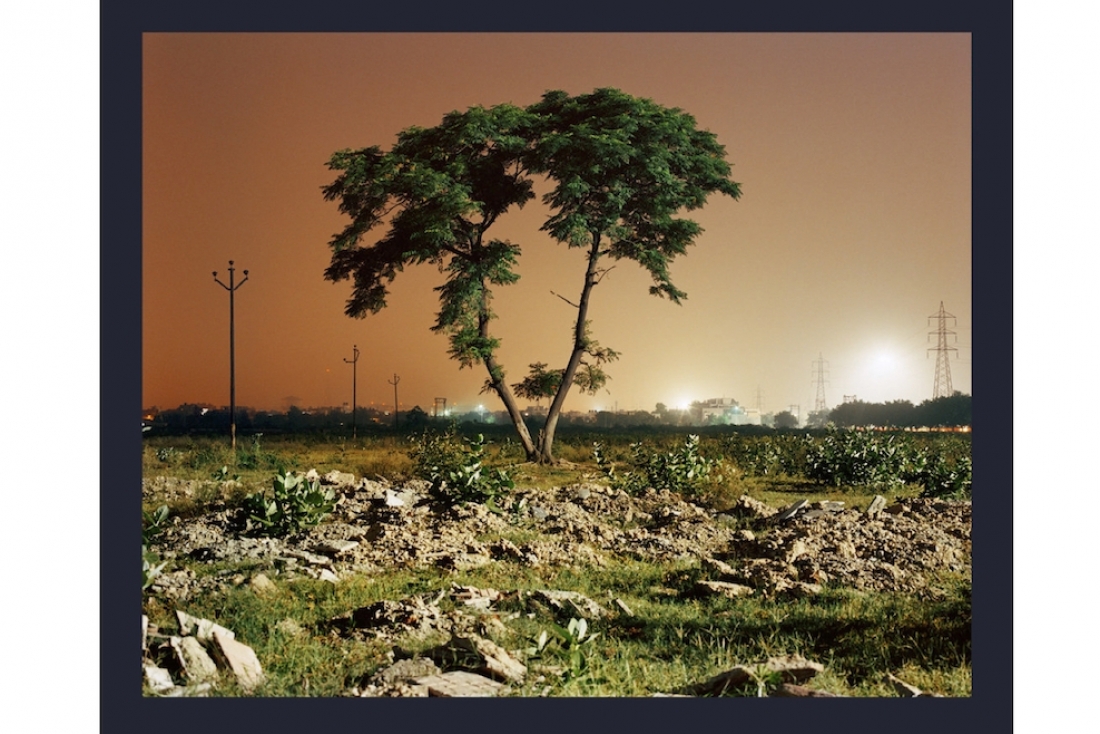 AFTER DARK TRILOGY: Noida Soliloquy, Sleepers & After Party (2007-2015)
Dhruv Malhotra
Artist Statement:
The night holds a powerful appeal for me—the silence, the palpable sense of time and the unknown draws me to photograph. The sense of disquiet and having to be constantly aware enables making photographs that otherwise would go unnoticed. Rather than photograph the night as a mysterious world, I prefer to make visible what is ordinarily dark and hidden. I achieve this by exposing colour negative film for long periods, sometimes for several hours.

I lived in Noida from 2007 till 2010 and photographed this aggressively developing semi-urban satellite of Delhi. Noida has been subjected to haphazard development for more than a few decades. I was drawn to desolate spaces lying on the edges of urbanity, inhabiting a borderland of sorts, null spaces that are almost invisible. While photographing, I would find people sleeping out in the open and the human figure in this built/un-built landscape suggested a greater complexity in the way public spaces are used. Sometimes, I chanced upon sites that had transformed to host temporary events and it was this chameleon aspect that appealed to me.

For several years while I lived in Noida, I would simultaneously make photographs of these three subjects and it was only later when I began to edit what was the Noida Soliloquy project, I realised Sleepers and After Party were autonomous bodies of work. It became evident these works could be a trilogy. This realisation led me to travel and make photographs for Sleepers and After Party beyond the geographical constraints I had placed upon myself for Noida Soliloquy.

Biography:
Dhruv Malhotra (b.1985) grew up in Jaipur. He majored in Economics but gave it up to pursue life as a photographer. His works have focused on urban areas, cities at night and have engaged with issues of progress, modernity and the otherworldly.

Dhruv Malhotra's major work in colour, the AFTER DARK TRILOGY: Noida Soliloquy, Sleepers & After Party spans almost a decade (2007 to 2015). The first chapter, Noida Soliloquy was exhibited at Photoink, New Delhi in 2010 and most recently at the FOTOFEST International 2018 Biennial in Houston, USA. Photographs from his second series, Sleepers had a solo presentation at the 2010 Brighton Photo Biennial, UK in the exhibition, New Ways of Looking, curated by Martin Parr. Photographs from Sleeperswere also included in the exhibition, The Matter Within at the Yerba Buena Center for the Arts in San Francisco (2011) and a 3-person exhibition titled, Transitions: Urban Landscapes, curated by Deepak Ananth at The British School at Rome, Rome (2012). Sleepers was exhibited at Photoink in 2013. Malhotra's works from the first two series were also included in the exhibition, City Dwellers – Contemporary Art from India at the Seattle Art Museum, Seattle, USA (2014) and at Off Festival Bratislava, curated by Zuzana Lapitkova, Bratislava, Slovakia (2014). In 2015, the final chapter of the trilogy, After Party was exhibited at Photoink.
On view until 19th October 2018 at Galleryske Bangalore.