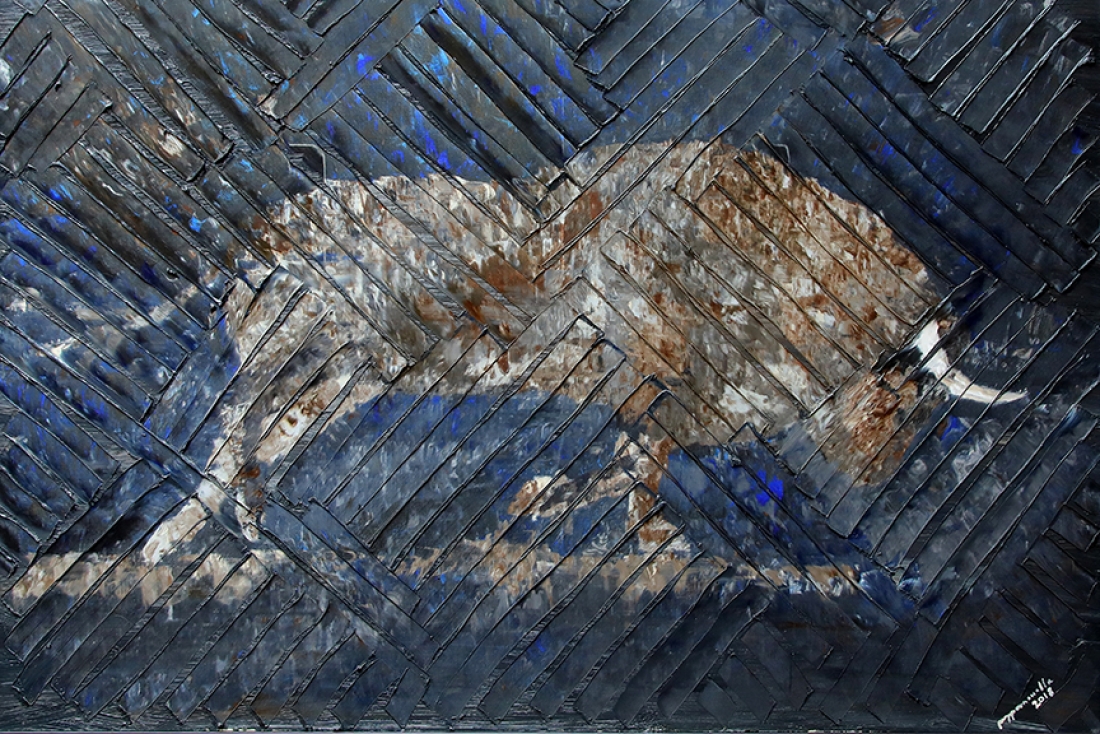 Michelle Poonawalla will present a solo exhibition in Mumbai following exhibitions and projects in Delhi, Pune and Parma (Italy) earlier this year and in advance of a collateral pavilion at the Kochi Murzi Biennale, 2018.
Born Free presents 25 new works which explore the fragility and power of nature. A series of animal portraits highlight the variance of life from the strength of the bull to the fragility and beauty of the butterfly. The works are superimposed with a mapped digital projection allowing them to run off the canvas and into the gallery and 'our' world. By forcing the artwork beyond the canvas and into the gallery it asks the viewer to address their own relationship with these animals.

The exhibition is a tribute to Poonawalla's late grandfather Jehangir Vazifdar, a renowned artist, architect and contemporary to many of the great Indian masters including Bhupen Khakhar, Prabhakar Barwe and S B Palsikar. The paintings utilise a technique Poonawalla first learned from Vazifdar where the paints are mixed directly on the canvas creating a thick impasto style which is carved into with a ruler resulting in a textured effect which is impossible to copy.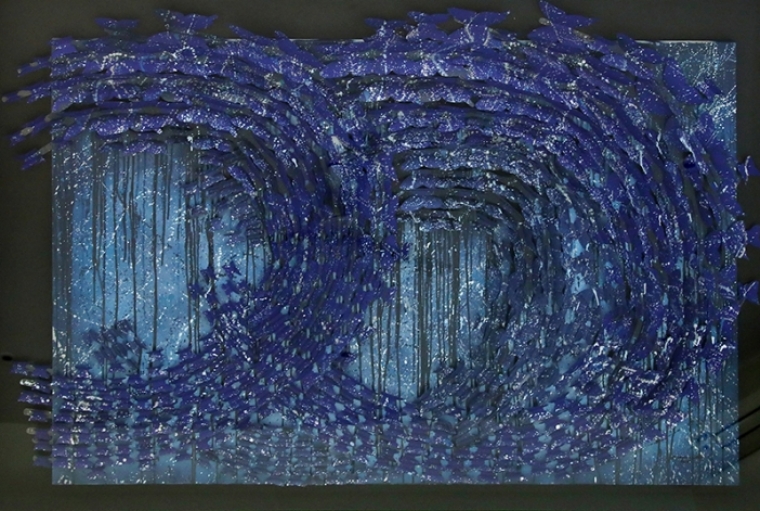 Purple Rain by Poonawalla
Poonawalla has built on Vazifdar's technique by projecting an interactive and dynamic image on top of the canvas. Creating a new digital art form which uses motion sensors to react to the audience, the works reflect the resilience and strength of the old masters techniques whilst incorporating technologies of the 21st century. The results allow an otherwise static artwork to come to life, drawing the audience into the work and the work into the gallery.
The exhibition will be followed by a collateral project at the Kochi Muziris Biennale 2018,which will further address the issue of fragility and mankind looking at conflicts and war. The work will continue Poonawalla's use of digital mediums to present images of violence, fragility and suffering alongside her signature butterfly motif used to represent the souls of innocent victims of conflict.

Title: Born Free
Dates: 6-12, November, 2018
Venue: Jehangir Art Gallery 161B, Mahatma Gandhi Road, Kala Ghoda, Mumbai