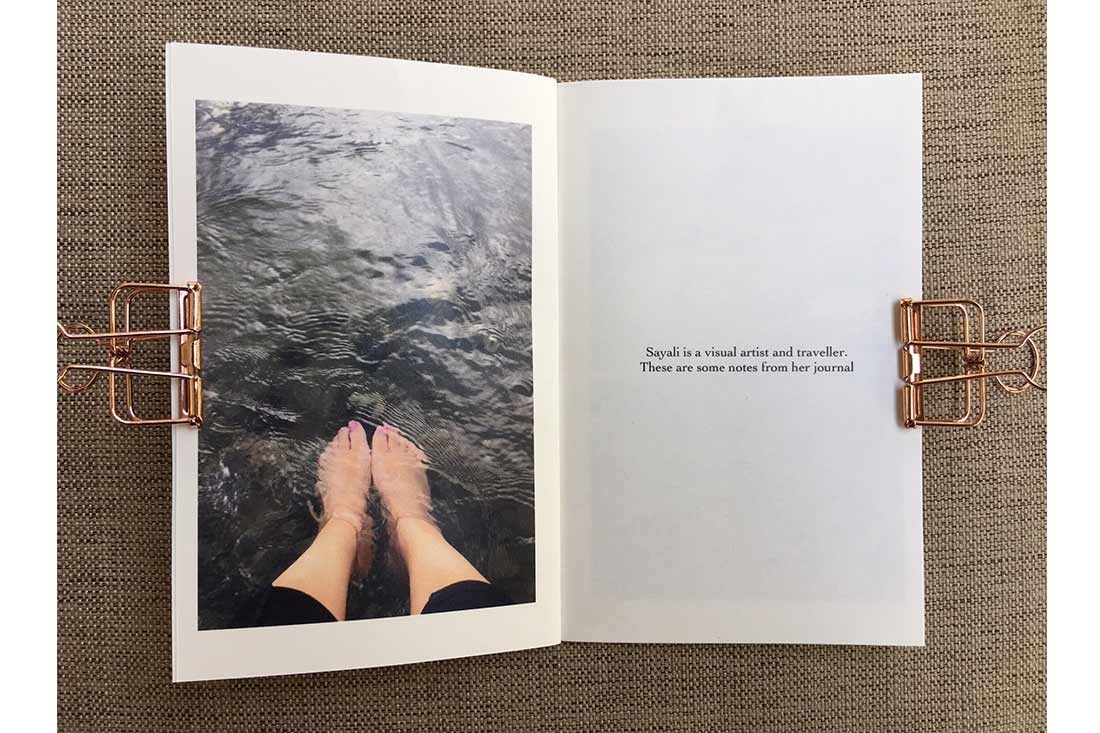 Cocoa and Jasmine
A cultural zine by Sayali Goyal
Sayali Goyal finds therapy in traveling and curation. Addicted to the unexpected surprises that travels brings her, she says she battles with sleep even days before the actual journey. Her inspiration lies in the process of traveling itself - the feeling, the state of mind, the experience and also in the exchange of energies with fellow travel-addicted souls.
"Travel is a catalyst for me to create something beautiful."
In her creative equilibrium, travel is the process and art, the outcome.
About
Her art is expressed through the medium of curation. Curation of culture that she has been exposed to - design, art, food and lifestyle, all of them documented in the journal that she carries with her. The creative outlet of all this is Cocoa and Jasmine, a cultural web-zine that explores everything pivoted around culture, through the form of travel.
Collectively, Cocoa and Jasmine is an art shop for the senses and the eyes. You can satisfy yourself by indulging in specially curated poetry, photography, design, journals and prints.
"With the photo, writing, design and consulting skills, I run a creative studio to work with other boutique brands that have an interesting story. I see Cocoa and Jasmine as a collective for a culturally curious soul."

The inception
"Cocoa and Jasmine happened as a product of a journey at the right time", says Sayali.
On a trip covering three states in the South of India in three weeks, from Kanyakumari to Bangalore, she had collected scents of Cocoa fields from Coonoor and Jasmine from Madurai and documented them. They seemed to evoke sensations of artistic beauty in her that she started spilling poetry into her website, and soon it turned into a personal collection of skills - drawings from her sketchbooks, old photographs and objects she had collected, and curated photographs based on design, along with journals in testimony to the cities she had visited. When she realized that there was a community developing around this, she let it grow organically. As of now, she has participated in exhibitions and curated her creatives online with a gallery.
"I buy a lot of independent books and magazines and what joy it was to create my own little zine."
A Curator with a curiosity to learn
Sayali studied Fashion and Textiles at the University of the Arts, London which exposed her to the world of creative arts. This realization liberated her and empowered her to explore, experiment and carve out her own career path.
"I would carry a journal with me all the time (like i do now) and make lists of things I could imagine myself doing. It included - making a book of memories, working with a museum, cafe with art print. It's funny how I can read through it now and realize that I was always interested in documentation, curation and community. I see myself as a jack of all trades with love for visual arts and nature; and travel sort of became my inspiration. One thing in common among them all was the curiosity to learn."
Having worked with a luxury culture travel production company, a marketing agency for fashion, having organized boutique events, run her own jewelry line, and practiced as a home stylist, her career path pretty much screams experimental.
"I pursued what excited me and whatever fed my hungry soul. Today I am a product this journey."

Reflection
"Art is somewhat a portrayal of the current state of mind, and as a medium it speaks and should be accessible (ideally) to all. It relives our soul as it's an expression of the inside through the outside. It is a way to preserve/ document the concerned time and to have many perspectives about it."
Wanting to break free from the set routines of career-path and mentality which have ingrained in the human mind as a result of Industrialization, Sayali hopes she can make a difference. In the present time where everything is brought closer together, she hopes for independent artists to take full reign of their own career flow in an organic growth pattern and not fall victims to the pressures of society and be a 'clone of each-other'.

"In the last 3 years there has been so much development (in India) as more people are opening to diverse kinds of art, especially in a country where there is such a strong influence of traditional arts. With great exposure, they are more inspired to experiment. As a product there are so many more independent publications, collectives, and spaces that facilitate the growth of this community. In terms of art we are living in an age where things are changing (for the better) and I'm glad to be part of it."

Sensing a deficit in the integration of culture and creativity, she feels that even though there is a rise in independent creative enterprises that are setting the current landscape of art, they fall short on including the participation of the entire mass; it is not accessible to everyone. Culture and creativity still seems to be isolated as a whole. She believes this can be achieved if the creative agencies loose all excess selfish economic interests and try to grow organically, being more openly receptive and nourishing to genuine talent, and thus melt local culture with art. In a way, Sayali has set an example through Cocoa and Jasmine, portraying the integration of culture with art as a lifestyle.

In an extensively diverse country like India that thrives on abundance of all sorts, collaboration is a main key to rapid growth in the creative fields. These rich creative resources need to be made utilized of, and the learning and friendly support exchanged through collaboration strengthens the presence and value of arts.

"There is so much scope of creative growth when community comes together." expresses Sayali, who through her cultural zine Cocoa and Jasmine brings artistic community together by collaborating with them and giving them a platform to express themselves and grow.
Postcard series 'Seascape'.
In a society set in a stable format, she finds challenges along the way of doing what she loves. "I think the challenge is to decide everyday and stand by the choice of doing what I love and find a place in the world where people have been trained for years to think in a certain way. I constantly have to draw lines with working terms and conditions. And as of now I am writing all the content, curating, photographing, web developing and also marketing on my own. It is a one-woman show. Some days it's very exhausting but some days I meet people who share the same spirit and it's very nourishing."
Talking about the future, Sayali is excited when she says, "I wish to do more print projects, I have three more zines coming up in the next couple of months and hopefully a lot more travel!"
Of course, traveling!


Website www.cocoaandjasmine.com
Instagram https://www.instagram.com/cocoaandjasmine/


Text Tony Jacob
Travel pocket zine' A sense of belonging and a sense of freedom'.
Excerpt from the pocket zine.
Excerpt from the pocket zine.