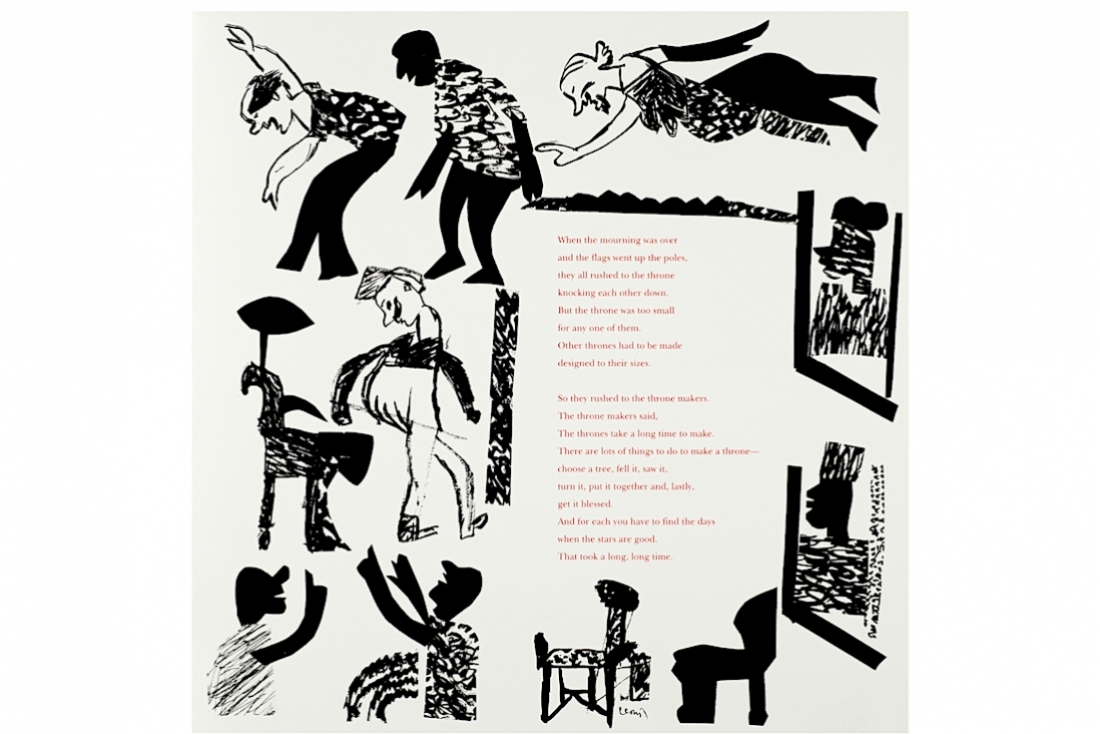 'Common Course' is a zestful and humorous ride through the caricatures, satirical, poetic and political commentaries of four artists of modern India. The exhibition brings forth the stereotypes, contradictory/ critical impressions, resistance, bold alerting signals to civic and political consciousness and moral crises of colonial India as marked in the political posters of Chittaprosad and commentaries of Gaganendranath Tagore on the topical and social history of Bengal. These along with KG Subramanyan's incisive and stinging poetics on the political drama that unfolded during the 1970s Emergency period and the recurring character of the common man in RK Laxman's cartoons, interprets and voices opinions on political events and the politics of everyday in post-independent democratic India.
The exhibition includes original lithographs and collaged pages of two seminal books. First one is Gaganendranath Tagore's album of caricatures 'Adbhuta Loka (Realm of the Absurd) made in 1917, which captures the strange deformities, social negotiations and transformations happening in colonial city of Calcutta. The urban, drawing on stereotypes of the dubious priest, aristocrats, the semi-urban or anglicized bhadralok that he called as 'hybrid Bengalis' are represented in his works as young men half-clad in Indian dhoti and half in European dress. In the introduction to his another album 'Virupa Vajra/ The Wry Bolt: The play of opposites' he wrote, "When deformities grow unchecked but are cherished by blind habit, it becomes the duty of the artist to show that they are ugly and vulgar and therefore abnormal." The second book is 'The Tale of Talking Face' by KG Subramanyan. The original collages not only give an insight into the workings and artistry of the master-storyteller and pedagogue Subramanyan, but also the satiric verses that leads us onto the threat of totalitarianism looming through the autocratic ruler/protagonist of his tale. Published in 1989 by Seagull, KG Subramanyan started work on the series in around 1975 when India was under the emergency rule. An array of 43 paper collages constitute the template, building and holding the tension through the black and white spatial registers of events layered with multiple focal points of the narrative.
Treading across varying nomenclatures and understanding of the role of an illustrator, graphic novelist, cartoonist and agitated political resistance, the exhibition reflects on the rich visual syntax and narratives rooted in the conflicts and contradictions of the respective times. It highlights the practice of chronicling social, political and cultural changes in the society through the myriad ways of telling a tale. 'Common Course' cuts across genres of popular prints and book illustrations, subverting, parodying, lampooning with characteristics of pictorial journalism, exaggerated physiognomies of protagonists, readings of the political ties and social tensions, common set of criteria or the rising collective effort of the oppressed. 'Common course' is a play on the assertion and rights of the commons.