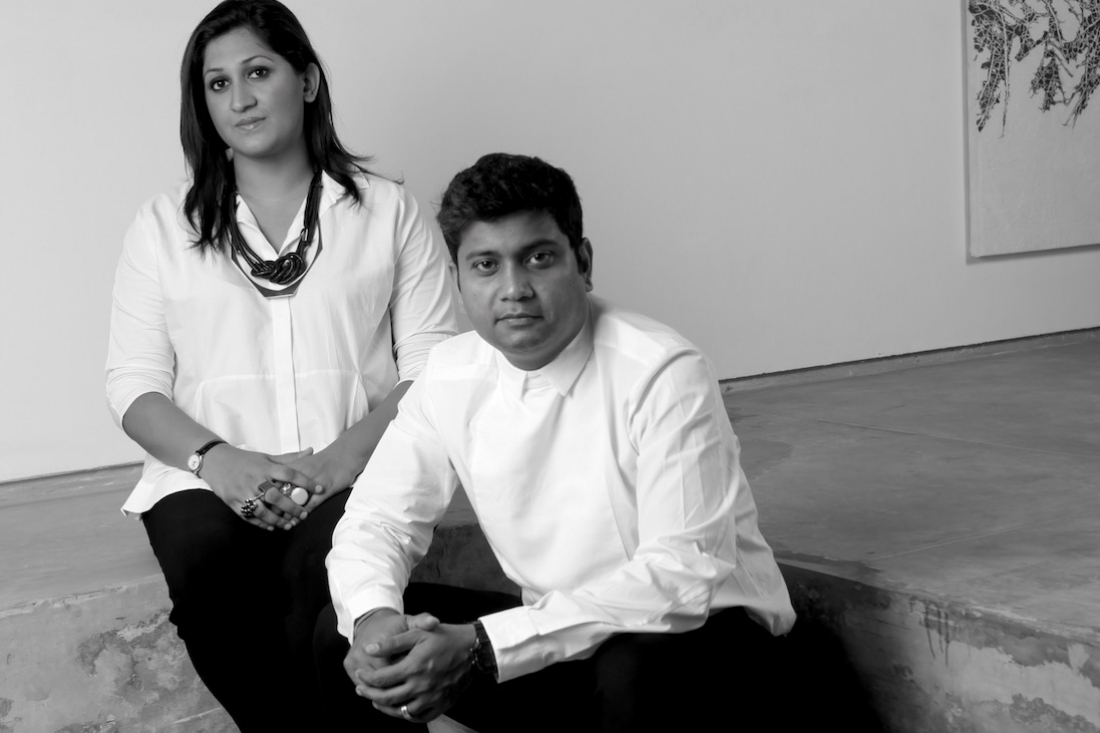 Prateek and Priyanka Raja
Genius @ 10
Prateek Raja, Experimenter
In the oldest seat of art and culture in India also lies one of the most progressive contemporary art spaces – Experimenter, Kolkata. Set up 10 years ago by Priyanka and Prateek Raja with the aim of bringing alive important voices that got lost in the gap, today the gallery stands for fearlessness and brilliance with a stellar lineup of young talent.
However, Prateek says the real celebration is the ongoing journey itself: 'It is important to keep our ears to the ground and build upwards from there as well as downwards into the soil. We are deeply introspective, vocal about concerns that confront us in society through the work we do. And at the core of all this are the relationships and friendships we have built. The philosophy will always be to hold a mirror to our world and ask questions through our work, even if they are uncomfortable and cause unease. For example the anniversary group exhibition is titled Searching for Stars Amongst the Crescents, and clearly refers to the moment we see ourselves in today.'
I ask him to look back and reflect.

It's 10 years of Experimenter this year. How does the 10-year-old feel different from when it was born?
The last decade has been an amazing journey and every aspect of our program has enriched us individually as well as collectively. We feel that the experiences and the friendships we have built over the years with our artists and supporters have made us grow as people. This is the most primary difference. Other than this, we find ourselves in a position of greater responsibility while we have expanded our reach and what we do through our various initiatives such as the Experimenter Curators' Hub, The Experimenter Learning Program Foundation, Experimenter Books and our latest initiatives – Experimenter Radio, Experimenter Outpost in addition to our very active exhibitions program at both our galleries in Hindusthan Road and Ballygunge Place. I guess responsibility goes hand in hand with age. Having said the above, we continue to be doggedly focussed on what we had started out with, in being a program that reflects our world and the complexities that coexist within it, and we are only fortunate to have our artists enabling this.
BANI ABIDI_The Man Who Clapped for 97 Hours_2016
What were the biggest challenges in bringing it up thus far?
I think the biggest challenge is to remain focussed and yet grow from within. We have looked outwards for growth but looked inwards for content. I don't mean geographically, but philosophically. We think our strength lies in the city we run our program in, the amazing audience and the impact we are able to create from our program. Therein lies our biggest challenge. We need to be able to continue to make a relevant and reflective exhibitions program and related learning program. We think that if there was anything that could sustainably make a difference to our eco system, it is knowledge building, sharing, celebrating multiplicities and debating contrarian points of view. This is a challenge and we have already started to address this through our learning program foundation.
You've featured some of the most important contemporary artists from the subcontinent, especially those who have not found representation on home ground despite great bodies of work. Can you take me behind your curatorial process?
It's a long and deliberated process, and there is method to the madness. I would not call ourselves curators. A curator is a loaded word and comes with a lot other responsibilities and needs a certain kind of pedagogic framework. Our artists open up the world for us. They make us see things that are ignored in plain sight. The artists who are part of Experimenter are family. We learn and enrich each other over long conversations and opinionated discussions on philosophy, politics, culture, intolerance, pluralities - several such broad ideas that open our view of the world. All of this is reflected in the work we do and the choices we make. Other than experiences, we let another aspect guide us through – the aspect of time and slowness. We feel time has a very crucial role in our thinking process and we let things sit for a bit and follow the work of artists we are interested in from afar and over time, sometimes several years. We share music and food and what we read…all of these help us think of our program and know the amazing minds we have the chance of working with. All of these go into our programing and therefore 'curatorial' process.
SAHIL NAIK_GROUND Zero_2017
How has the programming evolved over the decade?
The program has grown over the years, we work with 21 artists now, responsible for everything they do and everything we can do for our artists so they are able to pursue what they want to do with their professional as well as personal lives. In addition to the exhibitions program at the gallery which shows between 8-10 exhibitions annually over both spaces, we do about 6-7 international art fairs annually which are reflective of our program. We also do deep and intense learning modules with our Experimenter Learning Program Foundation, where writers, thinkers curators, artists, architects, photographers take short modules. There is the annual Experimenter Curators' Hub, a really important aspect of our program. Then there is Experimenter Books that is our artists book and book objects publication initiative. There is the new Experimenter Radio that is a Spotify channel that allows the listeners to enter into the minds of our artists and our newest Experimenter initiative, Experimenter Outpost that temporarily inhabits abandoned and unused spaces in the city and the rest of the world, reimagining an renewed life for these spaces.
Tell me about your A-team that helps you plan and execute exhibits.
We have a fantastic team. Absolutely focussed, and committed to our ideologies like we are. They are our biggest strength our most precious assets. They represent Experimenter individually and collective. At their core is a deeply entrenched value system – they celebrate a certain sense of freedom and exuberance that makes us think of our future with a hope. The team is now at 16 dynamic young and enabled people who work together and individually, holding key responsibilities of the our program, yet all independent and with opinions of their own. We have an extremely flat organisation, we work all together in a large co working table and everyone has an equal voice but always guided by our core principles.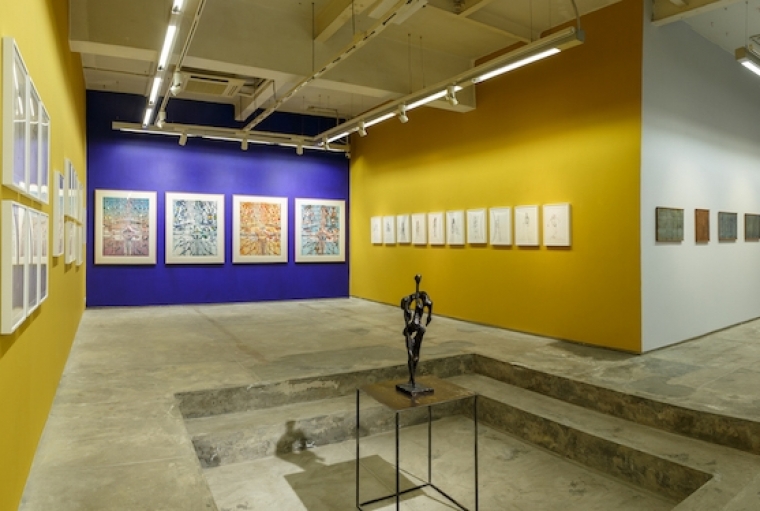 Krishna Reddy, To a New Form
The landscape of art in India has transformed over the years – closer home, Kolkata now has KCC, creative cafes, bright art entrepreneurs, heritage palaces turned into residencies et al. What are your observations of this change in the community?
We love it and welcome it wholeheartedly. There is a lot more to do and we wish more and more young people enter the creative industry. And Kolkata is perfect for art and culture. We have firmly believed that. The audience here is the best in the world. And we are only privileged to be here and hopefully will be able to at least give back to the city as much as the city gives to us everyday.
Who are the artists you are excited to explore next?
We are showing the work of young painter Biraaj Dodiya in her first solo in March. We are very excited about her layered and complex work thinking process. There is the amazing Sahil Naik whose work is rooted in architecture and his second solo at the gallery is in January next year. In addition there are several exciting projects in the working with some of the most exciting artists and hopefully we will be able to bring these projects to life.
What is your vision ahead?
We will continue to focus on our program, stay rooted to where we belong and aim to go deeper and higher at the same time. We want to be a place for active learning instead of passive viewing. We are a program that celebrates fearlessness and dissent and we want to continue to hold our core values close to our heart while we keep pushing our boundaries.
Text Soumya Mukerji