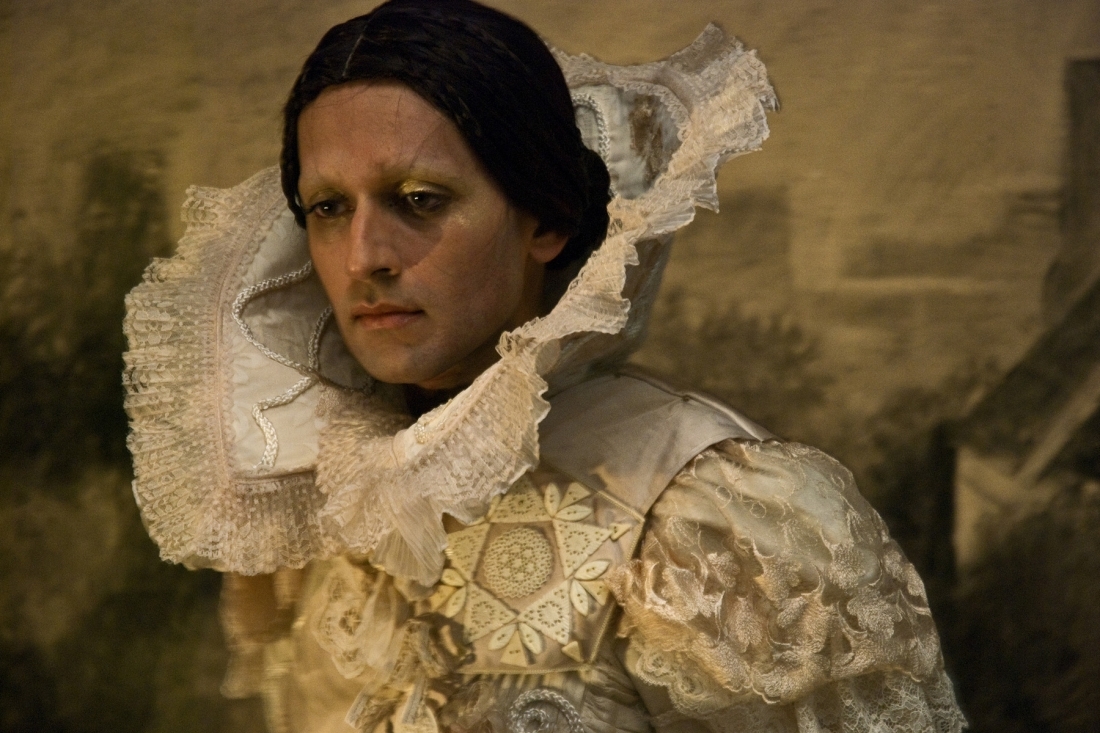 INTERVIEW OF THE WEEK
Image Courtesy: Chatterjee & Lal
In Between Definitions:
Nikhil Chopra, Performing Artist
Nikhil Chopra feels that definitions limit him; he wants to exist in between definitions. One identifies with definitions but is never really committed to them, he explains in a long, detailed discussion. You would identify when he declares, 'I am not one thing, I am many things...in between many things. Young, old, man, woman, tall, short, thin fat, good, bad, sometimes up, sometimes down, in, out.' And yet, he is one thing for sure: a master of performance, whose craft you must know.

Define your practice.
Firstly, there's a very narrow difference between life and art. In my practice, I live my life and it is no different from the sense of awareness that one wants to attach or aspires to have with every waking moment, from a cup of tea to conversation with your partner to fixing breakfast for the kids to going to the studio and spending time with paper and charcoal; it's like breathing. Each performance is this life. I don't want to dramatise my life but in a sense it's the theatre that we are all born into.
"I feel definitions limit me; I want to exist in between definitions. I am many things...in between many things. Young, old, man, woman, tall, short, thin fat, good, bad, sometimes up, sometimes down, in, out."
What inspires you?
I find shifting my cultural framework and context hugely inspiring. My travels are huge inspiration for my works. The act, travelling, is often part of the work.
Looking back at the last 15 years of your art, how has it evolved as you have?
Every performance, every potent experience that I have becomes another layer that gets added to the larger repertoire of work. When I started, I started making drawings and then the theatre got woven into the drawings and the performance art language, and that language just constantly developed and the vocabulary expanded over the years, of various interests, researches and disciplines. I feel that with every artwork, I make new discoveries and turn another corner. I give myself some things to discover that I already knew. I'm really interested in how to expand my vocabulary as a person as an artist and as a communicator, as part of the community. I think communication is community. And there's a small community that has been created around that practice.
Yog Raj Chitrakar Memory Drawing 2
Can you take me behind your creative process?
I'm really interested in visceral experiences. Of course there's cinema and pictures and books and poetry, but I'm more interested in travel and going to places, especially places that invite me to create. I will make the effort to go there to have a corporeal visceral experience with that place. The work comes as a reaction to it.
Which one of your creations proved the turning point?
The work I did at Chatterjee & Lal in 2007 on the roof of their building, on the top floor in an empty shell—it was a performance called Yog Raj Chitrakar Memory Drawing 2. It was the first long-duration, massively ambitious drawing performance that I undertook and it was a game-changer for me because I went through it and I wanted to understand various elements of my practice and all that stuff came together quite magically, and I realised that this is an interesting strain or language to pull on. At the back of the body of that work I travelled the whole world. Those formative years were very important.
In fact, every massive performance work I do undertake is transformative. As is the last work that I did for Documenta XIV—thousands of kilometres of driving through Europe was a massive turning point because I was able to do this really immersive 28-day performance roadtrip. All these things changed me and changed a few things around me, too.
"I think life is becoming more and more challenging and art will rely on that challenge, it will draw from that challenge."
What is the biggest challenge of being a performance artist?
I see artists around me challenged so much, but I feel like I have had in my lifetime, before the age of 45, a lot of appreciation and accolades and award-winning opportunities.
Yes, I see the daily anxieties and anguishes of life and love and all of those are more challenging that the art...the art is something that just flows.
Of course, performance has those things—it's vulnerable, there are no objects to hang on to, how do you make a living, how do you earn, but if you talk about challenges for young artists today, I feel very fortunate to not face the kind of challenges that many young artists these days do, because of a certain moment that my work happened—at a time when India was being looked at internationally quite seriously and I was able to ride a wave and cling on to the success of that. I feel like I have got a lot of recognition and I am very grateful for that. The challenges for a young artist today are enormous. It has become a much more competitive playing field. I think life is becoming more and more challenging and art will rely on that challenge, it will draw from that challenge.
What does your work in progress look like?
India can look forward to some very exciting projects from me coming up this year, and I wish I could share more on that but I've signed a confidentiality clause.