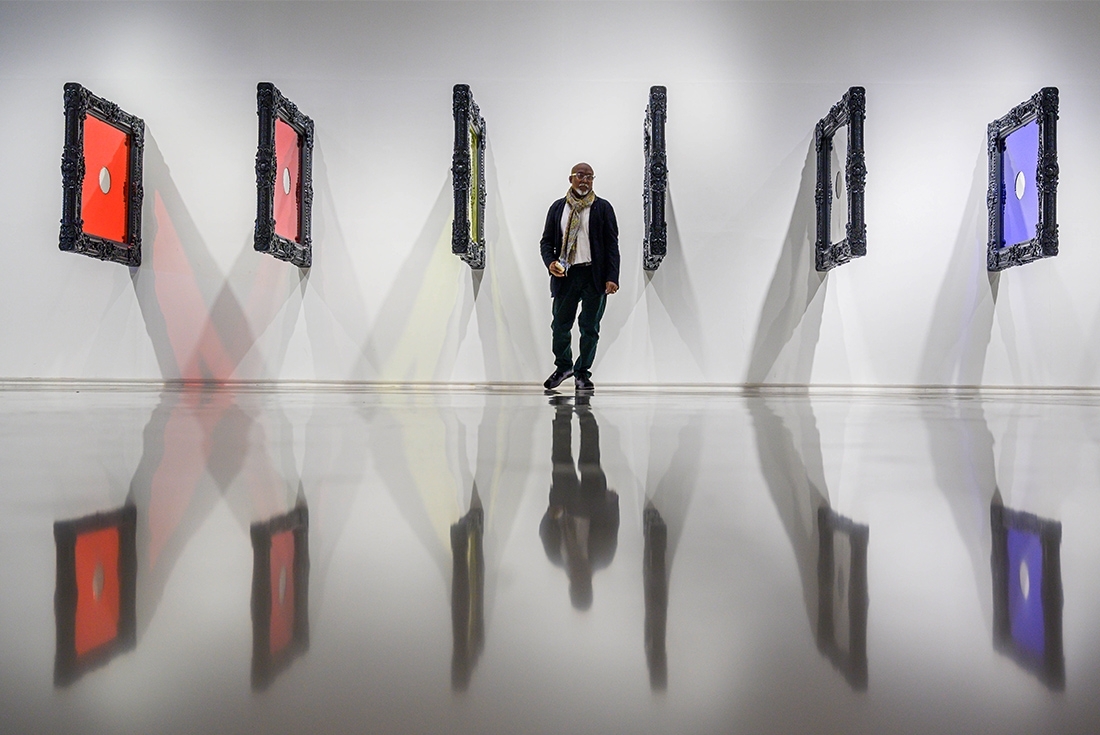 Bose Krishnamachari
Photo Courtesy: Emami Art
Mirror Sees Best in the Dark
Emami Art, the contemporary art gallery at the Kolkata Centre for Creativity is hosting The Mirror Sees Best in the Dark, a solo exhibition by one of India's eminent artists, Mr. Bose Krishnamachari. This is the artist's first solo exhibition after a span of nine years.

A mirror takes centrestage in Bose's exhibition. A mirror to reflect of the dark times we are living in. It is designed to see and reveal the deep, disturbing truths. In conversation with him.

'The exhibition, presents a series of 9 new art projects with materially rich and diverse assemblages and installations that explore the co-existence of extremes; the closeness between opposites - ornamental maximalism and abstract minimalism.
He investigates the state of 'obsession'. The lure and pull that an obsession can wield, is similar to that of a mirror. A mirror also draws you in; entraps you. It accumulates your obsessions. It symbolises obsession. Bose looks at our relationships, our politics, our faiths, our wisdom, our communities, our gurus - our obsessions. He looks at image and icon, word and number - as literal sense and metaphorical gesture.'

A solo show after nine years, would you call it a sabbatical?
I cannot call it a sabbatical at all. I was totally involved in the biennial all this while. And I was supposed to do this project in 2018 but it kept on getting pushed. Biennial for me is an art project which was in process and there is always so much to do for it so yes, I was working all this while.

How do you think the art world has changed in these years? What do you think the next big thing in art is?
What is great about art making is its unpredictable nature. If it is unpredictable, I can't call it something new. You never know what to expect out of it. But I also feel that as a country we need to think about its art & culture...do more for it.
"'The dictatorship of power, it all comes from the obsession towards what one believes in...the faith they believe in, the religion they believe in.'"
You are exhibiting after so many years…a lot has happened in the past decade but what triggered you to create new work? What was the inspiration?
I had couple of small shows and a few group shows in the last few years but this exhibition is an important moment for me...to work on obsessions of human conditions and human nature and reflecting on upon our time as well. This is especially about the religious racism, god etc. I feel that the obsession towards these kinds of things is what that creates tension. The dictatorship of power, it all comes from the obsession towards what one believes in...the faith they believe in, the religion they believe in. For this exhibition, I chose ten words that resonate obsession like religion, god etc. I have used a mirror for this exhibition which is one of the most important elements in this project.
Mirror for me is a receiver, it receives everything in front of it and mirror is also a material of obsession. If we talk about narcissism, once you get obsessed, you can't get rid of it, you can't get enlightened. Whether you talk about capitalism or nationalism, casteism, chauvinism, all of it is a reflection of the dictated times and the dark times we are living in. Everything is so beautiful but we make it so meaningless. If you keep distance from what you like, it's all fine. It's like love actually...nobody says that you rise in love, they say that you fall in love. Falling in anything, whether it is politics or religion is not right. Politics is a kind of consciousness, one should be aware of what is happening, so for me it is a kind of sensitizing process. It's like there are these ten commandments, be aware of it, be careful about it. Be conscious about it.

Do you have a creative process? What does a typical day at the studio looks like for you?
I always like unpredictable moments. I don't work with plans. I don't plan long days, or travel or anything like that. I am very instantaneous. I believe that if you are an artist, you know how to create your world better. You know how to put chaos in order. That is one of the reasons why I believed, also expressed myself; I think it's a kind of enlightenment or realization by oneself. Maximalism and minimalism juxtaposed or co-exist within ones space and if you want to explore more then just look outside, look within yourself and you can see chaos and order is created by yourself. I don't have a creative process but what matters more is the material that you are using for a project. When I think about the Emami Art Project, I followed a process here. I visited this place 3-4 times before executing this project. Also I designed the gallery in an architecturally fluid manner and also created this conceptual project. Conceptualization is also one of the art forms. So I think it is important to know what material you are using, what size of the space you are creating, the architectural space, the interior space. It is a 360 degree experience you create, that makes an art project and makes it important to look at all this.

Lastly as an artist, what do you wish your art to communicate to the world?
I think art-making is a responsible job. I would like to have a better world, better ways of living and thinking. You create art, you need freedom to make art, so I think if you have the complete freedom, a borderless space, a space without boundaries, without religion, without god, then that's the world I would like to live and create in.

Text Hansika Lohani Mehtani

Please browse through our visual story here to see more of Bose's work from the exhibit.