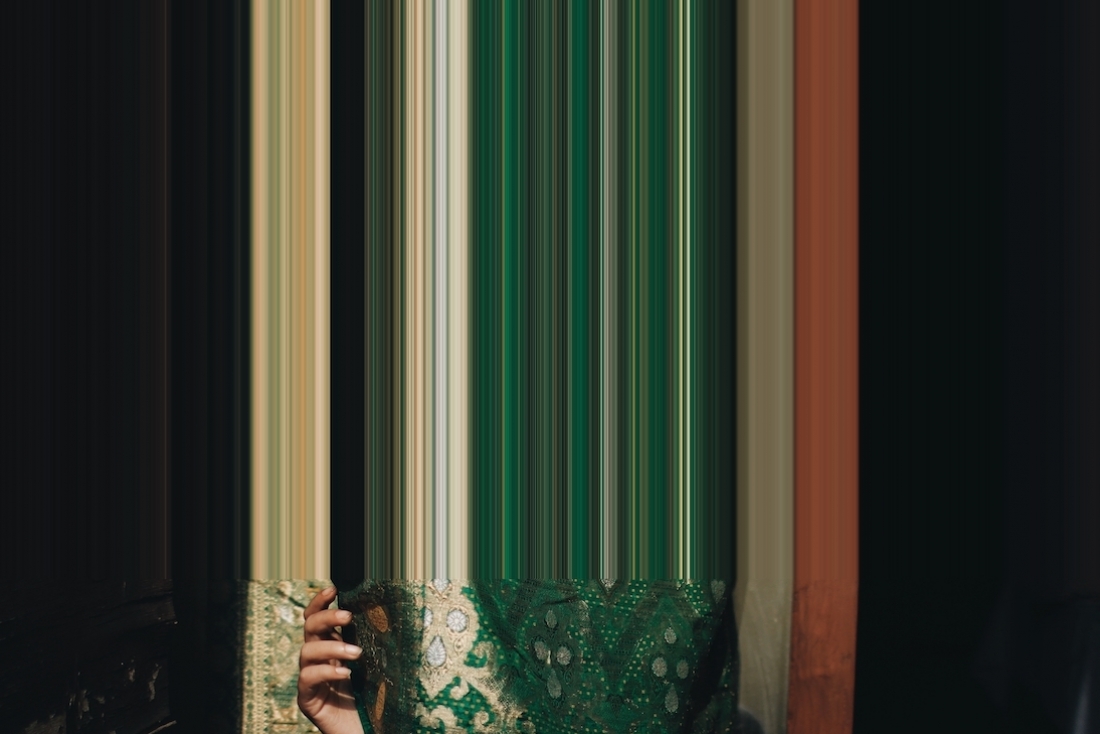 In the field of visual arts, many new advancements have taken place and new genres have emerged overtime. Yet, to turn digital errors into art is a novel idea of its own and the genre of Glitch art proves the same. Glitch art is the practice of using digital or analog errors for aesthetic purposes by either corrupting digital data or physically manipulating electronic devices. Noor Sethi is one name that has emerged in this field of art who also recently showcased her work at art exhibition held as a part of at Khansa Presents Bleed, a book launch of Dr. Aheed Khan's book Bleed that also included an art exhibition by 4 varied visual artists, expressing there idea of vulnerability. As Noor struggles with the craziness of the world around her, she expresses her view of the world through her photography and turns it into art using glitch.
We connected with the artist to know more about her and her practice.
How were you introduced to the world of photography and art?
The credit for introducing me to photography goes entirely to my father. I didn't realise the complete impact of his vision on mine until I started questioning myself about why I like the things I like and why I shoot some things in a particular way. He was an avid lover of film cameras, I have grown up going through family photo albums mostly because I didn't stay with my parents for about 4 years as a child and the only way to connect was hoarding photographs of them and making photo collages. For a school trip to Amritsar in fifth grade is when he bought me a plastic point and shoot Kodak camera and I did everything I was told not to. He distinctly told me that one does not click the sun directly because it becomes a black spot but I did it anyway, that first roll was my first attempt at photography.
Can you tell us more about your practice of turning photography into art through glitch?
So photography has been a way of dealing with whatever was happening, it became my escape during angsty teenage years, became a sense of pride when I started to get a hang of it and got published for the first time, It grew distant when I thought I have more things to explore in college but whatever mediums I have explored there is none that I come back to the way I come back to photography. I still feel there's this huge part of my identity that deals with themes like disassociation, displacement and ruin. I feel like each stage I have been in mentally has been carefully recorded by the things I have found attractive enough to photograph and they range from full bloomed bougainvilleas to layers of paint chipping off an old wall to expose multiple colours. When I realised that commercial side of photography is not something I either like or enjoyed I felt extremely distraught because I had spent so much time thinking this is it for me professionally. Honestly though I had given up all hope on photography when I discovered glitch, there was something so satisfying about melting images, I started playing with a lot of my old archive of images because I was clearly not motivated enough to go out there and photograph but glitch made me really realise the themes of my own work both current and previous. The topic for my final year's project was "Narratives in Glitch Art" where I researched how the process came about and more essentially what narratives does the particular aesthetic help solidify.
What inspires you as an artist?
My hunger for answers that won't come to me unless I look for them is my source of inspiration. To put it simply beautifully lit images just don't cut it for me anymore especially since we are talking about glitch. I'm more inspired by the everyday, the mundane and especially routine. My inspiration is also the feeling that I get when I arrive at a visual that just clicks, it may be just a second in a day but that second becomes powerful. I also feel that my image making has two very distinct processes one is going out there and photographing and the other is sitting on those photographs till I am in the zone to glitch them, it may sound strange but I think the optimist comes alive in the photographing process where I see light in all its glory and even everyday objects turn into relics but the other process brings out the pessimist in me where I am skeptical about all people, socio political realities of today just makes me want to destroy the relic like mundane I had tried to preserve with my lens earlier.
What was your creative process behind the work you showcased in the recent art exhibition at Khansa Presents Bleed?
When I was asked to be a part of this event and exhibit everything happened really fast so there was no artwork that was created for the event specifically. However the author Aheed Khan had explained briefly the idea of his book which essentially deals with the different stages of love. I decided to curate two different sets of visuals from my existing body of work. One set explored the stage of love where even the ordinary things seem extraordinary and that idea really sat well with my personal process. The other was a travelogue of Pushkar, pixel sorted walls, windows, chipping paint and floral tiles.
Lastly, what's next for you?
My relationship with photography is ongoing like I mentioned above it is more like a journey than a profession or a hobby it is much more. I will be heading to Canada for further studies this year and it will function as a tool once again to explore and understand a culture and my place in the scheme of things. I have never considered myself as an established photographer or artist so I can't discuss ideas as much as I would like . I feel discussing ideas and thinking them over too much leads to abandoned projects and I have graveyard of those but there's two things I never want to let go of and they are the habit of regularly photographing and constantly learning more about the impact of visuals on individuals. A project that's been on my mind for a while is to break down colour psychology for people who speak different languages just to bust the myths around how a particular colour is perceived all over the world because the cultural connotations keep shifting and there's so many cultures that have their own meanings behind different colours.

Text Nidhi Verma