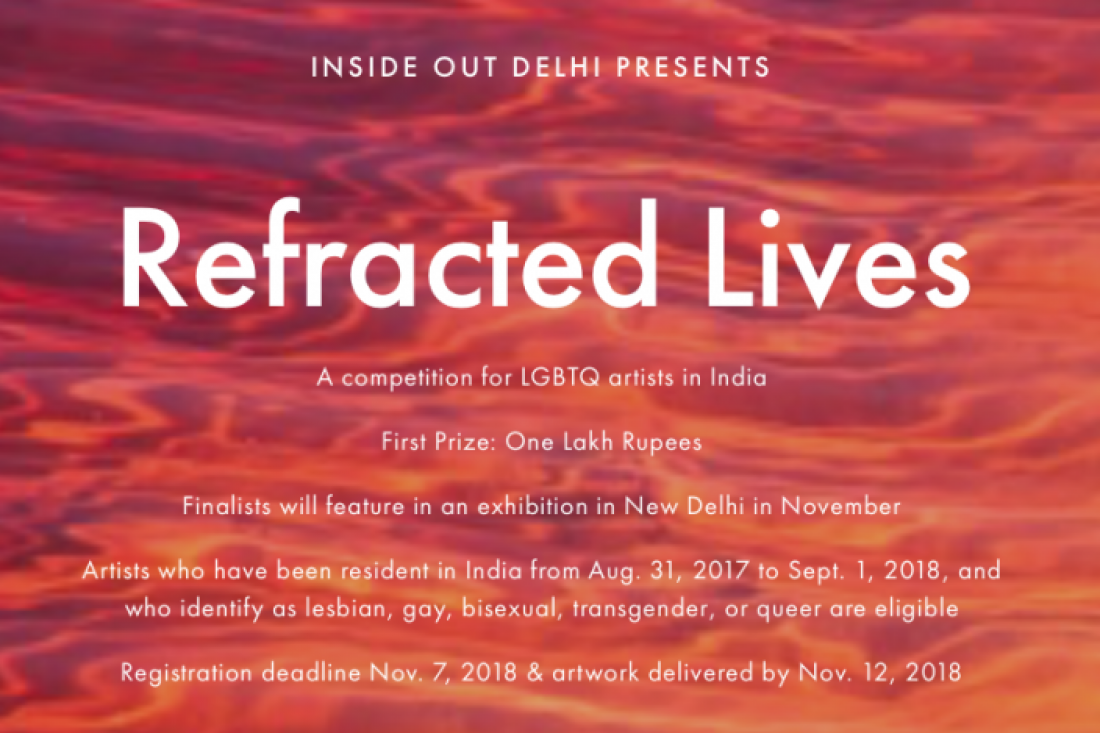 With the iconic LaLiT Hotel in New Delhi on board as a major sponsor of the "Refracted Lives" exhibition, InsideOut is now promoting India's LGBTQ artists to an international audience.
After a week-long exhibition in the LaLiT gallery in New Delhi from November 18-24, finalists will have the opportunity to show their work at an exhibition in Sydney. Our partnership with Sydney Gay and Lesbian Mardi Gras will see their work hung in the National Arts School as part of the Mardi Gras Festival February 15 – March 1, 2019.
The inaugural InsideOut Art Prize for LGBTQ artists in India will award a first-place prize of one lakh rupees -- sponsored by Ritu Dalmia of DIVA Restaurants. Thanks to Edenpark Hotels Delhi, there will also be prizes for second place (%u20B950,000), third place (%u20B925,000) and a special People's Choice Award (%u20B950,000). The competition is curated by InsideOut, a volunteer LGBTQ organization based in New Delhi, in association with the Naz Foundation, a registered charity working in HIV, AIDS and LGBTQ human rights.
Through the competition, InsideOut aims to educate broader society about the experience of being LGBTQ in India, and to expose the selected artists to a wide audience of buyers, galleries and agents.
One of the largest LGTBQ arts and cultural festivals in the world, Mardi Gras attracts high profile international artists and performers and culminates in a giant street parade that attracts a crowd of hundreds of thousands from Australia and overseas.
"This exhibition represents a turning point for LGBTQ artists in India and our show in the week leading up to New Delhi Pride is the perfect way to celebrate the demise of section 377 and turn our energies to the future – we hope it will make a real difference in the lives and careers of the artists who enter," said InsideOut media spokesman Shivraj Parshad.
"Taking the exhibition to Australia will provide an extraordinary opportunity for the work of these fantastic artists to be seen by a global audience," said InsideOut Art Prize Coordinator, Stevie Clayton. "Mardi Gras is an iconic event for LGBTQ people from around the world and this partnership will put Indian artists on centre stage."
The theme for 2018 is "Refracted Lives." Refraction is the bending of light as it passes from one transparent substance to another. Just as light is refracted, so too the lives of LGBTQ people bend to the rules of society and the expectations of family and friends. Often, we respond to the forces of religion, family, and the law by bending or subjugating our own needs, desires, and goals. We may appear to be what we are not, or even become what we do not want to be. Entrants in this year's competition will be expected to explore this sense of refraction through the prism of their own lives.
Artists who have been residents of India for the 12-month period Aug. 31, 2017, to Sept. 1, 2018 (the eligibility period), and who identify as lesbian, gay, bisexual, transgender or queer are encouraged to enter at https://www.insideoutdelhi.com/.
InsideOut is a volunteer LGBTQ organization of Indian and expat professionals and diplomats based in New Delhi, supporting health, human rights and the arts through cultural exchange. For further information, email InsideOutDelhi@gmail.com.