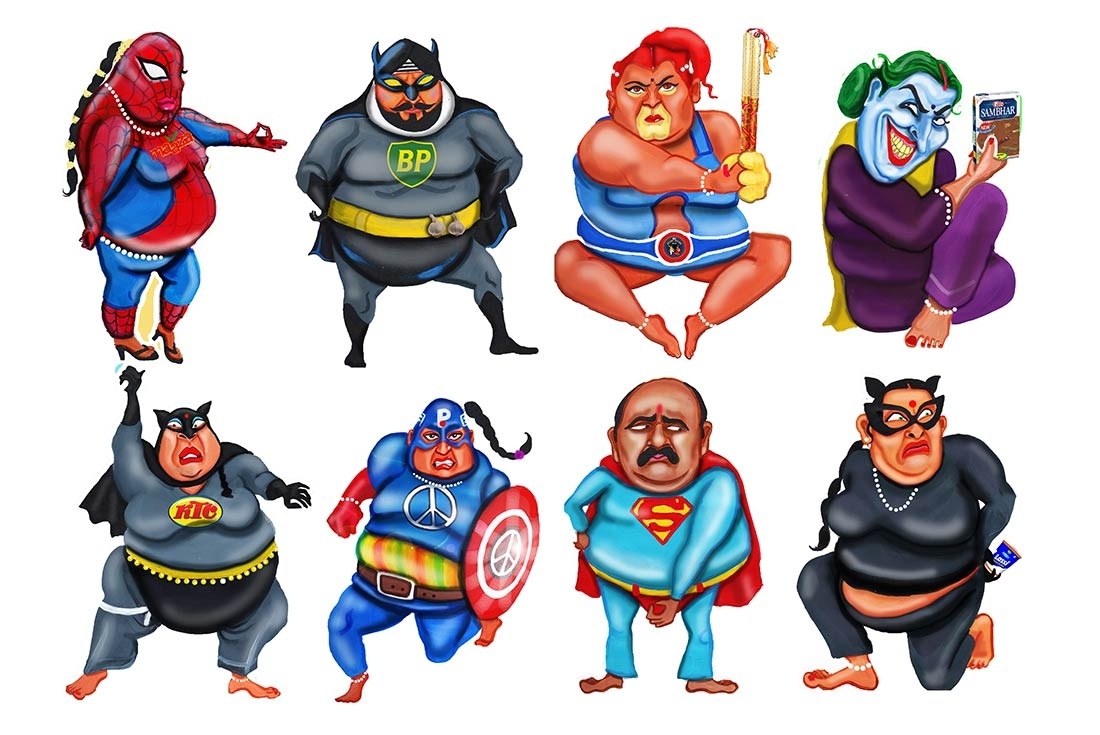 PROFILE OF THE WEEK
'The Superhero Aunty' Series
Rehal Kulwinder
Illustrator
Rehal Kulwinder aka Kully Rehal is an Instagram sensation who is intrigued by culture. She is fascinated by the stories of South-Asian elderly folks who were first timers in foreign lands. She spends time at local community groups listening to their journey, realizing with a deep heart that they are in fact isolated in life, led on foreign soils. This fascination with their story is operated by the aspect that she herself was born to Indian parents in the UK, trying to find an identity midway between the East and the West. Spurred by their stories and wanting to idolize their bravery, courage and commitment made her create 'The Superhero Aunty Series' that caught instant recognition.
Artist
Rehal Kulwinder is a visual artist who used to get caught in school for doodling 'outrageous and offensive' drawings of teachers on her textbooks. Born in the UK, she says she has always been curious about how the South-Asian culture influenced the generation of youth born to immigrant parents. This search for self became the soul of her work - exploring the concept of self-identity.
She remembers with fascination, her father making her mother sit and pose for hours so that he could paint her as his muse. Intrigued, she would watch him study every curve, line, and stroke, that she found herself doing that later on.
Style
After graduating in BA Print Textiles, she was more interested in understanding the struggles of the older generation of women who left everything behind and came as immigrants. Using this as her canvas she lets her inner child overpower her and create drawings that portray characters, through the medium of humour.
"As grown-ups, we've lost this childlike sense of life. And that's actually a sad thing. It's not just about happiness and innocence either — being more childlike also helps me to be more creative, more imaginative, more innovative and open to worlds of possibilities.
The child inside of me is naturally imaginative, curious, able to play without a worry in my mind and that's how I like to work." informs her.

Illustrating whimsical characters in acrylic, borrowed from South-Asian culture, her art represents everyday life and finds a balance between lifestyles. The use of colours is bold like its subjects, vibrant and lively. Quirky and witty, they represent a carefree attitude and relief.
Vision
"It is always a pleasure and an honour to utilize my creative skills for a positive change."
Addressing her compassionate heart, she works in special need schools, with children diagnosed with Autism and Attention-deficiency/hyperactivity disorder (ADHD). Her idea is to create a special language for these kids to communicate through the arts.

Realising one her dream of sharing and interacting was Appa Arts festival in Pune, 2017, where she was invited as a British Asian artist which helped her interact with senior most artists around the world.
Being a nature lover, she was part of 'Jungle in the City' event that took place in Aarey Jungle, Mumbai. The main aim was to raise awareness about the upcoming metro rail project planned to go right through the Aarey forest area leading to the displacement of local tribals and the destruction of a countless number of trees, in addition to which she ran some Warli painting workshops with the locals. She also initiated a programme with a charity called 'Saher', which is an isolated part of the Mumbai basti's so that the young youths can set up self-sustainable work, where they can create an earning from the comfort of their home.

"All these experiences and many more have helped carve me into the artist I am."

Having gone through some rather 'colourful' experiences in life, her work has transitioned and journeyed through different obstacles, from looking into the subjects of domestic violence, female empowerment to tongue in cheek humour.
Talking about what the future holds for her, she hopes it's on a "path of self-discovery, travel, and painting."

Instagram https://www.instagram.com/kully_rehal/
Merch https://www.etsy.com/uk/shop/FunkyBabaonline

Text Tony Jacob