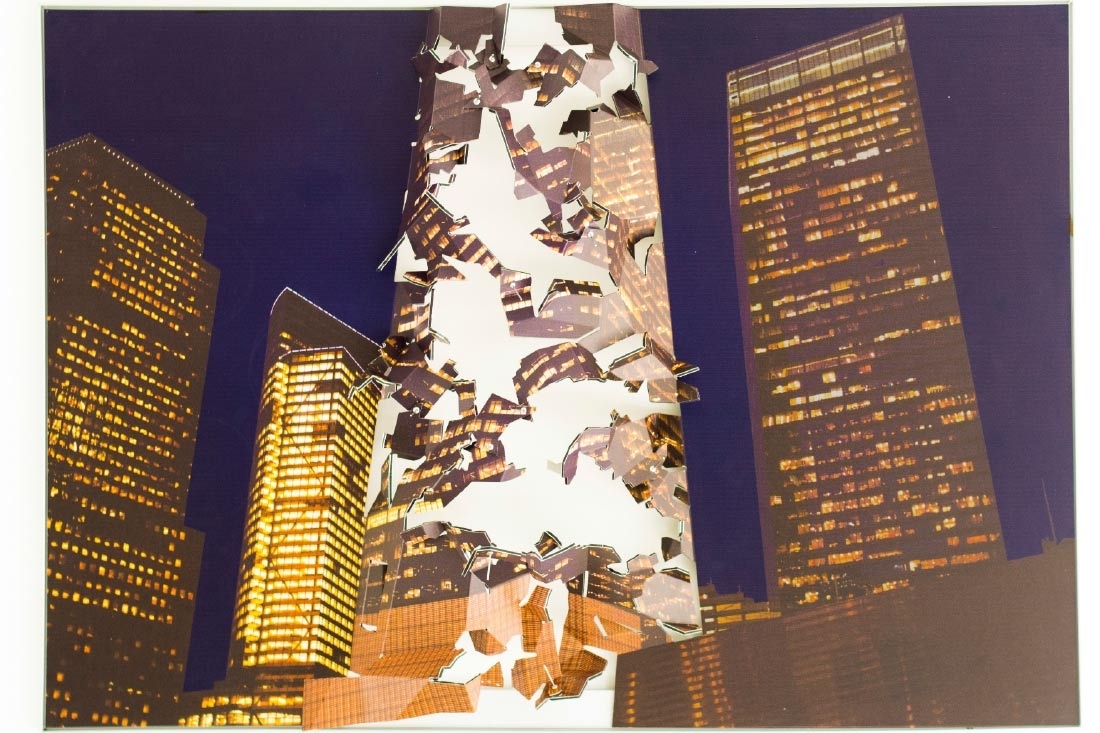 Ground Zero: Coordinated Bombing in Karrada, Baghdad (2016) by Asim Waqif
Asim Waqif explores the byproducts of organized violence, usually by one nation against another, most often to effect political change. This violence upsets social orders but also leaves its mark on architectural forms and spaces and the fabric of cities. Waqif's practice values both decay and destruction as creative forces, but where previous bodies of works focused on natural and organic processes, the present exhibition explores an architecture of change which is a result of concerted violent actions.

Waqif focuses on particular structures that have been recently altered by violence in Baghdad, Kabul, Raqqaand Aleppo. He applies the rationality of the architect's practice to chaos and wreckage. From vector drawings he extrapolates forms in various materials and found objects, resulting in assemblages that cull inspiration from disaster, structures from horror. Other works start with building sites in New Delhi which have been brutalized by economic and political forces, bringing a more localized violence into the dialogue.
Collapse analysis of concrete slabs due to aerial bombardment (Case Study: Raqqa), 2018, Microprismatic sheet mounted on aluminium composite panel and car door salvaged from an accidental vehicle.

The artist studied architecture at the School of Planning and Architecture, Delhi. After initially working as an art director for film and television, he later started making independent video and documentaries before moving into a dedicated art practice. His recent projects have attempted to crossover between architecture, art and design, with a strong contextual reference to contemporary urban planning (or the lack thereof) and the politics of occupying, intervening in, and using public spaces. Some of his projects have developed within abandoned and derelict buildings in the city that act like hidden activity spaces for the marginalized.

Concerns of ecology and anthropology often weave through his work and he has done extensive research on vernacular systems of ecological management, especially with respect to water, waste and architecture. His artworks often employ manual processes that are deliberately painstaking and laborious while the products themselves are often temporary and sometimes even designed to decay. He has worked in sculpture, site-specific public installation, video, photography, and more recently with large-scale interactive installations that combine traditional and new media technologies.

Asim Waqif: "Residual Fear" remains on view until Saturday, May 5th, 2018 at Nature Morte, New Delhi.