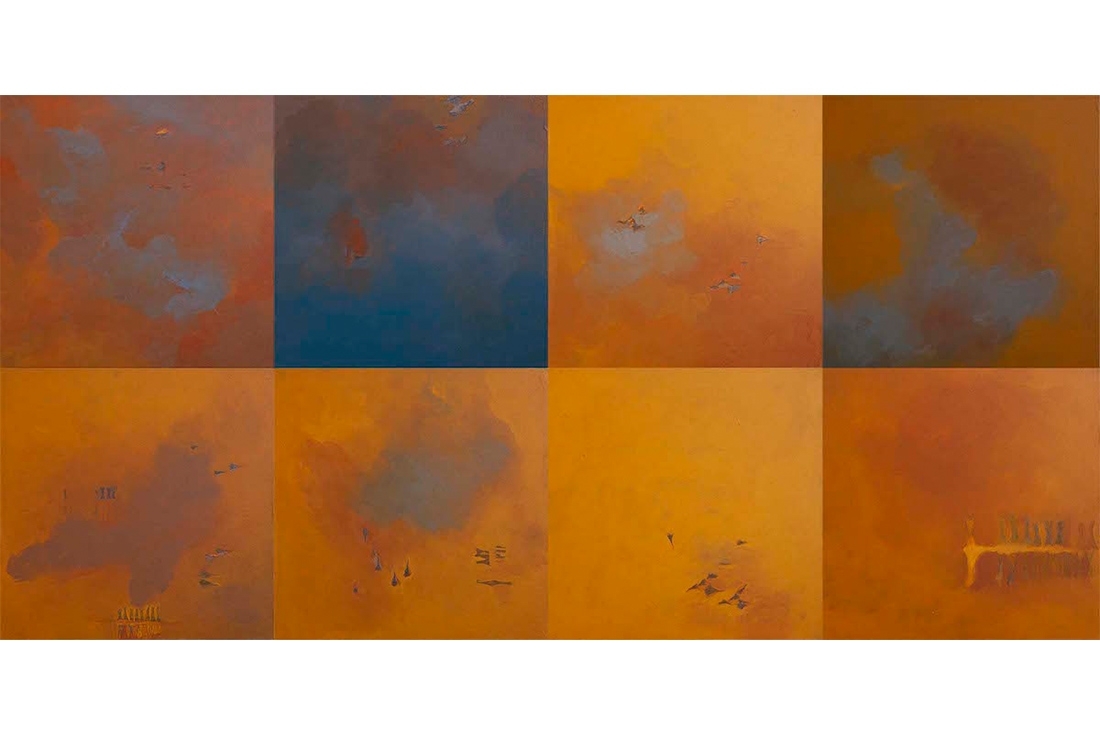 Shambhavi Singh at Gallery Espace
Shambhavi's work deals with the power and plight of the Indian farmer, whom she considers to be at the core of the nation's identity, but whose way of life has come under the threat of urbanisation and climate change. Bhoomi is a collection of drawings, watercolour works and sculptures in steel and iron, derived from agricultural motifs through which Shambhavi intuitively fosters a sense of nostalgia for a way of life that most of us no longer remember.
Jyot (Illumination), iron installation
Shambhavi spent much of her childhood on the banks of the Ganges river in Patna, and is naturally drawn to the pastoral landscapes of India. She considers the earth to be at the root of all life – and in that sense, the root of all her work. Shambhavi's practice is a visceral recreation of the farmer's life, where she uses art as a means to share the story – and the plight – of rural India with her urban audience. Some of the works in the exhibition feature agrarian motifs to represent the community, identity, and aspirations of those whom the rest of urban India may have forgotten-rooting them in their agrarian context but imbuing them with a universal texture and form.

Shambhavi's work is primarily abstract, deriving motifs from agricultural iconography. In 2011, Shambhavi was invited to be an artist-in-residence at STPI Creative Workshop and Gallery in Singapore. In addition to showcasing work in India, the USA, South Africa, Australia, Austria and Singapore, Shambhavi was also associated with the Foundation of Indian Artists in Amsterdam from 1991-2000. She recently showcased her series Maati Ma at the 2018 Kochi Muzuris Biennale, and has also had her work acquired by the Museum of Modern Art (MOMA) in New York. Originally from Patna, Bihar, Shambhavi now lives and works in New Delhi.
L-R: Reerdha (Spine), Purabiya (Easterly). Both are iron installations
'I first became familiar with the farmer's monumental existence as a child, being made aware of the perpetual cadences of their way of life, and the often insurmountable challenges. These are the roots from which my art grows.' – Shambhavi

Shambhavi Singh (b. 1966) is a painter, printmaker, and installation artist whose artistic practice includes a wide variety of processes and media. Her work is largely non-figurative and focuses on the relationship between man and nature, as well as the social and metaphysical condition of the agricultural worker. Born in Patna, she grew up spending a lot of time with her grandparents in the countryside – visits that she cites as the origin of her fascination with nature and the inspiration for much of her work. She attended the College of Fine Arts and Crafts, Patna in the 1980s. She moved to New Delhi in 1990, earning a Master's in Fine Arts from Delhi College of Art. She has continued to live and work in the capital for the majority of her three-decade career, despite frequent travel.

Her work has been exhibited in solo shows as well as selected group shows in India, Singapore, Austria (Vienna & Salzburg), South Africa (Durban & Cape town), Australia (Melbourne & Brisbane), New York, and the Netherlands, where she was associated with the Foundation of Indian Artists, Amsterdam from 1991- 2000. Her work was recently added to the collection of the Museum of Modern Art (MoMA) in New York. The most recent showcase of her work has been at the just concluded Kochi Muziris Biennale 2018-19.

Shambhavi's work is on view at Gallery Espace till the 29th of February, 2020.