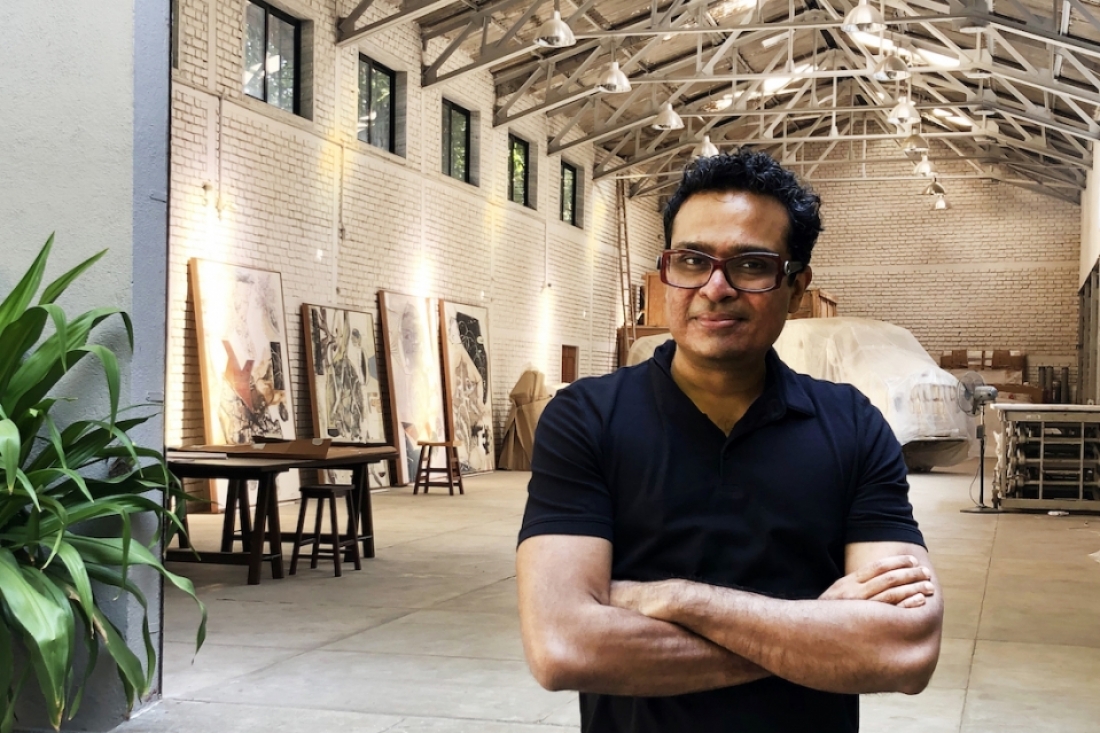 The Artist and The Book
Jitish Kallat
One of the most prominent contemporary artists of India, Jitish Kallat was incessantly making drawings as far as he can remember. 'Reflecting back, I think an incredible alchemy happens when you draw, especially when you're a child; you make a mark and you create space, you add a few lines, and you derive depth. As you add more marks, a world begins to originate on a piece of paper, and you feel incredibly empowered.' That engagement while you are creating and the outcome that you see turns into rapture and makes you unstoppable, and that's exactly what happened to Jitish Kallat.

Today his oeuvre spans painting, photography, drawing, video and sculptural installations. His latest book, Jitish Kallat, chronicles two decades of his work. In between the book launch in Mumbai (April), New York and Venice (May), he gave me an insight into his thoughts, what engages his artistry, and the process behind making a 'retro-prospective' book.

What's your earliest memory of drawing or art? And when did it turn into a serious relationship?
When I look back, I recall a day when my sister, who is eight years older than me, was struggling to make a drawing in her biology book. I must have been around five at the time and volunteered to do the drawing for her. I sat beside her, making the drawing on another sheet of paper. It so appeared that I could do a better drawing, and this got my sister and the family all excited, giving a naïve boost to my juvenile self-worth.
I think well into my mid-teens I was persistently and obsessively drawing.
By the time I completed my high school education, I was clear that I wanted to join an art school, not contemplating or caring about the practical consequences of that decision.
You have lived in Bombay all your life and one can see nuances of the city in your art – what is it about Bombay/Mumbai that continues to engage you?
In the years following art school I'd often say that the 'city street is my university' and that is indeed true to how my pictorial language formed in the early years. In an urban environment like Mumbai, the greater the population density, the more the themes of life that are amplified - anger, fear, anxiety, pain, pleasures, desires - all of these basic human emotions get augmented, and this percolates into the art you make. In Mumbai when 20 million people move through the streets, all the classic themes of life and art are played out in sharp focus…my early works became a receptacle of those impulses.

One other aspect to the work that has remained consistent during various phases is the need to look at the distant alongside the proximate. One could say that it is an obsessive engagement with the skies; a place where it all begins, with light and energy, and photosynthesis that becomes food, and the food that becomes our bodies. One could say that the work looks at the celestial alongside the terrestrial, the cosmos alongside the cosmopolis.

Can you tell us about Jitish Kallat - the book?
I often describe this new monographic book covering two decades of work as a "retro-prospective", looking back in order to look ahead more clearly. Working on the monograph was an inspiring process, especially because it paralleled the making of my large retrospective - like the survey exhibition at the National Gallery of Modern Art (NGMA) in Delhi in 2017, curator by Catherine David.
The process of making this monograph was a bit like reflecting on one's work, but through a sustained conversation with the book's editor Natasha Ginwala, as well as the various contributors. Some of the writers have been long-standing interlocutors with whom one has a continuous dialogue about art. There were others, such as Bernardo Kastrup who comes from the discipline of science and philosophy, or Dilip Gaonkar who comes from the discipline public culture and rhetoric.

The book also has a very long interview between Hans Ulrich Obrist and me, which covers the journey starting from my art school days in the nineties until recent times. It is the only chronological element in the book.
Wind Study Hilbert Curve pp. 288
At 22 you had your first show, and at the time you were still trying to find yourself. People evolve and practices evolve; however today if you look back, what has remained constant and what has shifted?
I was indeed twenty-two when I was working on my first solo exhibition titled P.T.O. at Chemould and Prithvi Gallery in Mumbai. While my work has gone through several turns in the last two decades, some of the themes remain consistent. The ideas of time, sustenance, birth, death and mortality that was present in the works I made as an art student and in the years immediately after, still continue to preoccupy me. Of course the work has shifted in terms of material, methods, scale etc. but some fundamental inquires remain just as relevant to me today. I don't think I reflect on my past work in evaluative terms… it's more about getting a handle on what were the preoccupations and motivations that emerged in the work at different periods in my life.

Lastly if you could pass on some wisdom or share what you have learnt through your experiences to the younger generation, what would you convey?
I must confess that I don't feel authorized enough to dispense wisdom. But in my own life and work I might say that I've slowly learnt to befriend uncertainty and nurture chance as a productive condition for creative renewal.

Text Shruti Kapur Malhotra
Above: JK Epilogue pp. 190-191
Below: Artist Making Local Call pp. 42-43