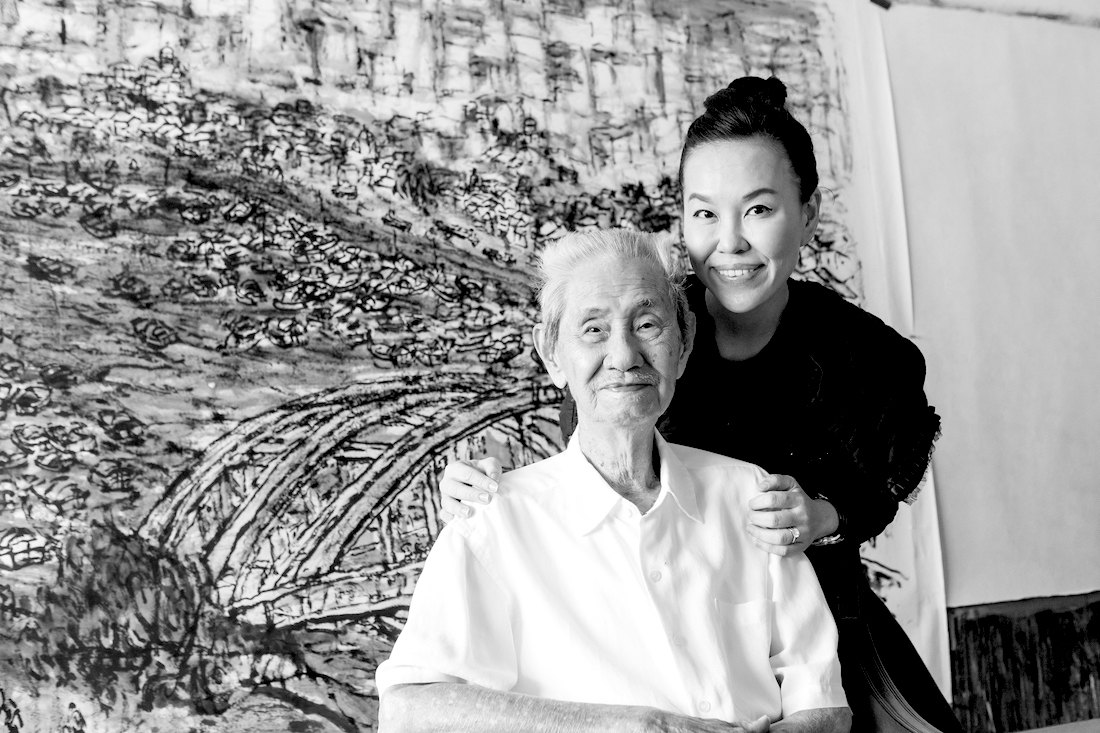 Artist Lim Tze Peng with Curator Jazz Chong
The Spirit of Ink

Jazz Chong, Curator
In the words of Lim Tze Peng, "as Asians, we have traditions left to us by our ancestors which we ought to imbibe. This tradition is in calligraphy in the texts of poetry." At 99 years old, Lim is Singapore's oldest living artist and one of the most respected Chinese calligraphy artists, but it is only now that he is making his debut on Indian ground. The highlight of the exhibition will be Lim's five new large-scale pieces of abstract art calligraphy painted over the course of 2018-2019, which will be displayed in public for the very first time. From an expansive collection of his works, another 20 specially curated pieces have also been selected to depict Lim's journey from his roots in traditional Chinese calligraphy to his current more abstract and contemporary works.
We speak with curator Jazz Chong on the journey of putting together the legend's show.

Tell me a little about yourself, and your journey in the arts.
I was always interested in the arts, but my first venture into it was through the medium of music. Visual arts is the second love of my life. However, I found that my talents were better suited to the visual arts; specifically, managing, curating, and maintaining relationships Therefore, I decided to follow my intuition to share my passion for art with those who would appreciate the arts as much as I do.
I had a good eye for what was current and exciting. When the gallery [Ode to Art] first started out, we had just introduced the works of Chinese sculptor Chen Wen Ling to Singapore. You would probably recognize him as the "red naked sculptures" sculptor. I am still very proud of being the one to bring his work to Singapore – today he is one of the top sculptors in China, with 5 of his life size works collected by Alibaba in their Hangzhou headquarter recently.
What inspired you to bring The Spirit of Ink to India?
This exhibition would not have been possible without the partnership of IDF Singapore and Mumbai's oldest museum, Dr. Bhau Daji Lad Museum. When Rajshree Pathy, the founder of IDF, and I first formulated the idea to bring Lim Tze Peng's works to India, we didn't expect to be where we are today – to be given such an honor and opportunity to exhibit at the museum. With the support of Consulate-General of the Republic of Singapore in Mumbai, principal sponsor DBS Bank, and PSA International, we were able to mark a new milestone in the artist's aspiration to exhibit worldwide. He is extremely happy and humbled to have been able to exhibit in two of the world's most populous countries, China and India.
This year also marks Singapore's Bicentennial, the 200th year since Sir Stamford Raffles landed on our shores. We wanted to do something momentous to celebrate this occasion, and what better way than to share the art of Lim Tze Peng, Singapore's living legend, with one of the most populated cities in the world, Mumbai.
Lim Tze Peng is a living legend. What was your first conversation with the artist and how did the overall collaboration take place?
I still remember it as if it were yesterday. It was 2008. I had originally called on him with intention of collaborating on a hospitality project. However, seeing him in his studio amidst the lifetime's worth of artworks he had amassed, I couldn't help but be awestruck.
My friendship with Lim Tze Peng has not only enriched my professional undertakings, but also my personal life. I always leave our conversations feeling enlightened by his wise words and years or experience. To me, he is a figure who incites deep respect, I have learnt so many personal lessons by simply witnessing his dedication, discipline and unwavering commitment to his family.
What does the written word mean to you and your own evolution?
It is always important to look back on the work and experience of the generations that came before us, and the written word is one of the easiest ways to do so. I find that we always stand to learn something from our forebears as after all, we are only where we are today because of them.
Take us behind your curatorial process.
I think looking at the character of the artist is a major factor in determining if we can work together or not. From there I can decide if I want to curate their works. I must understand their journey and body of work, as well as the emotion, the story and the sentiment behind each piece. In my opinion, art is, in part, about making an emotional connection.
A curator has a complex relationship with a gallerist and an artist. Your experiences and views.
The gallerist champions represent the vision of the gallery, the artist champions their own artistic vision, and the curator can sometimes act as a mediator between the two, finding the middle ground or common goal we can all work toward. As someone who is both a curator and gallerist, I find it easier to sympathize with the needs of both sides. This makes it communication with either side a little smoother. As mentioned previously, I prefer to work with artists I can get along with, so all in all, working together should not be a chore at all.
Where are you headed from here?
One of my current undertakings is an ongoing project called "Living with Art", which aims to show Singaporeans how art is more than just something hung on walls in a gallery, but also something that one can live with. Art enriches our lives, there is no reason to keep it at a distance. We should be able to have it with us in our living spaces, to keep, to admire, to reflect upon.