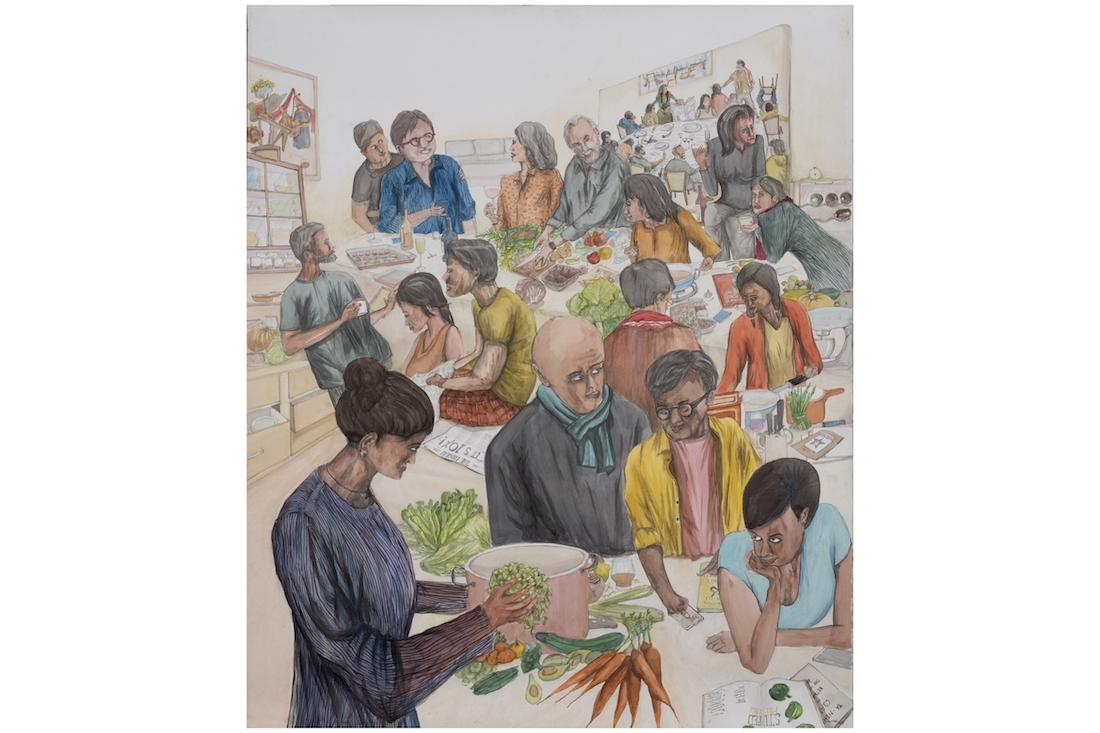 The Story of Sculpting The Way Out

Nityan Unnikrishnan
The best of art is less about doing and more about allowing. A good exemplifixation of the analogy is artist Nityan Unnikrishnan's new work, The Way Out and as I understand his creative process, it gives me an insight into art as a channel rather a destination. In a rare interview, Nityan takes me behind his practice and his everyday life.
Can you tell us a little about your new body of work – The Way Out?
The Way Out has 14 or 15 works on paper and cloth made in the last two years, and four sculptures in ceramics and wood. It has been a good time because I got back to ceramics after almost a 10-year gap, thanks to my only classmate, fine potter and friend Thomas Louis, who literally dragged me to his studio to "do some stuff".
More than an artist you are a storyteller – where do you find your stories?
Half of it is the mess in my head. The other half is outside it, life and lives of people and our world. Newspapers, books, history, politics and so on.
"I don't plan much and I work on it and follow the scent and go where it takes me."
Each artwork of yours is so intricate and every detail, though not directly connected, appears to have a purpose in the larger body of work – how do you curate your individual artworks?
It is easy to explain if I compare it to a diary or a sketchbook, except that I am drawing it all out on one page, or sheet of paper. I don't plan much and I work on it and follow the scent and go where it takes me. Sometimes I walk into walls and turn this way or the other and get on with it.
As an artist, how much of your own reality reflects in your art?
I can't speak of any other reality, and there are more realities than there are people and places. And the one that I can claim as my own could just very well be a giant hoax, so I decided to work with what I think I have.
"It is uncomplicated. I don't work much. I don't give myself too much importance. Usually that does the trick. And that is more or less my process too."
Lastly can you deconstruct your practice and your process? Do ideas flow looking at a blank canvas or are thoughts jotted down before the very first stroke? Or is the entire story written down before the visual interpretation or is it something completely different?
It is uncomplicated. I don't work much. I don't give myself too much importance. Usually that does the trick. And that is more or less my process too. I go to work like everyone else. Some days are better than others in terms of the real 'making' of works. Nothing is cast in stone. Days have gone by playing a staring game with the paper or canvas with me losing sorely. There are times when I am Hendrix, Viv Richards, Bhupen Khakhar, Bowie, Zidane, Tarkovsky and 'the Dude' in The Big Lebowski, all at the same time, and owning it. There are also 'underwater' out-of-form times when things are not that good. It goes along with your question number 3 -- I swim with things for a while and at some point it pops out like a pop-out lighter.

Text Shruti Kapur Malhotra