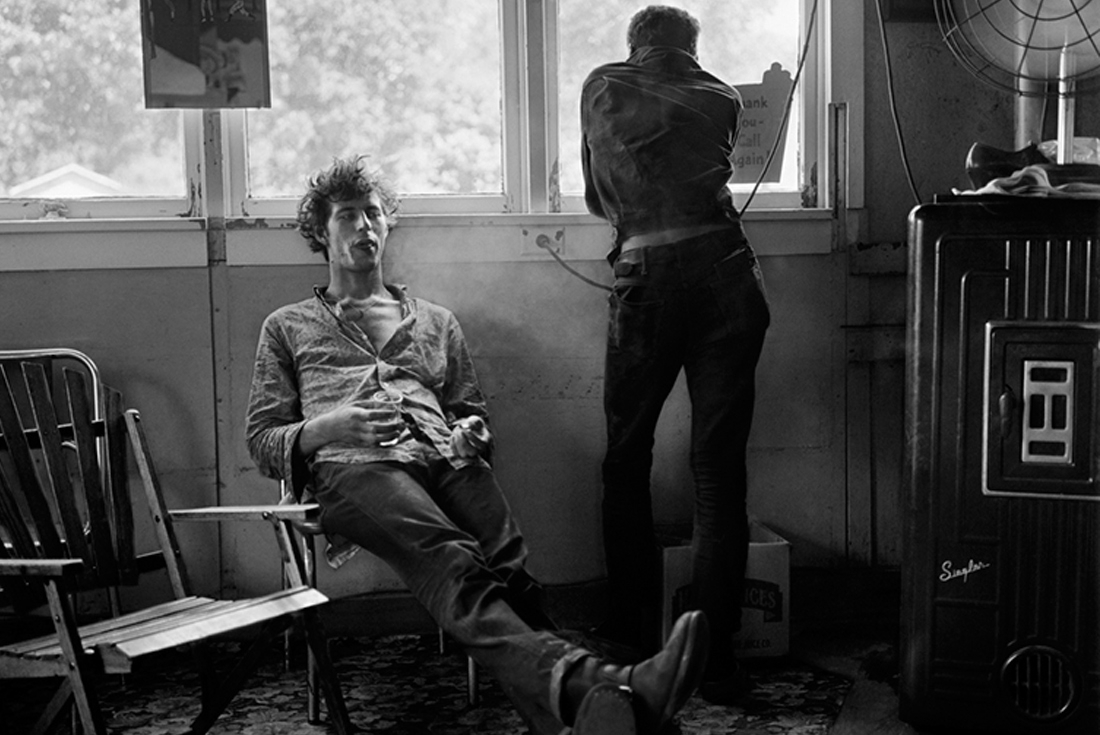 Angels of Death, Missouri, 1958.
#ThrowbackThursday: Larry Fink
Candid Yet Intimate

Celebrated photographer Larry Fink's art is intimate. He includes you in every image and you almost feel you were there, having a conversation with the Hollywood crowd or walking the streets with The Beats. Much of his work seems to bring to surface those extraordinary, unguarded moments present in an otherwise public world. 'When I look at a body or a face, I want to possess it and then bring you into me, so I can become you and you can become me, and see what I see. Basically, I want to empathise with you. And it's that that I live by.' Recently, Armani/Silos, the fashion art museum in Milan, unveiled an exhibition of photographs: The Beats and The Vanities, Larry Fink. In Giorgio Armani's words, 'I find Larry Fink's eye compelling. It is as if you are there, with him, observing an intimate moment. The people in these pictures are caught off-guard, apparently unaware of the camera, which is surprising as Larry must have often been quite close to his subjects. He obviously has an unassuming approach—these images appear entirely natural.'
Meryl Streep and Natalie Portman, LA, 02-2009
Excerpts from the interview…

The Early Years. The Evolution.
My parents were socialists, and they trained me that the revolution was soon to come. So, I photographed for the revolution! I had no commercial ambitions—I was born into that generation that thought we were going to change the world. Over time I realized we were delusional, so I decided to document society. In doing so I may well have shown the changing styles of what people were wearing, but this was always a by-product of the work. I'm looking for a moment where I find myself within the other—whoever that is. That's the central factor. That's a reflection of our deepest humanity. Interestingly, where my pictures of the actual fashion world are concerned, I always thought that fashion was theatre without a plot.

Through the lens
You have to develop a technique. So, for example, when I first started to photograph social events, people would ask me what I was doing. I'd be well dressed, to fit in, and I'd say that I was photographing 'the archives of gaiety'! They'd say that was wonderful. Then I'd sniff around, have a cocktail or two, and try and get something different. When I first started taking pictures for Vanity Fair there were other photographers there, and it became apparent that they were all taking the same sort of picture. It occurred to me that I could do what I wanted. So, I just went free. I'm not looking for externals, I'm looking for internals. The closer I can get, the more I can discover. Sensual, primal empathy is stronger in me than any judgemental approach. I'm not a cynic. In the end, then, I'd say getting up close is a question of being sleek and making people feel that you are not judging.

Turk LeClair, MacDougal Street, New York City, 1958.
The Beats
The Beats, in their rebellious anarchy, thought themselves to be the outsider energy that would cleanse the grey matter of culture with their verve, their hunger, their curiosity and their internal destinies.

The Vanities
In the other camp, the Hollywoodians, by the factor of their celebrity, fashion themselves for the most part, and for the most part are fashioned that way by the public, to be the symbolic personification of illusionary skill, and ego. So, in a strange way there is a union of the forces.

The Collaborations
I am really pleased that Giorgio Armani decided to exhibit The Beats and The Vanities together. The pictures have more in common than might at first be obvious: from two different very, very opposing levels of egotism, The Beats and The Vanities live within the same valley. Each set of participants fashions themselves to be on the top of the mountain of contribution. It is great that Armani has recognised and understood this and it is the first time both collections of images will hang in the same space. I understand this is also the first time that the Armani/Silos has presented a one-man photography exhibition, and that is indeed an honour. Of course, the images were made 45 years from each other. The Beats were photographed when I was a young romantic, The Vanities when I was--not hardened--but a humanist ironist. Therein, the bodies of work have different aesthetics and moral calculations for all that come to see.

Black and White
As I am a teacher, I can talk about the photographic process, but I am quite reluctant to do so with regard to my own work. But...I suppose one way to explain my use of black and white is to say that it simplifies things in terms of light and form. This is what I am interested in. When the light streaks across your face, can I see only your face or can I start to imagine a mountain range? Or, when your ear bulbously moves out like that, do I see it as an ear, or something that alternatively becomes a piece of pork rind? Every time I look at anybody anytime, I'm always after the deepest place. Then, when you couple black and white with flash photography, you have a type of a divining rod, an extension of the decisive moment. So, it's not about making a picture, it's about when will chance opportune itself for revelation? And it's always about the flesh. And the imagination. In how many different ways can the imagination be penetrated by the nature of coincidence?

Art: Real or Reel?
I'm hoping that what I manage do with art is to make it real. What that reality is, in the world of Hollywood, is interesting. I don't think you can learn anything from celebrities. With all their elaborations on human drama, they actually provide a substitute for people in terms of how they should view the importance of their own lives. Celebrity is about the celebration of self. At the same time, it's a celebration of no self at all. Ultimately, I hope my pictures give a sense of that strange paradox. I always thought of my art to serve, to educate, to inform—to do something way beyond the idea of art itself. It's about the nature of how chance aligns itself with coincidence on a sensual level. In that sense, yes, the camera can capture a type of truth, and shine a light on it.