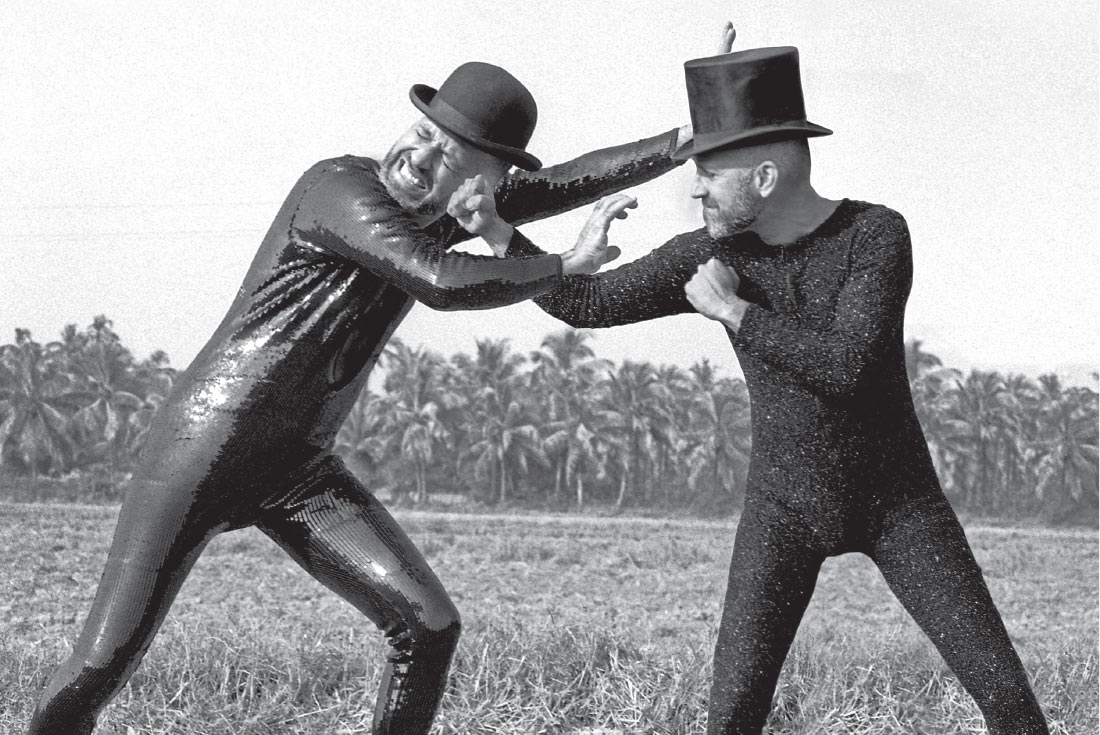 #ThrowbackThursday with Nikhil Chopra
One of India's foremost practitioners of art, Nikhil Chopra has an unconventional choice of craft. A craft that he explains as a 'straightforward act of drawing and performing at the same time' and in the process, sweeping himself and the audience away. Nikhil sits at the crossroads of art, music, drawing, theatre, painting, photography and culture. Over a phone conversation from Goa, Nikhil shared with me the nuances that create and form his artistic language and also what inspired his last show at Chatterjee & Lal.
Who is Nikhil Chopra today?
With the kind of visibility I have had over the past few over years, Nikhil Chopra has definitely been a response to the work that I do. So that's a very career oriented sense of self which is about work. And then there is a very down to earth, very daily/normal existence of a person which I am more connected to. If I were to think about my life, I think about how many hats I have to wear on a daily basis. From being a father to being a husband to being a partner to being an artist, to being an art facilitator or even being a mentor sometimes...and all of these hats make a state of incompletion individually. And yet when they come together, there is a sense of completeness because this is who I am. So, there is always that struggle and strive to make all of these hats fit and work. And if I have to sit down and put a name to it then it is Nikhil, I don't how much Nikhil Chopra means to me.I hope I am in touch with the man in the mirror. And that's what I try to strive for, to make all these different identities work. It's an ever-changing, ever-metamorphosing sense of self.
What inspired your latest show at Chatterjee & Lal?
What really inspired the show at Chatterjee & Lal is the show that I am just coming out off, a large undertaking for a major international event called Documenta where the artists are called out to conjure their most ambitious projects. And I did think of my most ambitious project that developed into a 30-day long performance work that started in Athens and ended in Kassel, Germany. What was unique about this Documenta was that Athens was part of the mix because primarily Documenta happens only in Kassel but the director's vision for this Documenta was sort of to enter the belly of the beast and address some really hard issues as opposed to being in the safe fortress- es of the art institution. So, I enjoyed the challenge because I gave myself the task of doing a road journey from Athens to Kassel that spanned around 4000Kms. It was me taking a tent in a trailer...a large marquee tent, about 6 meters in diameter across the landscape of Eastern Europe into Western Europe through Central Europe. At every stop, I would erect my tent, and make a drawing on the walls of my tent of what I saw outside of it. At every two locations, my inner wall or the inner lining of the tent would change to make way for a set of new drawings. And in the end, I landed up in Kassel with a fleet of eight drawings on four canvas- es that I stretch along the railway platform of the main railway station which is now a derelict railway station, but it's still a railway platform and you can still see the tracks. So I set up the draw- ings as one large panorama essentially, that spanned from Athens to Kassel in a way to find a common thread that will run through all these spaces and art, performance became a common language that was able to bridge a lot and I was able to pull that line through the landscape that I wanted to so that there really is a sense of satisfaction with all the trials and tribulations that came with putting this together. So I have come out with a massive archive from this project and I want to share it. The four canvases with eight drawings have come back to India from Europe and there has been the lot of research that has gone into it, in my studio as well. I want to do something I haven't done before and that is to have an exclusive drawing exhibition. For the show, I will be pulling out drawings and studies of skies and seas and all of what that has informed my performance in Athens and across Europe and also videos and video documentation will all be a part of this exhibition that is coming up in March.
Tell me about the people that inform this piece...
People such as Evo Ivan, director of Sophia Underground Performance Festival has become a really good friend as has Ivan Engelus, the director of Budapest Contemporary Dance Academy, who is planning to do a residency with me in Goa in this year. The relationships for me were the most important for me. And the context that was created around my presence in those places was really what created this work as every location was completely differing. Loise Braganza, who designed an entire wardrobe of costumes, really created the personas for me because I traveled for a month without my clothes, without anything that I own so it was all a specifically designed suitcase full of things for me. Aradhana Seth designed the tent, which really became another character and it really created the context for dialogues and for people to commune within. Gautam Sharma, a really close friend, wrote these beautiful lyrics that went with every city that I visited and they were like love songs and we treated the cities like women. An oral narrative to plant in people's heads... so all of these characters in my life that came together to make this project happen are so much about how the exquisite corpse is created around this creature that moves across the landscape.
What has been the most important shift in your perspective?
The most important shift in my life has been the loss of my sister. I lost her in a car crash in 1999, and I was suddenly confronted with the impermanence of life. It was very sudden, so life became fictitious for me where one moment she was there and in the other moment she was only in my imagination. All that created a deeply philosophical relationship with life for me. From that trauma and tragedy to use that energy source or sorrow came out a desire to live really. So I turned it into an aesthetic experience. The art is in how you come out of a crisis. It is why I have found strength in the performances because I absorbed her absence and it has become multiple personality force that is so alive in me. If I go in drag, it's not because I am having a play on sexual identity, actually, that has nothing to do with it. In front of the mirror when I'm transforming, there is a search for that missing person to fill that void for just a second in my life. To be able to gaze in the mirror and see her because maybe we share the same eyes or the nose. Having said that, all the people around me fill that void, so I am not deprived of anything. I am overwhelmed with all the love I am surrounded by. But it has been a lot of work to create that love.
Your performances are largely improvised, how does the audience affect them?
Well, one of the most ambitious desires for performance is to create a positive response. Performance generates performance. If the situation comes with heavy constraints of theatre or the decorum of a museum, wherein a performance some of that separations can collapse because the audience is implicated often into a performance, their presence becomes a part of the piece. In a 72-hour performance, it isn't possible to have every aspect rehearsed. So, you have to go with the fact that there are moments that are going to be completely improvised, what you fall back on. The improvisation becomes the tool as opposed to not knowing what to do. It is about knowing exactly what to do. Like looking out of your window, the cafe that you stop at, the little beach resort you decided to stay one extra night at, you want to go for a swim in the sea; the play you saw in that city really molds you and informs the rest of your trip. That's where the experiences are happening; it's not in the plan but it allows for the plan to shift just a little bit. That's where the excitement is— having moments of discovery. To share that with an audience in a live space is a very exciting thing to happen.
How do you respond to art coming into the digital spaces that are trying to make it more accessible?
I am trying to think about digital space less and less. I think the digital space for me has actually in a sense, maybe, has the potential rather than experience. I think we need to look at our screens less and less. I think we are submitting ourselves and committing ourselves too much to a digital world, to a screen as a form of escape. Urban life today is such a trap that we find a sense of escape in our cell phones and our handheld gadgets to such an extent, that we are blocking out the world around us. So I think we need to put our phones down, shut our computers every now and then for us to have a real, flesh to flesh, body to body, touch to touch, smell to smell, breath to breath experiences that are not determined by a product or corporation or information coming to us by something that is not real and tactile. All of these things are being simulated for us, right? And I'm not interested in simulation anymore. I, too, am a product of it, I'm on Youtube, Netflix, Mac and my iPhone and I am thinking of updating my machines all the time. And I am feeling slightly slavish about it. Which is why for the March exhibition I want to have a drawing exhibition —handmade as a conceptual choice. No photography, not even live performance.

Text Hansika Lohani Mehtani