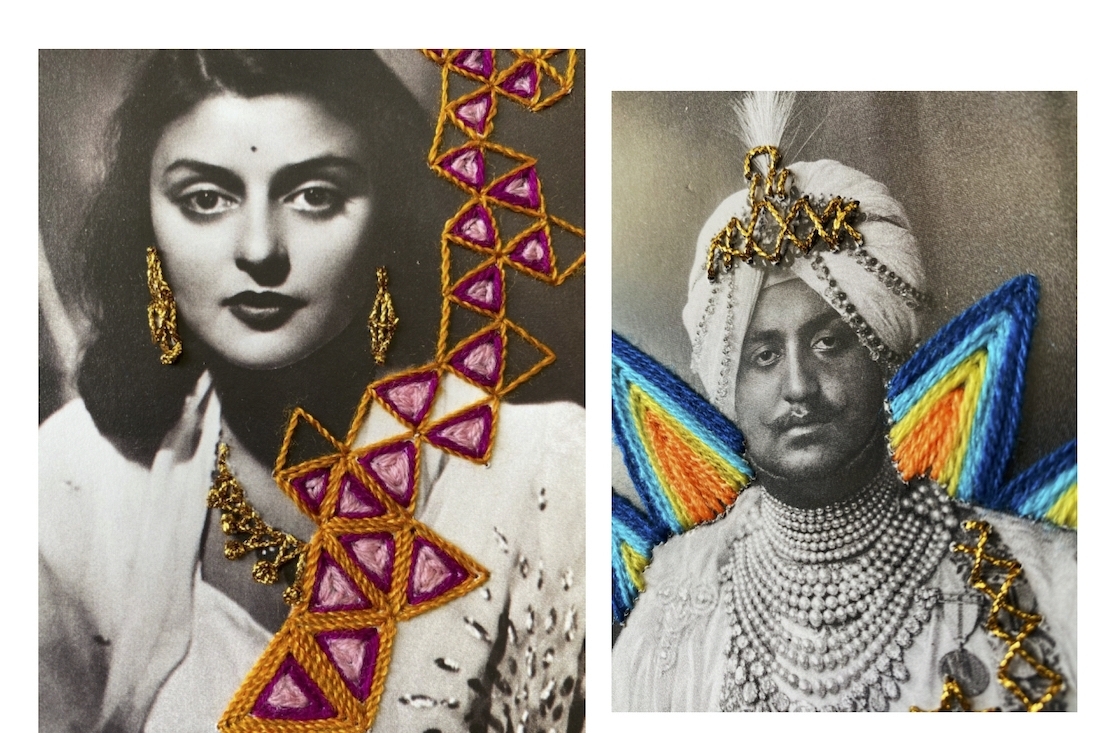 L:Princess Rajmata Gayatri Devi, postcard from India; R:Bhupendra Singh Mahindar Bahadur, Maharaja of Patalia
The vignettes fade into the corners of a vintage photograph of Frida Kahlo, which has been brought to life by a whimsical layer of embroidery with striking colours. Victoria Villasana, a textile artist, finds her niche in this unexplored medium — stitching geometrical and free-flowing patterns over photographs of artists, musicians and politicians. Often created with the intent to lend a sense of empowerment or bring to light a social message, she takes her work to the streets in the form of murals, small stickers with popping hues, or as elegantly framed artworks on household walls. Interested in the human spirit which is tethered to politics and society, she looks at how cultures connect with each other in a fragmented, post-digital world.
We delve further into her artistry below:
The Artist
Victoria Villasana was born in Guadalajara, Mexico. After studying design at ITESO University in Mexico, she moved to Europe. She tells me about her experience there, 'I really liked London so I decided to stay there for a while. Initially it was just for six months to study English, but I ended up staying there for much longer. I wanted to explore different things because you have these wide variety of courses. I wanted to do work that was more artistic in nature rather than design, that was more my line.' During her time in London, she became well known in the street art community for her cross-cultural imagery and feminist portrayal of the otherwise oppressed community.
Interestingly, she had a brief stint as a florist as well, where she trained as one and worked at a flower shop for a few years, following which she pursued a career in fashion. It is during this time that she began stitching patterns atop images as a hobby. She elucidates, 'Every time I had a job, be it florist or styling in fashion, there were always certain rules. When I worked in fashion, they would give these creative briefs from the designers. I wanted to do something more artistic, more expressive, where you don't need to follow any rules. So, on the side I was always painting and doing collages. I would cut up magazines and start stitching over it. And I believe my Mexican background played a role as well, as we are very big on textiles. So I eventually started using heavy yarn which is thicker, and began incorporating brighter colours in my art.'
The Yarn
The use of yarn, a traditionally female craft, has been repurposed by Victoria's art as an agent that ties us to our mother civilisations, and as a rope that binds different cultures — a symbol of human belonging and integration.
This dynamism in her work is further accentuated by the uncut yarn that is often left hanging far below the frame, which when juxtaposed with the systematic geometrical patterns, gives her art a surrealist aesthetic. 'That is how I started to do my street art pieces, by leaving the yarn hanging. I really like the unfinished kind of feel. There is this continuity in the piece. Sometimes when I frame them, I like the yarn to be outside the frame. It's a representation of us as well, always evolving and always changing. This possibility of always expanding. It's never finished and it is still open to the possibility of becoming something else,' she explains.
L: Fibonacci Sequence
R:The Spiral of Life
The Process
She tells me about the intuitive and introspective nature of her work, which heavily relies on the kind of work she is currently reading, and a documentary or biography of someone that she is watching at that time. 'I start doing some research online, and you know how it is on the internet. One thing leads to another, and I'm suddenly exploring a whole lot of stuff, and I'm thinking, 'oh I could do this' or 'oh I could do that'. But once I pick a photograph, I start to think about patterns, where I want to work, what I want to say, all of that. And then I just start stitching, I don't plan it in advance, I just go with the flow.'
An underlying social message is a ubiquitous element in her work, be it murals, pop-up street stickers or postcards, which she believes gives shape and a defined identity to her art. 'While I like all types of art, I have always felt more attracted to the kind of art that makes you think or has something to say or convey. I think that is one of the differences between design and art. Art has more room for expression, you can convey a message. My work is very 'in the moment', it is indicative of something that I'm questioning,' she adds.
India
'India was great. I got to visit New Delhi, Agra, Varanasi and Jaipur. It was a nice experience because it was my second time here. I was here ten years ago and this time it was different. The first time, I came on my own, so I was travelling around, backpacking. But this time it was with a group of people, so it was all arranged — hotels and everything. But I wanted to put up some of my small street art pieces, and I didn't have time because we were always on a schedule. So I'm a bit gutted that I couldn't do that,' she shares with me, along with some of her work from this visit, which are appropriated postcards inspired by the Maharajas and princesses of ancient India.
L: Postcard from India
R: Victoria Villasana
The Pandemic and Beyond
'It hasn't changed so much for me because I've been working from home for the past two years or more. I'm hoping for it to go back to normal, of course. But I keep getting work and more ideas, which is good. It has made me go deeper into my cocoon and into my creative space. I've also been trying to collaborate more, especially with other photographers, and do some gallery work as well,' she says on a parting note.
Text Janani Venkateswaran