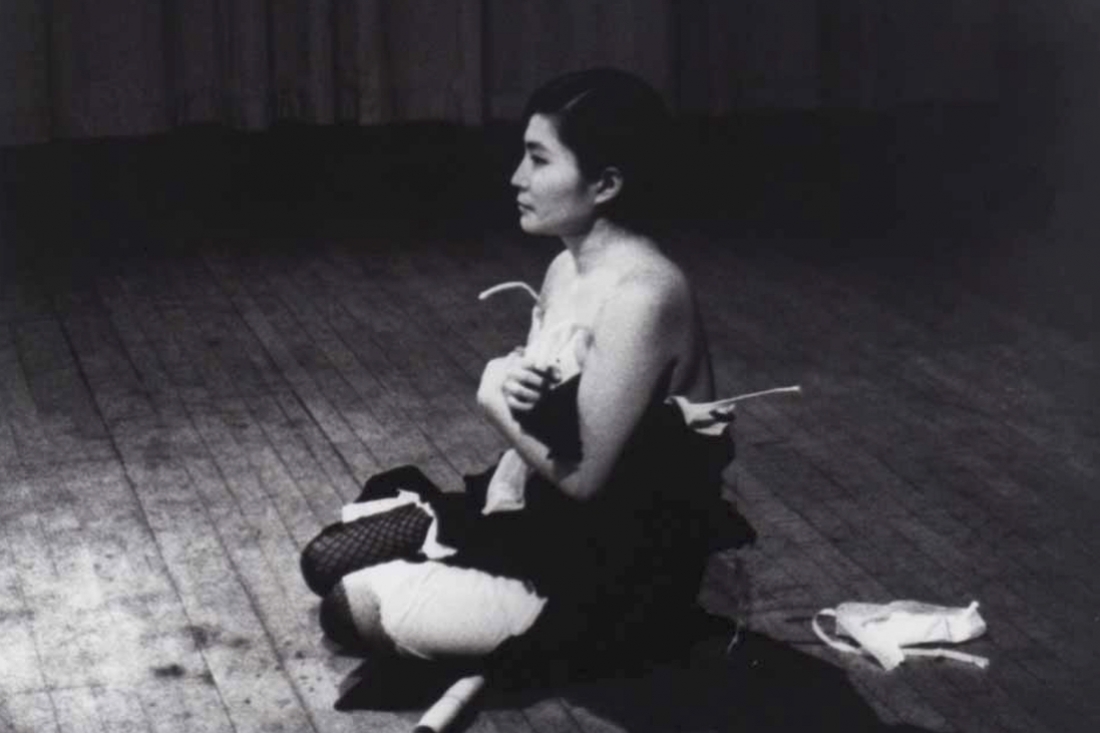 Cut Piece Performance, Carnegie Recital Hall, New York. March 21, 1965. Photography Minoru Nizuma
A multi-disciplinarian artist, Yoko Ono's art is one that you either sort of understand a little or fail to see the point of. Whatever the emotion may be, it surely evokes a strong reaction. Be it Film No. 4, featuring closeups of the bottoms of models walking on a treadmill or Cut Piece, performance art that required audience participation, where they cut material off her body until she was naked. Her sensibility finds beauty and art in everyday life, existence and events, and she extends her thought through interactive work, which has been a crucial part of her art.
Married to John Lennon who in the initial years described her as 'the world's most famous unknown artist: everyone knows her name, but no one knows what she actually does', Yoko Ono never was one to thrust her cause or work. She communicated what she felt and had her own fan following. 'For the many decades I have been communicating and sharing my ideas, I was always blessed with people who understood my work deeply. That's my reality.' Of course since 2000 there has been a worldwide acknowledgement of her work and her important place in art history by various museums and art institutions.
Born in Tokyo in 1933 into a prominent banking family, part of Japan's social and intellectual elite, Ono received rigorous training in classical music, German lieder, and Italian opera. This veteran has seen diverse aspects of life and the world. Be it witnessing Japan's devastation in World War II or the assassination of her husband John Lennon outside their apartment, Ono from day one has believed in spreading peace and harmony, be it through her music, art or discourse. She brings an innovative language to the arts and represents resilience, courage, peace and above all imagination.
Vadehra Art Gallery curator, Vidya Shivadas had the opportunity to work closely with Yoko Ono for her first exhibiton in India, 'Yoko Ono has had a vast and charged career, which has constantly defied categorization. It is conceptual, coming out of a certain moment and movement in art history of the 60s and 70s, and yet remains accessible to a lay audience. It brings together Eastern aesthetics and Zen thought with Duchampian conoclasm and irony. It is profound in its message and yet light in its form. It is playful and equally obsessive. It foregrounds the experiential and the need for collective consciousness raising and above all it has been a committed practice that has sustained over so many years and provides us with a rich legacy of the poetic strategies and political will of Yoko Ono as well as others of her generation. Her work presents us with so many possibilities. It allows us to unleash our imagination, to rethink our creative potential and our role as individuals and as a society. I approached this as a landmark show in the way it attracts and engages audiences and allows them to rethink the line between the everyday and artistic.' This was the first time India got to interact with her and understand her art. Gallerist Roshini Vadehra exhibited her works at Vadehra Art Gallery, 'her art is at once simple and complex. Conceptual works such as the famous Wish Trees or the Smile Project are extremely thought provoking and challenge people's perceptions of art. Her artworks though avant-garde and provocative, are also very simple, sensitive and almost therapeutic in nature. A lot of her work is about gender, healing, hope and prayer – elements which would resonate easily with the Indian public.'
Platform had the privilege to get an exclusive interview with the artist herself who gave us a peek into her world of art, music, film and more importantly peace and faith…
Why has this aspect of audience participation been so crucial to you? And how has the involvement with this entity called the viewer changed over the years?
I like the idea of awakening the creativity in the soul of the audience. Now, people are so used to my work, they have no difficulty in participating in works like Wish Tree. The tree is always heavy with the many wishes of people..
Your art says so many things in so many ways. You seem to weave together music, art, performance, and public outreach projects so well. Where do you find the inspiration to constantly experiment with these modes of production?
I keep my mind empty so inspiration can come in. It comes in when I need it. And it is such a pleasure to give it a body.
In one of your interviews you mentioned that you fought racism, sexism, and are now experiencing ageism. Please comment on these ongoing battles.
I take all three isms as a challenge for me to become wiser and stronger.
What are your expectations from Indian audiences for your first ever exhibition here?
All Asians read and dream of India – its myths, history and philosophy. For me, it means I will listen to your heartbeat, and let you listen to mine.
Is there a special message for India?
I would like to reach out to all women of India, and all men who have become sensitive enough to understand the importance to listen. Our planet is now in danger. And I am thankful to my fate of being asked to come to your country at such a time of crisis. Thank you.
Given your training in music since childhood, have you ever been inspired by Indian music – be it classical, modern, or anything in between?
After my working day, I play classical Indian music to relax. I will be doing my vocal modulation backed by Indian musicians on this trip. This is the first attempt of doing it, so it's very exciting for me.
If you had to pick one essential message in your work what would it be?
Always do it with love.

Our conversation with Yoko Ono was first published in our Art Issue of 2012.

Text Shruti Kapur Malhotra