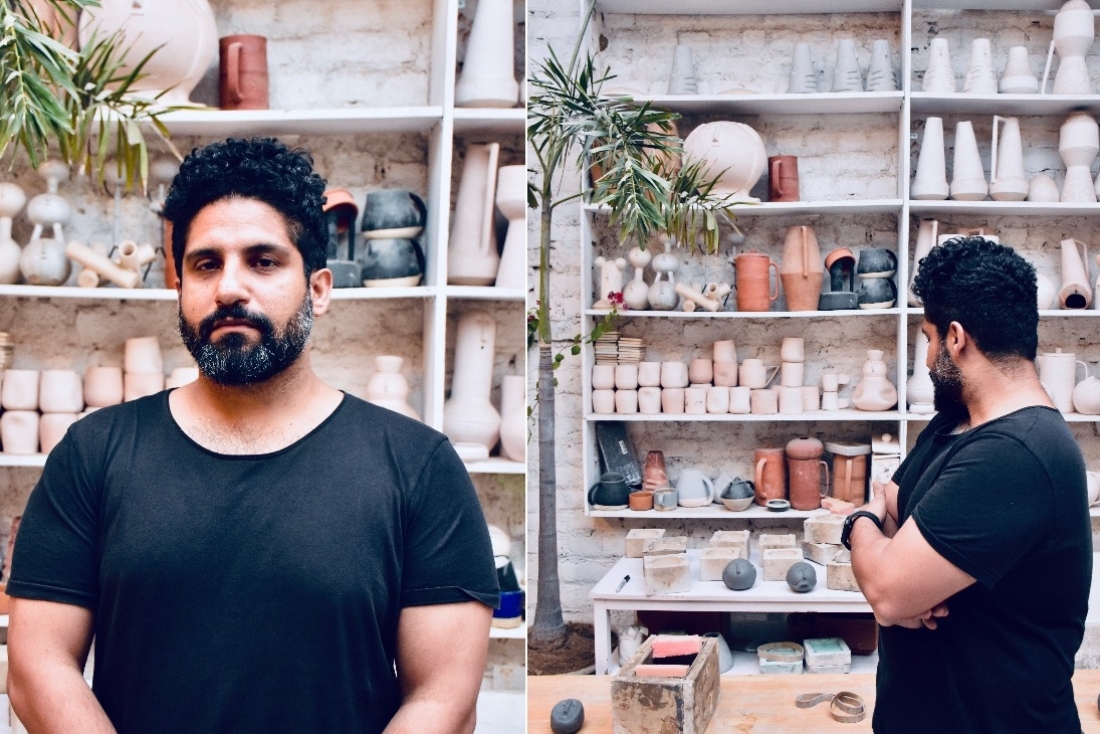 Photography: Muskan Nagpal
A Day Out with Aman Khanna
Neatly tucked away in a plush New Delhi complex is 'clayman' Aman Khanna's studio, Claymen. A leisurely walk through the store-cum-workspace with its white walls and Instagram-esque minimal aesthetic is adequate to calm down one's nerves. Claymen's existence seems almost paradoxical in the cluttered Capital that can't ever seem to catch its breath in contemporary times. The well-natured and philosophical owner of the studio narrated his journey with such calmness that it was almost therapeutic listening to the man speak.

Aman's education entailed a very methodical approach to design which required him to eliminate all unnecessary data. Hence, a succinct delivery of messages is his modus operandi even today by his own admittance. His journey with Claymen began as an endeavour that was meant to take away the monotony of staring at the screen day in and day out, the kind of work that he indulged in for five to six years. The multi-disciplinarian found the balance that he was looking for somewhere in the deftly produced clay figurines and the graphic design studio he heads simultaneously.
Aman's claymen are neatly divided in the categories of functional and dysfunctional. They made me question the gossamer space between the idea of art's utility and art just for the sake of art. The possibility of free play and the anxiety of meaning spilling through the set categories always exists. He acknowledged the idea and added, 'I feel that the boundary is very blurry. It depends on what you want to do and create. For me it comes down how deeply I want to engage with one aspect or maybe even make multiples. It boils down to how you want to play. Ideally functional items should remain so and when it comes to the binary opposition, it also represents how we are as people, dysfunctional.' He further elaborated how the functional units while being based on utility also appear as exaggerated artistic objects. The geometric series with triangular handles for cups he explained worked better for holding it but also added an artistic element. Aman's art exists as a voice and individually his inclination lies towards the human psyche and the innards of the mind. As a result, the idiosyncratic figurines stand for his own connotations of how humanity acts and reacts. He believes that the voice should emerge primarily from the self and then can be molded into shape or form that gives rise to art. On being questionned if his figurines were post human, he compared them to pre-historic earthenware that was ornate in nature but lost its warmth due to industrialisation. His work in clay is meant to bring the human factor back but not be centered around humanity.

Claymen's charm lies in its simplicity. The artist's school of thought is the antithesis of the norm that exists today. His belief doesn't lie in constantly generating new products, his three-year-old clay sculptures still sell in the market with minor alterations in the form of hands and legs. He also explained how he runs a tight ship in the form of his business that is conscious of the waste being produced and attempts to recycle in every way possible. With an aversion to how complex the world around us is, his creative process is also one that is aimed at making design more straightforward.
Adjacent to his store is the little workshop which wasn't in use because the production phase was over, but the blaring noise of the kiln was background music throughout the interview as the products were being baked. I managed to talk to Bhoop Singh, a potter and Shankar Singh who is involved in all things but mainly with the kiln as well.

While Bhoop Singh hails from a family of potters in Delhi, Shankar's roots lie in Uttrakhand. Bhoop Singh told me that he enjoys the craft he learnt from his forefathers. He further explained the process of making a cup from scratch. In general, it takes about 15-20 minutes, 'baking it takes about an hour. Drying it completely takes a day. If anything ever goes wrong then we have to begin all over again. We use a fixed process to create specific pieces. A ceramic piece usually takes the same amount of time while bigger piece takes a little longer.'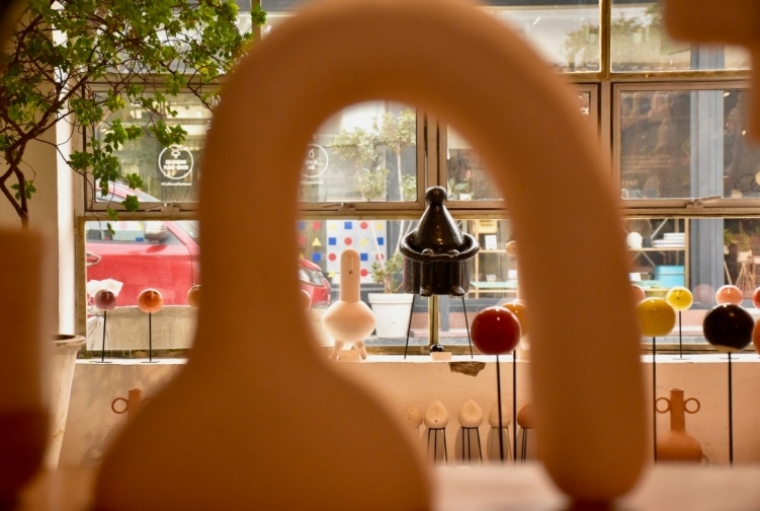 Shankar Singh, who has been in the business for the past five years, works with the kiln. He told me, 'we do all kinds of paring with the help of the machinery. After the kiln the end product is usually ready. Different kinds of paring take different time, some are about 7-8 hours long, another kind takes about 9-10 hours and the longest is about 11-12 hours.'

Text Unnati Saini