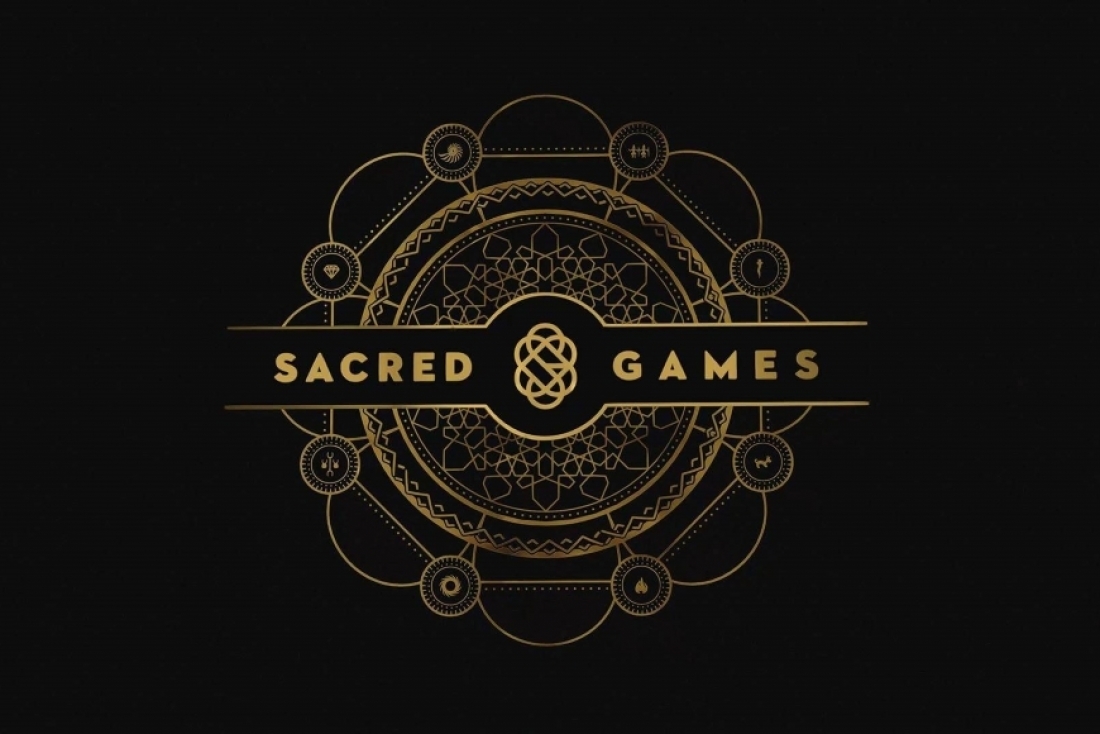 Aniruddh Mehta (thebigfatminimalist) is an independent Visual Artist, Graphic Designer and Art Director based out of Mumbai, India. He runs and manages Studio Bigfat, under which he takes up commercial projects and also works closely with the independent music scene in Mumbai. He has worked on projects for brands such as Puma, Redbull, Adidas and recently known for being the design-lead for the title sequence of Sacred Games on Netflix. We got in touch with the designer to know more about him and his practice. Excerpts follow:
Tell us a little bit about yourself and what led you towards the world of design?
My journey in the world of Art and Design began much later as compared to some of my peers who developed artistic skills at a younger age. In my first year of Design school I fell in love with the reading material that I was assigned to – from Jon Maeda to John Berger. I learnt about concepts of lateral thinking, simplicity and problem solving – to find efficient ways of approaching a task at hand. My aesthetic then developed based on design principles that I adapted to my work – which I still do till this day.
What informs and inspires your practice at the Studio Bigfat?
Having studied Design for 5 years, this is something that is integral in my practice and what I absolutely love doing; and with Studio Bigfat I collaborate on projects that I hope can provide a good platform to create work that bridges the disciplines of design and art. So far I have work on projects for Branding, Illustration, Motion Graphics, Space Design, Murals, etc – and each project is unique from the previous one. I strive to learn new practices and hope to develop my current skill-set.
You are the lead designer for Netflix's Sacred Games. Could you take us behind your creative process for this project?
During our first meeting with Vikramaditya Motwane, he ran us through what he thought was a good title sequence and several concepts that were tied to the undertones of the show. The screenplay itself had a wishlist concept for the title sequence. There was a lot of R&D involved between Yashodha, Vijesh and I before we actually started the design process. We first narrowed down to the right symbols that would accurately represent each episode title - which was based off tales from Indian mythologies. Each symbol was the foundation and the center-piece for each mandala. It was important to maintain the same level of detailing for each but also keep them distinct enough to be able to tell their own stroy. The key was to keep crack a design that would raise the right amount of intrigue and not give away too much information. For Season Two, the process was smoother since we had already cracked the blueprint – so there were less trial and errors this time and it was more focused on research and design.
What was the inspiration behind your recent solo art show 'Perfect' at Method?
My main inspiration when I started working on this series two years ago was simply to break my routine and my screen-time – I wanted to explore art that was more tactile and freeing. There was no agenda or goal that I was working towards – it was merely a way of self-expression and enjoying the simplicity of black paint on paper. It was something that was very personal. Two years later I got a chance to exhibit this work and 'Perfect' seemed to be the ideal name for the exhibition. Since it was a very distinct deviation from my other work (which is based on perfecting the geometry within a piece) it seemed apt to examine this idea of what we all consider to be perfect. I found myself accepting the inherent imperfections that are present in the process of creation and learning to embrace them. In a nutshell, I was rewiring the idea of perfection on a personal level and opening up the same dialogue to viewers.
How has your sensibility and craft evolved through the years?
For the most part, I've tried to keep things as simple as I can. I stick to what I am good and evolve my primary skillset. Maturity in one's work will always develops over time, but I've been far more open to experiment with new mediums and learning new skills.
This is a time of great transformation in art and design—the mediums are blurring, the disciplines are merging. Your views?
I think with the intersection of technology the design community and its practices have evolved tenfold. Designers now are blurring lines and experimenting with new mediums that are merging print, screens, augmented reality, coding, robotics, etc. Creative coding, for example, is huge, and it's still fairly new – but its possibilities are endless. With this intersection, what's more important is for design schools to adapt and be constantly aware of new practices that can be implemented in their syllabus. This is crucial for the next generation of designers to work with new tools and emerging media in an attempt to strive for innovation. There's so much that I wish I could learn, but it's also fantastic to collaborate with young designers that are experimenting with non-traditional mediums.
Lastly, what are you working on next?
I'm currently finishing up two branding projects that I'm excited about; and in my spare time I've been working on my own personal brand that's product-centric – which is something that I've been wanting to do for a long time now. Hopefully it should take flight by 2020.