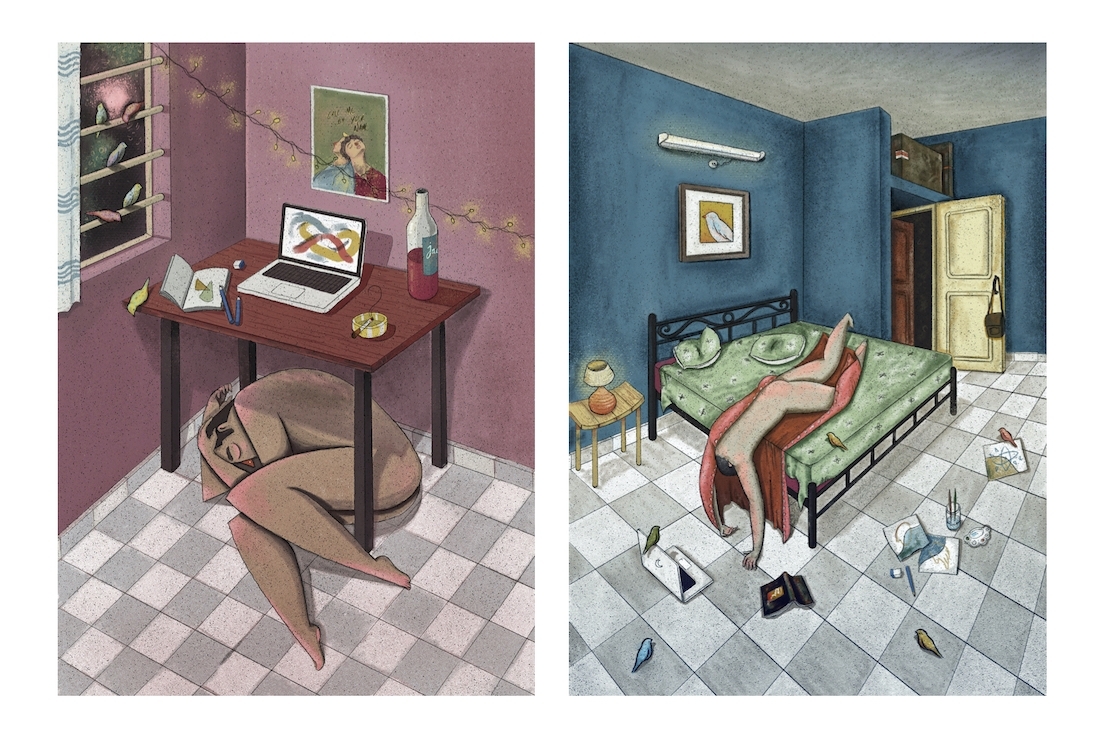 Bizarre Syndrome: Gaurav Hablani
The Artist
Multidisciplinary designer Gaurav Hablani was always an artistic child. As a little kid, he could always be found with his crayons sketching cartoon characters like Tom, Jerry, Donald and Goofy, amongst others. All through his early years, his primary focus was on varied extracurriculars rather than academics. His instincts led him to the creative field, he always knew he wasn't meant to be a doctor or engineer. Add supportive parents to the mix and he knew he would pursue design as early as in school. His journey began with a major in Fashion Design but what followed was exposure to other disciplines in the field. Gaurav's passion for films and fine arts led to a switch and he found himself pursuing Animation and Film Design from the Symbiosis Institute of Design in Pune. However, soon after he found out that animation required a certain amount of patience that he couldn't muster within himself. He adds, 'I was too eager to see the final output of my efforts. I also enjoyed having control over the entire creative process which made me question my patience for it even more. I developed a knack for graphic design while studying animation, and after graduating from design school, that's what I decided to make a career out of.'
Post graduation, he started off with a six month stint at a boutique graphic design studio in Bangalore. One thing led to another and he was motivated to quit his job, along with a few friends, to start something of his own. Their venture Illustration Much was conceived with an ardent desire to further explore illustration centric design. Gaurav's second venture Cartoon Mango was a digital product design studio that worked extensively with UX/UI projects, which inculcated an acumen for business and strategic thinking within him.
L: Chidiya Ki Kahani; R: Untitled Artwork
The Narrative
Now more than ever, as the world is grappling with this collective sense of uncertainty, there is a desperate attempt to seek solace in the narratives presented through the arts and design. Gaurav explains, 'Weaving a narrative is intent and design is the how of it. Narratives are not exclusive to design. Narratives for me are what drive interest in anything I do. I've noticed my creative as well as personal growth whenever I've followed through any idea/interest with passionate intent. In the present moment, it is important to introspect and document this historical event affecting all of humankind globally.'
For Gaurav, as a practitioner of visual design, the primary purpose of his narratives is communication. His main job is to tell stories, amalgamate all thoughts and ideas into one comprehensive piece. He further elucidates, 'My belief is that the pace at which technological consumerism had been increasing was at a steroid level growth, which couldn't have been healthy, and design has facilitated it to quite an extent! The current state of the world has simmered the consumerist heat a bit and allowed us time to think about our actions, and I think the purpose now, moving forward, should be to course-correct. To re-define value.'
The Process
There's a lot that Gaurav's fascinated by which feeds into his work. Be it mindless socio-political opinions floating around or people's short attention spans when it comes to social media. He's further fascinated by human origin and evolution, and has also resorted to questioning ethics. Right now he's withdrawing from the world and seeking inspiration inwards, as can be seen in his Torani series. He explains, 'There are so many triggers these days. Currently, it's like walking on a landmine, which has dulled my interest in the world due to overstimulation. I'm indulging in some self-discovery in this ever distracting world. I'm practicing self-care and it's giving me great creative satisfaction.'
His process of creation is detailed. When it comes to personal work, it all begins with words. Thoughts that are articulated onto paper or whichever medium is easily available. He's aware of the fact that he has a tendency to build on ideas in his head. He further intensely builds on his notes before actually sketching it out on paper — through this he's able to get it right usually in the first few attempts because it so distinctly exists in his mind already. For Gaurav his surroundings are key. The creative juices flow better with some scented candles and he finds himself immersed deeply in the project with the right kind of music playing.
He describes, 'I like to pour myself a warm cup of chai (tea) and let myself go. The sketching bit is very important. Once I start digitising the artwork, the designer in me wakes up. I'll sit for hours, painting. Then sleep over it. I have to sleep over my work a couple of times before I am ready to show it to others. I've always known myself to cope with life creatively. It has allowed me to articulate my thoughts and feelings. It's quite therapeutic. Very recently I've started putting my work out on public platforms. Having grown as an artist or designer in isolation, I feel like I know what I want now — what my work must stand for.'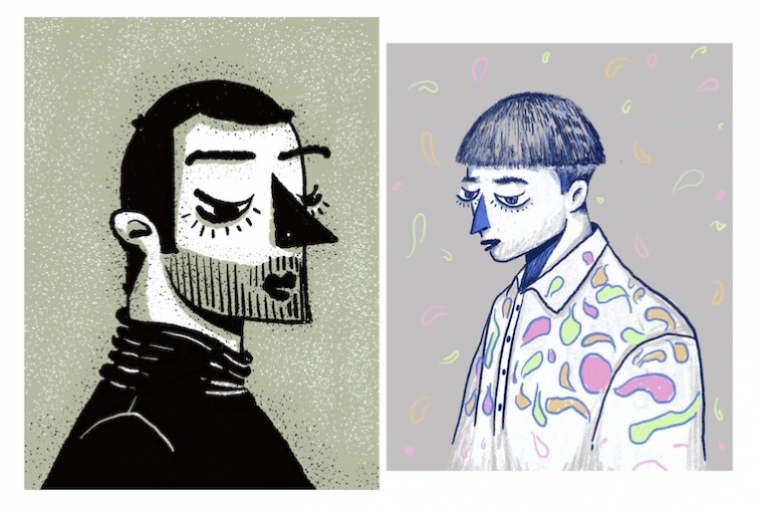 After the laborious process of creation it's only fair for the work to be out there for multiple eyes to see. Multiple eyes also implies multiple impressions, each more novel than the one before. This is exactly what Gaurav intends to do when it comes to his work, he wishes for his audience to have intimate conversations with his designs. He wants them to be able to find themselves when engaging with his narratives. He expresses his thoughts further, 'I've been working since 2012 and only last year did I decide to separate myself from studios, agencies, and client work to think about what I personally feel content and satisfied with as a designer/artist. It's only the beginning of my personal journey, but from whatever I've done so far, I'd like for my work to stimulate more than one sense of the viewer/observer. I want them to feel things when they see my work.'
The Future
His future endeavours will revolve more around the self and its expression. Working with an unconventional format, a hybrid between a book, a zine and a graphic novel, his goal is to create a larger piece of work. He wants to get his personal stories out there. He's currently still writing it out and wants to complete the first book in this series by the end of this year.