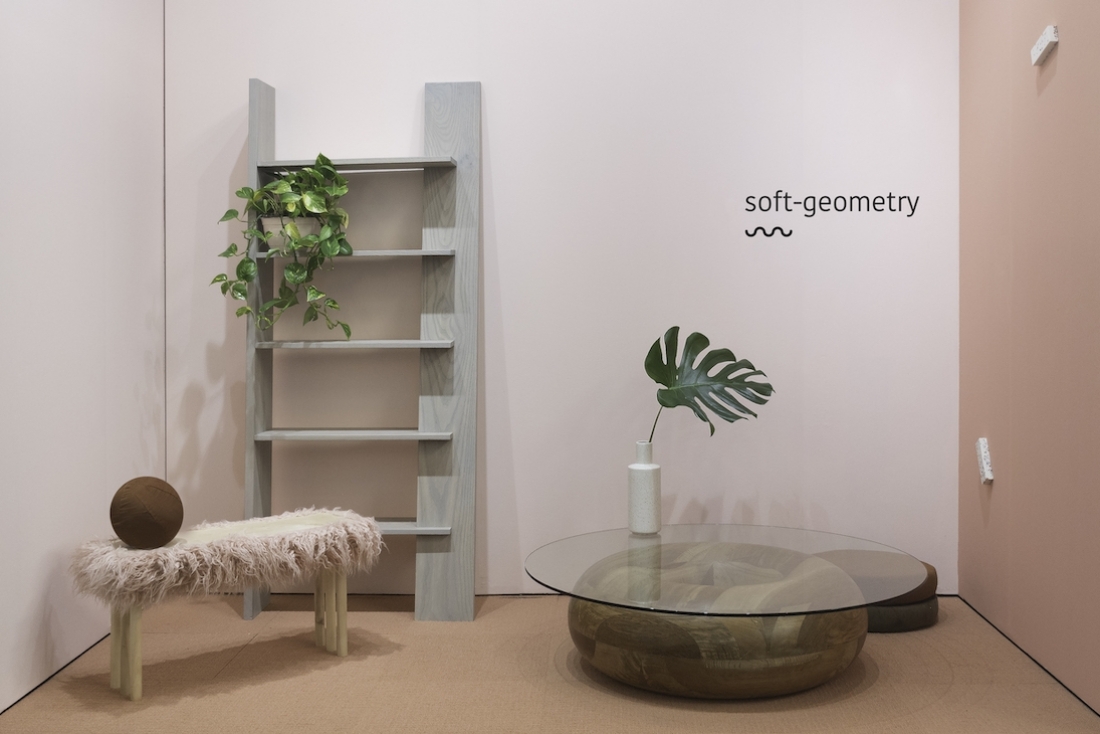 Photography: Palaash Chaudhary
Fluff is Good!
soft-geometry, Palaash & Utharaa
Barely a year after setting up their design studio, California based designers Palaash Chaudhary and Utharaa Zacharias have exhibited at the New York Design Week, won the International Spark Award and showcased at the AD Design Show in NYC. 'However, our real milestones are our idea moments -- when we discover forms, materials, processes, colours, and create new things,' shares Utharaa.
With a background in industrial, product and furniture designing, the duo merge their love of texture and geometry to create unique forms that at once spell comfort and a great artistic sensibility.
L: Endtable in Apricot
R: Handwoven cane coffeetable
Palaash and Utharaa came from fairly different worlds before they met at NIFT, Delhi, for their undergraduate program in Product Design. While Utharaa was born to architect parents in Kochi, cocooned in a curiosity for the arts and design, Palaash spent his childhood as a mischievous trouble-maker, breaking things and fixing them. He also 'loved creating things', he tells me.
While the duo didn't think of working together at first, a creative spark led them on the path to developing innovative furniture. 'Initially, we both worked very, very differently, until a desperate end-of-semester moment—we are not entirely sure what—brought us together. It has been eight years since then and we have worked on everything together-- from school projects to graduate school applications, freelance work, filing our taxes and setting up our design studio, soft-geometry.'
The Sensibility
As the name suggests, the designers share a love for pure geometric shapes and clean lines. They find a peculiar beauty in basic shapes. Only two collections old, their products are extremely minimal with an edge, like the doughnut coffee table (a donut-shaped table) from the Dessert Menu collection or the fluffy yarn chair from the summer-winter collection that has a basic shape but is dressed in a fluffy yarn with an abstract design. 'We start with pure geometry, a clean canvas that we build on, and then add layers of old and new materials or processes that are intriguing, exciting, often hand-worked – sometimes questionable. We like to think of these layers as 'softness' that is always in pursuit of a product that poetically and beautifully captures the awkwardness of something truly new. In that sense, ''soft-geometry'' is hopefully the best description for our design sensibility and aesthetic!'
L-R: The Fluffy yarn chair & the Doughnut table
Dessert Menu
The Dessert Menu collection found inspiration inside a bakery…think doughnuts, cakes, tarts and truffles. 'For the Dessert Menu we drew inspiration from the creative flair of a pastry chef or confectioner as she conjures up cakes, truffles, tarts and éclairs from humble staples of milk, flour and eggs; and we looked to re-imagine the furniture staple of all time, solid wood,' says Palaash.

'Each piece in the collection examines a different notion of sweet, while also specifically exploring something totally new for solid wood. The Doughnut Coffee Table pushes the possibilities of Computer machining on creating an unconventional, giant, solid doughnut made by engineering a pattern that allows it to be made from factory offcuts of oak. The bench in Solid Maple challenges norms by playing with candy coloured fluff upholstery on the underbelly of the bench, instead of the top. The Leaning Shelf is built as tiers of solid white ash built through a seamless, fun assembly process. Together, the solid wood pieces in the Dessert Menu are about offering a fresh perspective on an age-old material that leaves you with a bit of a (sugar) high,' he adds.
Designing a new future
Palaash and Utharaa are now looking to design accessories and lighting and the role it plays in lifting accents in any space. 'The way forward is also about continuing to find our balance as we do what we love while we train ourselves in everything that comes with starting and running a business. Our goal is to create design that consistently breaks the rules, poses questions, intrigues us, charms us and makes us laugh; and to responsibly and consciously contribute to the language of design today,' says Utharaa.

Text Hansika Lohani Mehtani