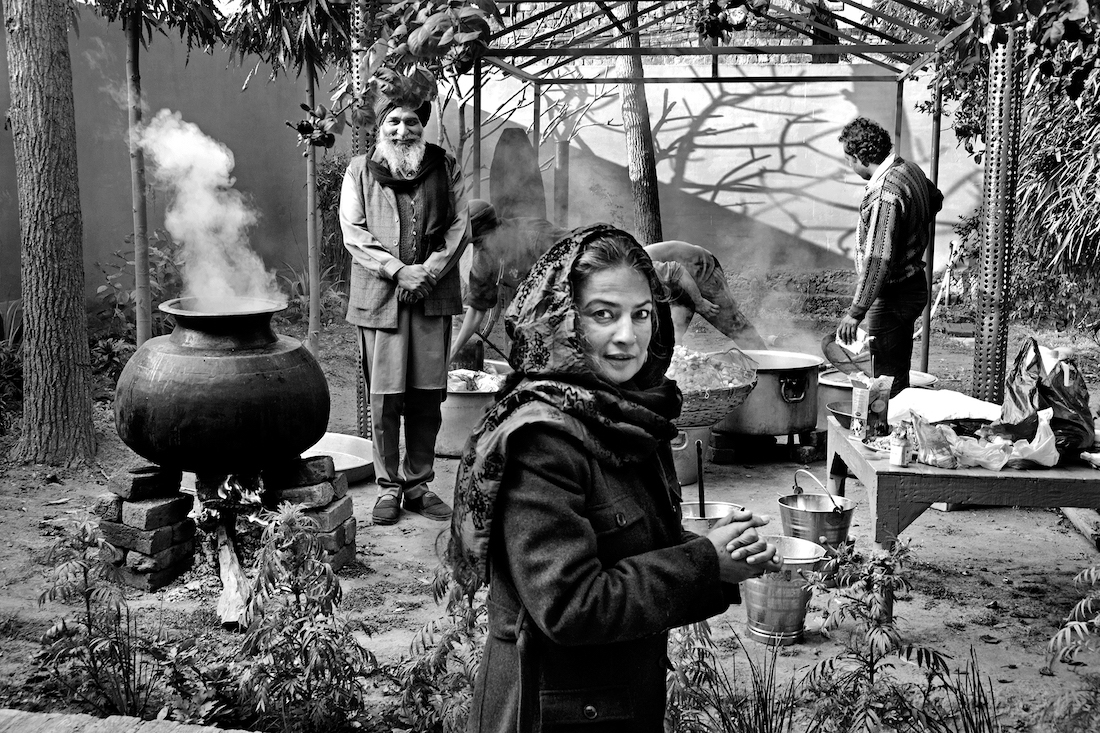 INTERVIEW OF THE WEEK
Photography by Raghu Rai
Gurmeet Rai Sangha
Architecture of Soul
It is raining in Amritsar as we sit in her Mehrauli studio. She is asking her contractor to send pictures of all the destruction that has occurred on her sites that are to launch soon, so she can see what has withstood the storm and what needs to be fixed. 'I was watching myself doing that. I was not panicking that the whole site is collapsing. And I can see how exciting life can be with this awareness.' Gurmeet Sangha Rai's journey as one of India's most important conservation architects has been one replete with revelations, awakenings and blessings thanks to all the people she has met and experiences she has had on the road, from the Red Fort in Delhi to the Ellora Caves in Maharashtra, the Grand Trunk Road in Punjab to the historic Golden Temple and the Gobindgarh Fort in Amritsar. And that's just a small part of her story...
What drew you into architecture?
As a child, I was very fond of craft and I remember going to the terrace and taking mud and making little pots and pans. We used to be in Civil Lines, Roop Nagar, I was 8 or 9 then. My father was in the Air Force. I left Delhi when I was 12 years old. Another interesting thing was that I used to create electrical gadgets with clay, such as LP players. The other thing was that I used to make little houses with textile—put fabric on parapet walls, put up poles etc. I also dressed up like a granthi in a gurudwara and did little ceremonies and enactments.I tell my husband that when people are bringing up children, it is very important to know what kids are doing in those formative years, because that's your inner self coming out. As I grew older, there was a cousin who was staying with me and he was studying architecture. He made models and I loved that. My reason for wanting to do architecture started with this cousin of mine. After my graduation from the Chandigarh College of Architecture,I was looking for a topic for my thesis and that is when I came across this word, conservation. It was a new thing back then. I started probing the subject and decided to pick it up; it was design in a historic setting. And I selected an area in Jaipur to do a crafts centre where you'd learn from potters and artisans. It was called Ghaat ki Guni. The other aspect that connected was when I was in the third year, I was training in Delhi and I joined the pottery classes at Delhi Blue. Gurcharan Singh was my teacher. At that point I wasn't connecting that I was fond of pottery from way back, but the dots connected on their own.
How would you sum up your journey in the practice over the last few decades?

It's quite interesting that I was just thinking and moving forward in the direction that my life was taking and I don't think anything happened by accident, really. Certain kind of sites were attracting me and certain thoughts would attract me and I'd find myself at that particular site—a site related with that particular dimension. I revisited these sites again and again; in fact I told my professor that my life seems to move in circles. He said no, it's a spiral. You're revisiting the site but you're visiting it on a higher plane. When I look at my life's journey, as I remember those things I used to do as a kid, I see cultural practices almost like a womb in which you are growing up as a person. For me, the cultural ambience is critical for the well being of a person.I have had a lot of spiritual people entering my life again and again, including my guru in conservation, Sir Bernard Feilden. He was knighted for his work on the York Minster cathedral, and he was in his 80s when I met him. That was when America had bombed Iraq. He was Scottish; he started wearing the skull cap as a symbol of his solidarity with the Muslim world. He was a very hands-on person and always emphasised on getting one's hands dirty on the job, and that was an important influence during my formative years. The other thing was that he despite being knighted he always stayed at the place he came from, Norfolk. And he said, think global but work local. He saw himself as a provincial architect. On a site visit in Delhi where he suggested we sneak out from a tea party at INTACH, he gave me advice like, don't put impervious layers to your building, it is like strangulating a person...and that was important for me.
Those days I was working with the Indian National Trust and I'd go to different parts of the country...I went to conduct a training workshop in Mysore where they gave me water and I drank the way I drank it while the others had it in a different way. I felt so crass that I walked into somebody's cultural space and I've behaved in a way which is inva- sive. So I decided to work in Punjab till I got my tools of culture right.
Along the way, I had many special people walk into my life including my husband, and now I have Sadhguru and he gave a dimension I couldn't believe.
"I told my professor that my life seems to move in circles. He said no, it's a spiral. You're revisiting the site but you're visiting it on a higher plane."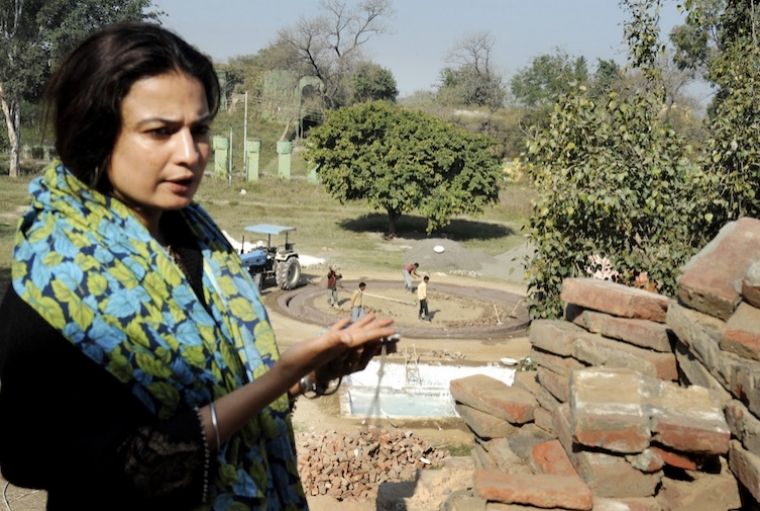 "What is a sacred space? There's a guru, there's a piece of poetry. There's equity, there's social justice and there is a sense of somebody outside you or inside you. I understood a lot of these aspects when we were working on Darbar Sahib; Sikhism explained a lot to me about what happens through you and what is transformative"
What is a sacred space to you?
I knew my work was not just brick and mortar. I wanted to know what it was about. I have worked with many sacred sites including Darbar Sahib, gravitating toward it time and again. And I did not have the vocabulary in my life of a consecrated space. I was calling it sacred space. Not consecrated. What is a sacred space? There's a guru, there's a piece of poetry. There's equity, there's social justice and there is a sense of somebody outside you or inside you. I understood a lot of these aspects when we were working on Darbar Sahib; Sikhism explained a lot to me about what happens through you and what is transformative. Through Sadhguru, I first understood that a sacred site is a consecrated site. And a consecrated site is an alive site, it is not a dead space. And what is alive? I did not know until I went to Mansarovar and then I did inner engineering and got introduced to consecrated spaces. I had always wanted to go to Kailash, and I gave myself that gift.
In the Sikh tradition, too, there's an important tradition of Seva, which is one of the important values that define the scientific understanding of conservation. I understood community participation, community empowerment and community engagement, but what I did not understand was how through seva, when something happens through you, it is self transformative and you are not the same person the next day. Whatever you do is changing you. I'm not a different person, there's non-duality in that. So what you choose to do is changing you. Like Sadhguru says, what you eat, how you conduct yourself, what you do with your time, how you think, every thought is you. So the more I understand these life forces, the richer my work becomes. That's what defines me.
What's the mission and vision of the Cultural Resource Conservation Initiative?
From the very beginning when I started looking for a vocabulary of my own work, the only way I could have done that was to understand Punjab better. So I wrote out a proposal to get funding. I have roots in a village near Gurdaspur. My maternal grandparents were from Lahore and the paternal ones from a village near Gurdaspur. Punjab was very important part of me growing up as we spent our holidays there. It was part of my identity. I interned in the US and here, I gave a proposal that we will be working on the Grand Trunk Road and The Mughal Imperial Highway and we will travel along the road and map heritage. It was partly funded by the Punjab Government, partly by INTACH, partly by the Government of India and we mapped out this heritage. That's when I realised that the vocabulary we have as architects to write out reports is not enough to do justice to our cultural heritage. Heritage is not just monument—it is the way people engage with their environment. Like the homes would have a corner dedicated to the martyrs where there would be a jyot, or there would be a Thursday peer at graves where no one would be buried— it was to revere the soils that had witnessed much bloodshed and to pay tribute to the unsung souls who lost their lives, mostly Muslims. That is an amazing thing about the Punjabi culture. All this is not monumental architecture— I saw my work from the very beginning as social action because we were like activists, we had to find the right language—that is how CRCI came into being. When we started our conservation practice in the 90s, we had no market, we had to generate our market. We approached the government and told them how mapping and conservation were important. You had to mobilise work and go by the gut, meet deputy commissioners, and they would fund research and you had to give them data at the end of six months. From there we moved to the Ministry of Tourism that started creating schemes for tourism destinations so we started doing heritage through that.
What were your biggest breakthroughs?
That would be GT road, which was a milestone to understand Punjab. The second breakthrough was that I was able to do one project when UNESCO declared 2000 as the International Year of Culture and Peace. I thought some of the sacred sites need to be restored because enhancing that demonstrates our culture of peace. There was an important professor, Dr Sabyasachi—a sociologist I've worked with, and we worked on those sites. The project was funded by UNESCO and UNDP and won us an award. At that time we needed an advisory committee. We made a multi-party advisory committee of which Dr Manmohan Singh, Mr IK Gujral and Vinod Khanna, who was from Gurdaspur, agreed to become a part. Dr Brenda McSweeney was critical as she was the UNDP head. I can't believe that this young girl could actually manage to get all these people on the committee! There was also an inquiry that was raised about a mosque on which restoration work was going on. These were very powerful projects.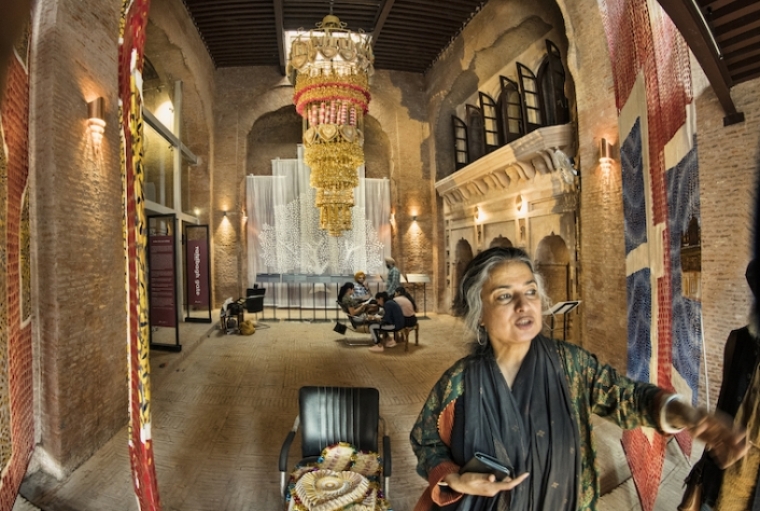 Is it a tightrope walk between work and family?

I got married at 23 because that was important to me. My parents were very stable home-builders. I also wanted children. I also wanted two of them so they had each other and I knew I must have them quickly enough so I can get on with my life. Having said that I did not hold back my life even when they were born. When I did the GT road project I took both the kids with me for the survey. Purvai was a year old, Avani was about 3-4. As for being married to Raghu Rai, Raghuji and I are very independent minded people but not to an extent that is an act of aggression toward each other. I like to keep the house in order, I can be queenbee at home and yet I'm a gypsy and I love to live out of the suitcase. It's a balancing act. I take great pride as an empowered person to take responsibility. I don't think there's a contradiction between an independent, free person and the ability to take responsibility.
What is the biggest misconception about heritage in India today?

That heritage is skin deep. That you've got to get the building right. That's only the baseline. The important thing is the non-duality of the material and the non-material. And the intervention of the conservation architect as social action to get the non-material and material together. People need to understand that they are the agents of social change. And that choice of self- empowerment is important—then you choose if you want to get involved in the heritage, sociology or ecology aspect of conservation.
What does work in progress look like?
Amritsar is my laboratory today. As it has always been. That's my karmabhoomi.


"The important thing is the non-duality of the material and the non-material. And the intervention of the conservation architect as social action to get the non-material and material together."