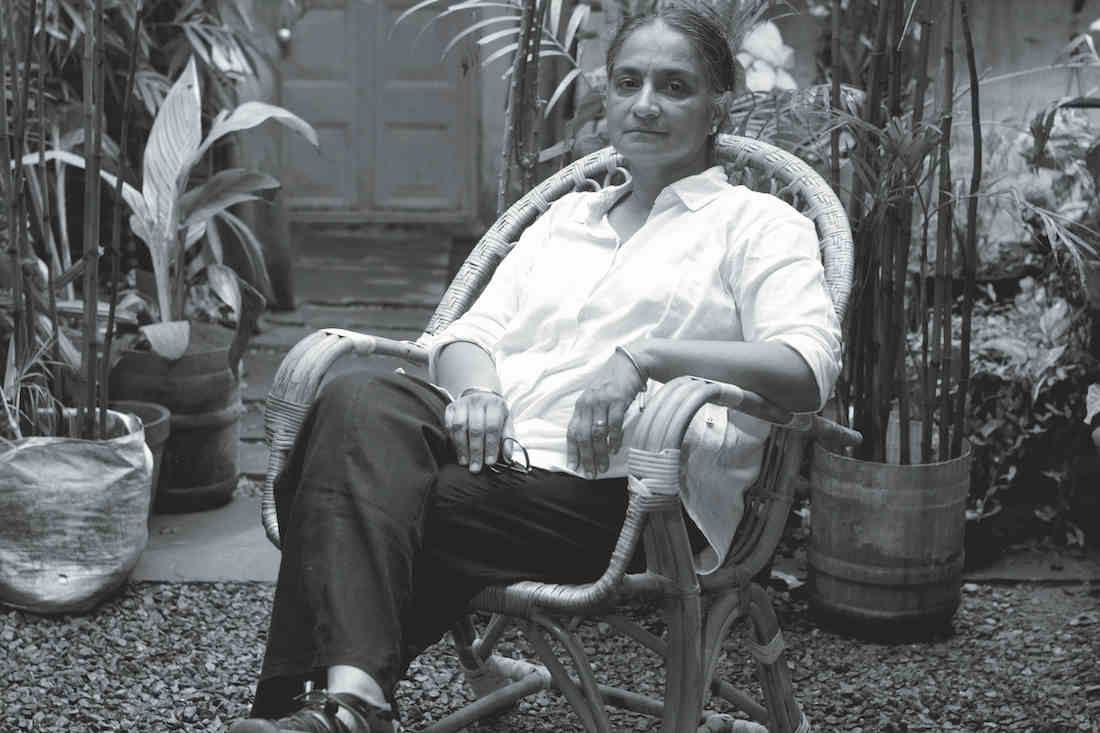 Gurpreet Sidhu
Designs on Revolution
The picture of the very identity that is India is changing—in architecture, product, sustainable communities, education, animation, textile...and the list is endless. Who are the people designing this new country, this silent and strong revolution that has transformed the entire landscape of life? Meet one of the leaders who built the backbone of modern Indian design. Gurpreet Sidhu is co-founder of India's first urban upcyling design collective, People Tree. The silent and strong half of the foundership, Gurpreet, together with Orijit Sen, has helmed the responsible label that pioneered upcycled retail in India long before the movement became cool. But like all journeys worth the while, it was not easy for her to make a living out of her work and her passion. How, then, did she shape a new movement and in the process, her own destiny? I get her musing...

What defines you?
That I always look for the aesthetic. I look for that which gives quality to life. I believe that we must make an effort to improve the experience of living life. Not only ours but of everyone whose lives we effect. As well as all of the work we do. And I believe we should always be aware about the appropriateness of all we do .We must be aware of the impact, in every way, of all we do. I believe myself to be 'privileged' in my life. I am aware of being so. I always feel I must not take that privilege for granted but use that privilege to understand other less privileged lives. That is the purpose of life. And empathy.
What shaped the foundation of People Tree and how has its sensibility evolved through the years?
I think the most important thing about People Tree was its sense of inclusiveness. The idea was to include, collaborate, experiment. Be irreverent. We took the lessons of NID very seriously, literally to heart. We wanted to change people's lives. Become examples. Be the change. There were so many ideas, so many values, so much we had to give to young people and creating People Tree was our way of doing so. It never was just the business. It was about sparking ideas. In a sense we were more of an educational space, really. So retail was never going to be enough. Retail with context mattered. Design projects one took on were only worth doing if in some way they enlightened us, taught us lessons as well as mat-tered in some way to others. We became teachers because of the lessons we had already learned over so many years of the organic growth we had. Now we are even more than before interested in creating other spaces for creative, ethical growth and we wish to do that at our artists' studio that we are in the process of setting up in Goa.
This is a time of great transformation in art and design—the mediums are blurring, the disciplines are merging and sustainability seems to be the common connector. Your views.
It's wonderful to see the number of young people opting for design related professions. The number of graduates from design institutes have gone up. The number of design entrepreneurs have gone up. Design entrepreneurs in the craft sector. Also research into design and methodologies. I'm very glad that sustainability is a common connector. But it is a relative term. And unless one puts specific context to it, it is meaningless and little understood. It is very important for designers to see the interconnectedness of all things so that their rescissions and design solutions take into consideration factors such as the impact on tribal lives, on the poor, the mar- ginalised, the farmers, the collective environment in which they live, which does include all creatures big and small.
What is the biggest challenge you've faced along the way while bringing about a design shift and how did you overcome it?
One of the hardest things, at least for me, has been the task of being able to make a living out of my work. One prided oneself on being an unfunded, independent, small-scale business which functioned in the in the manner of a cooperative. The idea was to open up the space to entrepreneurs who specialised in handcraft in any form. We operated like a fair-trade enterprise. We carried our co-partners along through the pro- cess of learning how to make a living out of one's enterprise. We learned the lessons of business management together. The lessons of trying to run small scale enterprises in the midst of the trials and tribulations of functioning as a business in the larger unpredictable, sometimes unethical, world of Indian business models and punishing taxation models, corruption etc. It's a roller-coaster doing business and in India it has its own issues. Indians are great entrepreneurs. The problem is the lack of ethics and a shortsighted approach. We are often successful due to unethical means. And the most unethical is the state. If the guidelines were in place we could be a very successful and yet ethical people. Because we are good at following orders too, even while we refuse to follow rules!
What does your work in progress look like?
I am a very hands-on type of person. Functioning in the midst of apparent chaos, multitasking..I have willy nilly had to don many hats. Social worker, crafts designer, business planner, art curator, organiser, director etc but that is the way one has to be when working in the crafts sector/small scale businesses.

TEXT Soumya Mukerji