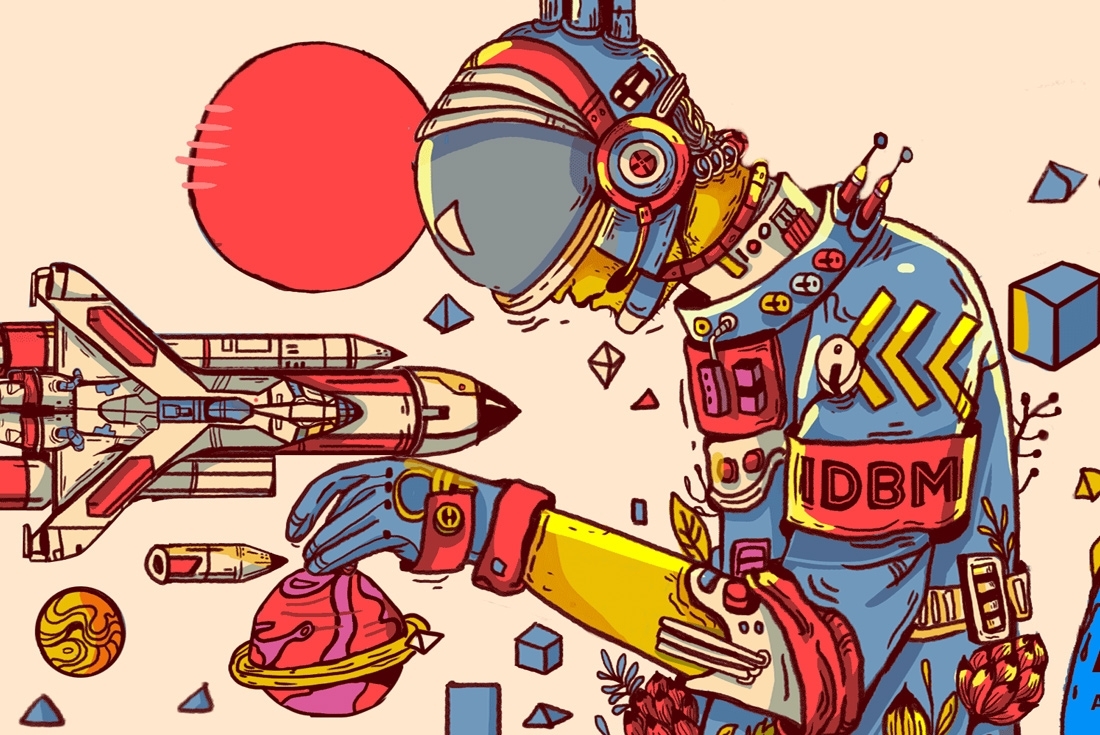 A self-proclaimed dreamer and foodie, Parvati Pillai has been doing nothing less of her absolute best, to live up to her titles. Her style remains sophisticated yet child-like, something she attunes years of watching and loving cartoon shows to. And no matter how distinct an approach required of a new design, every piece of her work will always maintain a core creative approach at heart i.e. bringing out the best of herself and her positive emotions through the best of her design.
The Journey.
From student to Freelance Illustrator to Chumbak's Head of Design to being a student again. Her path, now defined by several milestones, began with her love for animation as a kid which she playfully describes as 'a little too intense.' Deciding to channel her childhood passion into full-fledged university studies, she hadn't really anticipated picking up a few extra hobbies along the way. 'I did my Bachelor's in Animation from Maeers MIT Design, Pune. I discovered illustration in my 3rd year of my bachelor studies. What started out as a hobby, has now defined my career path.'
Of course, the story of a designer doesn't conclude with a life well settled. Parvati was about to find her own little disruption through a collaboration project with Taxi Fabric that made the budding illustrator reconsider her priorities and bring certain long-term goals into perspective. Including her stint at Chumbak. The oncoming change of pace would define her career and bring in a docket of impressive clients and artworks. A change that took her all the way to Finland in the pursuit of higher education, which brings us to where she is now. 'My Taxi Fabric project rekindled my inner desire to challenge the status quo and pursue my dreams of experiencing the world. So I joined Aalto University for my Masters and moved to Finland, which according to me is the best decision I could have ever made! I have enjoyed illustrating for a wide range of clients, from Tinkle, my dream publication to Taxi Fabric, Chumbak, Google Allo and now Aalto University!'
Parvati Pillai Self-Portrait
The Philosophy
As Parvati's work has usually been characterised as happy, light and amusing, one could wonder if it's the result of an active choice to work with projects that have the potential to reflect the same, or simply an unsuspecting, subconscious function that draws from one of her oldest passions. Turns out, it's neither. 'I try to see the positive in all the projects that I work with. Though all my projects have different themes, I really like to evoke positive emotions in people who view my work. I do not feel that I pick projects with cheerful characteristics but I bring out the cheerful side of it.'
She picks up on a similar sentiment when asked about the one principle in design that runs through her entire body of work, standing on the belief that happiness begins at home - 'I want people to connect with my work and communicate my feelings clearly to my audience. Through the use of colours and patterns, I try to evoke feelings of joy and bring out the intricacies of everyday life in my work. I believe that to create happiness you need to be happy first!


The Practice.
Whether it's old school illustration or a keen eye for art direction, Parvati prefers not to be boxed in, a standard expectation not very different from other trained professionals well on their way to championing their art. Even with projects on the branding side of things, she's keen on discovering greater avenues. 'I have always craved a wide spectrum of subjects and mediums to explore. I try to constantly push myself to innovate and take up new challenges.' Her most preferred medium to work in, would also be anyone's guess. 'Given a choice of medium, I would make illustration as the foundation and centre-piece.'

Speaking of exploring new subjects and taking up new challenges, she finds herself to be fascinated by travel and adventure - the two themes she's been meaning to experiment ever since her big move. Her wild musings have culminated in a wildly ambitious project that's been hearing only good things so far. 'Ever since I moved to Finland, it has been my desire to learn more about new places and open my mind to new cultures. Aalto University has drastically changed my thought process and has given me the international exposure that I've been craving. Currently, my pet project is the 36 Days of Travel series. I hope to finish it soon as I explore more of the world.'
The Latest
Taken up by the country's rich heritage and royal inclinations, Parvati's latest venture for Chumbak spans a range of products called The Gold Collection. It may be a miniature art style but it does come with a refreshingly modern twist. She talks about what inspired this particular approach. 'The Gold Collection was probably my favourite project at Chumbak. I always wanted to create a deck of cards and Chumbak gave me the opportunity to do it with this project. I love the diversity that India presents and the grandeur of the country. My objective was to create something intricate with a royal touch. I wanted to make something exquisite that would resonate with the lifestyle of the Maharajas. I needed a style that was detailed, decorative, Indian and felt royal.' All of which, she felt could be perfectly achieved only through miniature painting.
Ending the interview with a note on the future, Parvati's prime focus has been on expanding her knowledge at Aalto. However, in addition to learning whatever she can, she also hopes to test out a few ideas she'd been tinkering over. 'I have been toying around with printing techniques, pattern making and even studying the mathematics in patterns! Alongside all the projects that I am currently working on at university, food has been one of the subjects on my mind so I think there will be something cooking up soon!'

Take a look at Parvati's work here.


Text Shristi Singh