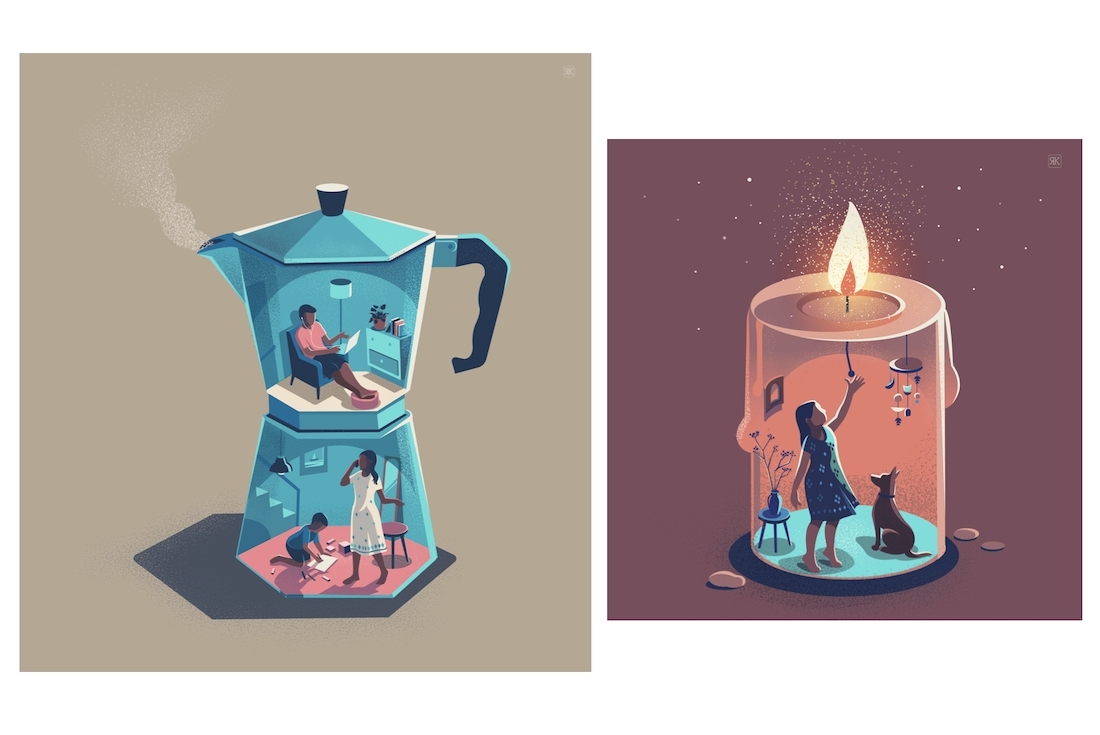 L: Coffee Brewing; R: Lights On
Ranganath Krishnamani is a multi-disciplinary designer, specialising in illustration, user experience and art direction. Like most designers, his interest in design began very early on in life. He started to draw when he was just three and was the brightest student according to his art teacher.
Ranganath draws inspiration from vintage architecture, street art and machinery. When he is not illustrating in his sketchbook or behind the computer working on pixels, he loves travelling and exploring new trails on his bicycle. Previously working as a senior experience designer at Adobe, he went on to head the design team at RedBus, before starting out independently with his studio, Liquid Ink. Ranganath's primary influence is Indian architecture, symbology, and machinery. We explore his work in design and how it has evolved during the pandemic.
L: Artboard ; R: Temple Pond
Creativity in Crisis
My recent works were an expression of us humans, in limited spaces. The Lockdown series that I recently did, was aimed at the positive side of our situation. It was a peek into our new normal, how we have adapted to the new situation and also found ways to cheer up, stay positive and salute the invincible human spirit. It is in the everyday simple activities that happiness is tucked in, and here was an attempt to throw light on the tasks that add value to our everyday.
Going Solo with Liquid Ink
I think personal projects have always been a huge source of strength in my work. They give me freedom of self-expression, removing the boundaries of sticking to design briefs, style or deadlines. It allows me to explore, improvise, modify and solidify my thoughts, observations and beliefs.
Design in a Pandemic
Design certainly has a significant role in educating people or raising awareness. The power of visuals has always been known. To tell a story and make a lasting impact, design is the best tool. Design may be used to raise curiosity and communicate effectively. In this time of uncertainty, more than ever before people have turned largely to the digital world to find ways to foster wellness and health. Design spreads its wings greatly into the digital space and spearheads users in creating memorable experiences.
Looking Forward
What keeps me zestfully alive is my basket of work that I look forward to each day. In the near future, I have a diverse array of work, from illustration, mural art, to app design, and more. Apart from the commissioned works, my go-to for creative satisfaction is the self-initiated projects that set me thinking and let me immerse myself in the pool of art and design.

Text Hansika Lohani Mehtani