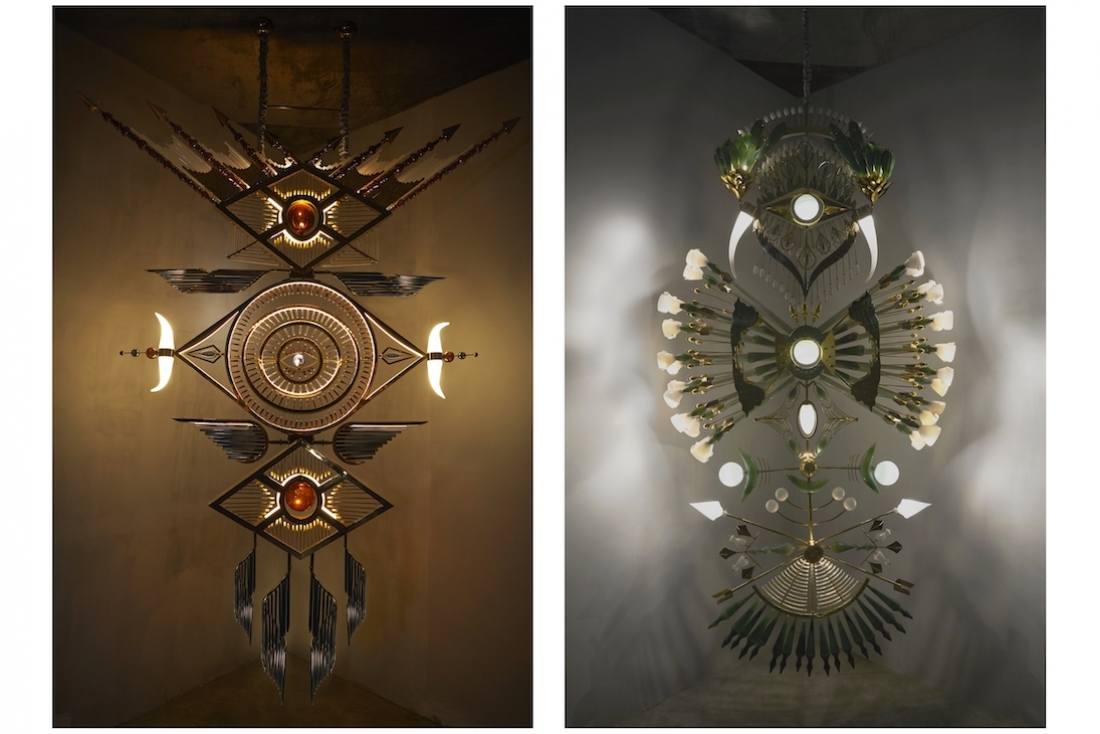 Klove's collection Totems Over Time
Sapphire Supernova
Klove x Bombay Sapphire
"There is so much you can create with a brand like Bombay Sapphire, the only limit is your imagination. We want to be known as the Brand that pushes the boundaries of creativity through stories, acts and moments that inspire our consumers. Our desire is to see everyone harness their own personal brand of creativity to express themselves most authentically in their world." says Anshuman Goenka, Marketing Head, Bacardi India when asked about Sapphire Supernova, the coming together of both sustainability and creativity. The ten-feet-long installation accommodates over hundred discarded Bombay Sapphire bottles gathered from various gin events throughout the year.
We got in touch with Prateek Jain and Gautam Seth who show us a fresh, responsible and sustainable perspective of looking at design.
Excerpts.

How did you first get introduced to the world of design?
My earliest memories of design are of noticing good design in movies. Hollywood movies had big palatial homes with stylised interiors that as a kid I used to really aspire to have in my house.
I have always appreciated good design, fine products and a sense of fashion. I always wanted to be in the field of design and experience selling. But I didn't plan to become light installation designer. It just happened very organically.
What inspired Klove?
Gautam and I, back in 2005 were renovating our home, and found ourselves very unhappy with whatever products we saw in the market at that time. We then started experimenting with materials and designing and fabricating some things we wanted for our home. In no time we had made things that were ready to exhibit professionally. This is how Klove was born. We started off with small home accessories and in time as we learnt our craft we got bolder with our designs and started making more complex light installations.
Tell us a little about your collaboration with Bombay Sapphire.
A lot of inspiration for Bombay Sapphire comes from the brand itself. We wanted to make an installation that blends the personality of both the brands. The blue bottles are beautiful and I don't think they should ever end up in waste, we absolutely love them. It was very easy to design things using them. Currently we are exploring totems in our collections and we wanted that 'feeling' to come across with this work too. Every material used in this installation is re-used, recycled and environmentally friendly. It ended up looking gorgeous which is fundamental.
What does abundance, vision, beauty and protection mean to you?
Totems Over Time, our latest collection consists of four installations. These are totems that represent abundance, vision, beauty and protection. We started exploring totems a year before we worked on our previous collection, shamanic soul, in which we explored the life of gypsies. While we were designing shamanic soul we loved the idea of totems and we felt the need to go deeper in that direction. These installations are resolved as wall murals and can also hang from the ceiling. They are in brass, stainless steel and blown glass. They also have surface embellishments of semi precious stones.
What's in store for us next?
We are now working on our next collection 2020. We are a part of two amazing art shows, in 2019-2020. We'll be showcasing our works at the Dubai Design Week and the Milan Design Week and we're looking forward to that.

Text Priyanshi Jain