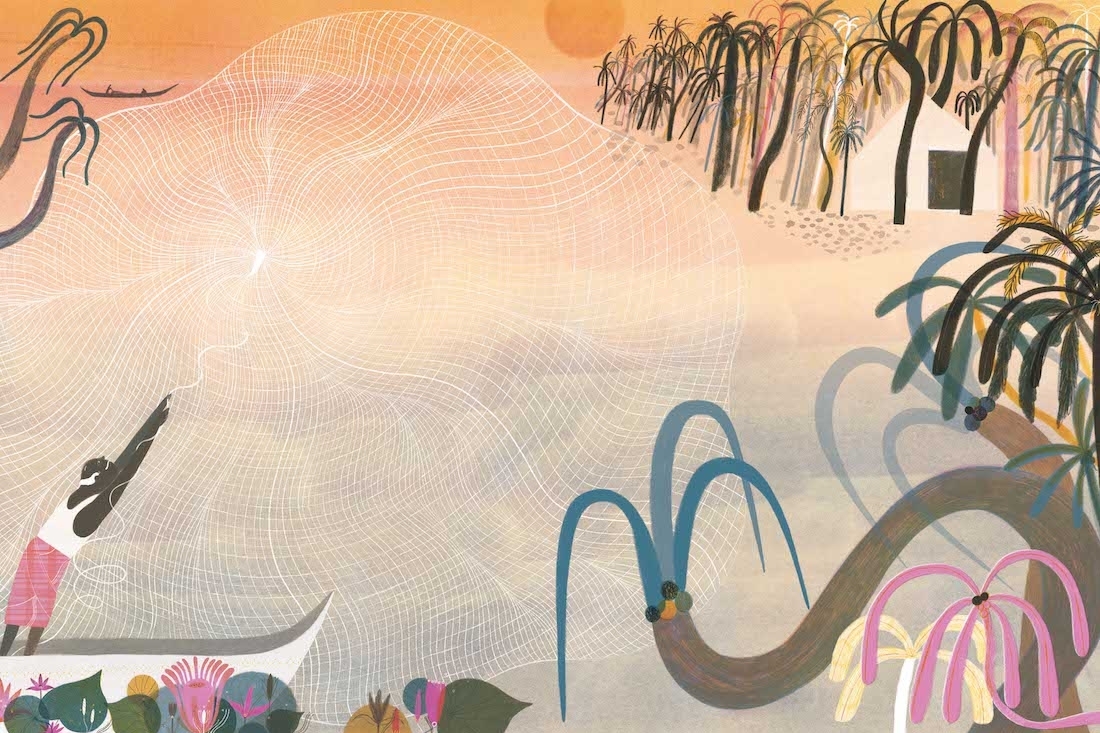 Under The Trees: Illustration- Gitanjali Iyer; Words- Tina Thomas
Brainchild of Pratheek and Tina Thomas, Studio Kokaachi was born out of an earnest love for narratives and the print media. Over the course of six years since it has been established, the indie story-telling studio has evolved and further ventured into the space of animation, having made the opening and closing credits for many feature films across the country. The credits may seem like the most unnecessary aspects of a film but Studio Kokaachi's presence has transformed even the most mundane details into those worth watching.
We're in conversation with Tina, one half of the founding duo who tells more about how they're stepping into newer terrains, their experience working with the legendary filmmaker Mani Ratnam and how they're dealing with the pandemic.
The studio is about six years old now. Where are you headed towards now, as opposed to when you had started out?
Our animation work over the years has mostly been for feature films, it's commissioned work. However, we've always dreamt of making our own animated films, so an in-house short animation film is definitely a part of our plan for the short-term future. Having said that, we don't see ourselves ever moving away from the visual books and comics because they are our first love. We are visual storytellers, hence the narratives that work best in the word and/ or picture format would become books, rather than becoming an animated film.
We are also diversifying in terms of the kind of stories that we're creating. In 2020 we had planned to also release a bunch of books. There's an illustrated poem called Under The Trees, written by me and illustrated by Gitanjali Iyer — it talks about trees taking over the Earth. We're working on an eight-part comic book series in Malayalam called Idivettu (Thunderbolt). This series is being written by Pratheek, illustrated by Mohith O and coloured by Ijaz Mohammed, with covers by Upamanyu Bhattacharya. We're also working on the fourth volume in the Mixtape series and we have a few more books in the works.
As visual storytellers what are the different kinds of narratives that you personally gravitate towards?
Both of us tend to have very different tastes when it comes to storytelling. Pratheek is someone who leans more towards science-fiction. He likes to add extraordinary traits in ordinary people — which makes them stand out, it creates something interesting and unique in them — it's like a superpower but it's subtle, but it doesn't make them superheroes.
I lean more towards realism, but what fascinates me the most is magic realism. I love Murakami's stories, and I like to bring some magical element into my stories. I guess the stories that we read influence and inspire the kind of stories we prefer to write. The kind of stories Kokaachi will bring out in the future years is going to be a mix of both these worlds.
Idivettu - Cover design - Upamanyu Bhattacharyya
Tell us about your experience working on the many feature films. What were some of the challenges you faced along the process?
All the movies that we have worked on have come with their own challenges. OK Kanmani with Mani Ratnam was nothing short of a dream for us, he's been one of our favourite filmmakers. When we got the chance to work with him, our excitement was coupled with tension. Mani sir is a master of his craft and he knows exactly what he wants in every frame. The entire process was very challenging for us, there was a lot of self-doubt — if we could deliver what he wanted, but it was also a learning experience.
Lust Stories was challenging in the sense that we had only three weeks from the concept script to the final film. We had an open brief from Flying Unicorn Entertainment (the producers) and we proposed a narrative using the characters from the film. But given the short timeline in which we had to deliver the sequence, it was an extremely tight situation.
How do you think your creative process has evolved over the years since you started out?
I don't know if our process has changed much, but we are diversifying in the stories we're telling. We are exploring a variety of storytelling terrains, and the process of creating a comic is very different from creating a visual book or an illustrated poetry book. So, in that sense, there's an evolution of our process. When it comes to poetry, it's new for us. Like, if we have to write a script for an illustrated poetry book, what comes on a particular page of this visual book? We knew how to do it in comics, but this was something we hadn't done before, and we had to discover it anew.
In Idivettu, our Malayalam comic, it's a completely new process. There's actually a group of five people working on this story instead of the usual two. Pratheek writes the script in English with placeholder Malayalam dialogues, which are then further refined by me. Mohith is illustrating the book and Ijaz is colouring it — which is again something unique for us because usually our stories are in black and white and our forays into colour have been very limited. Then there's Upamanyu who is drawing the covers for the entire series. This is one of our most ambitious projects, it has eight chapters, which is a total of about 250 - 300 pages and that is a huge volume to write, draw and colour.
What are you currently inspired by and is it manifesting in the work you're doing?
We are deeply affected by climate change. Like I'd mentioned earlier, Under The Trees, by Gitanjali and I is an illustrated poetry book about climate change. Then there's A Thousand Years, which I've written and is being illustrated by Upamanyu. Pratheek has also written a story about climate change and we are exploring a new format in reading with it, while Soundarya Raman is illustrating the story. We're consciously choosing to tell stories about the environment because we're very anxious about how all our lives are going to change in the near future due to climate change.
What are your views on the current animation scenario in the country?
In India we have mostly made inferior quality animation content, as compared to what we see internationally, and it isn't surprising that the audience haven't responded well to it. Also, people are pre-conditioned to believe that animation films are mainly for children. Studio Ghibli in Japan makes films that appeal to all ages. Indian audiences haven't seen something along similar lines produced in our country. A lot of time and money goes into the making of an animation feature film, and if we were to pitch an all-ages story to a producer, they're obviously unsure if it'll work because no one has tried it here before.
Presently in our country, Ghost Animation, Eeksaurus and Vaibhav Studios are making some great animated content, though none of them have made a feature film yet. They're making short films now, so the larger, general public hasn't been exposed to their stories yet. What we have noticed over the years, since we started Kokaachi, is that the response to animation is growing with time. For example, there are many creators who are making short animated content and releasing it on Instagram, so more people are slowly getting exposed to it.
However, until we make something in the long format we can't be sure of whether it'll work. There will be a point where producers will have to take that leap of faith. I think in this coming decade, India will definitely see a leap in the animated films we make in the country and the audience will respond to it too.
How have you been dealing with the lockdown and what has it meant for Kokaachi?
It has helped our personal writing since we are at home and there aren't many distractions. We've been using this time to work on our stories and are also developing other ideas for future projects. On the other hand, our publishing side has been gravely affected because stores are shut and people aren't moving around or visiting bookstores like they used to before. The books we talked about before, we had planned to bring them out this year, but our publishing schedule has been altered and there are also not many stores to keep these books.
We were also working on a couple of animation projects, but since film shootings have been halted, our work has also been put on hold. Like everyone else, we're taking it one day at a time, trying to be self-motivated and to keep our spirits high.
Text Unnati Saini