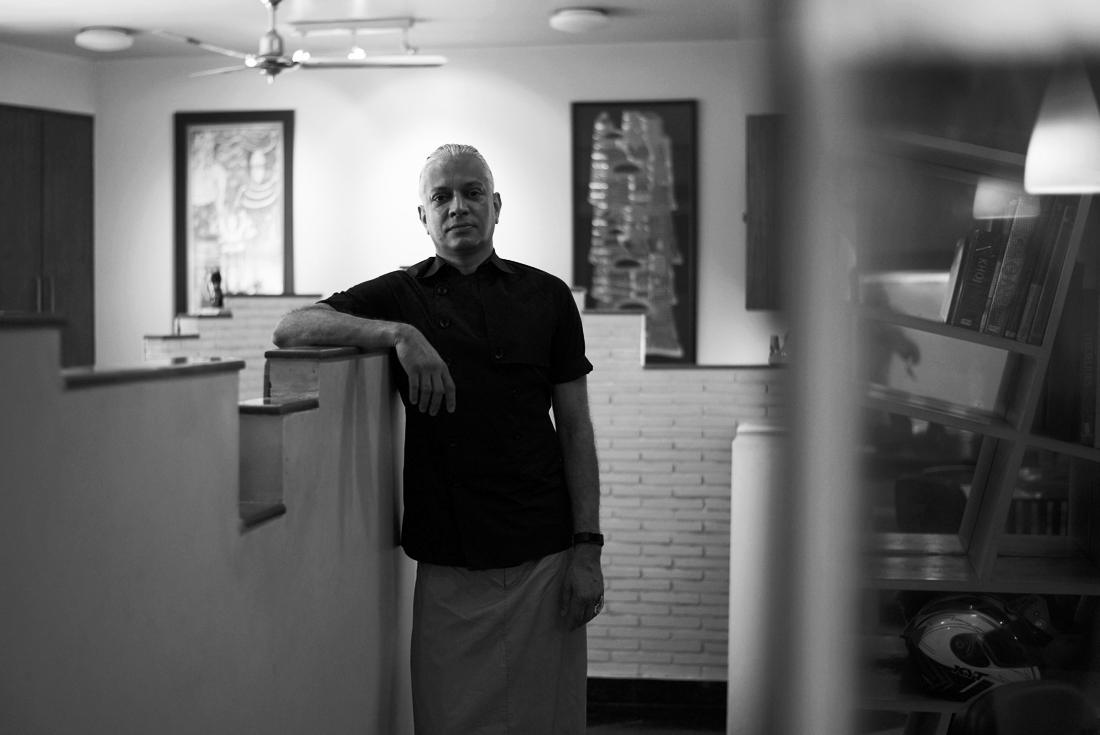 INTERVIEW OF THE WEEK
Photography by Sharad Shrivastav
Scenographer par excellence and a portrait of composer, Sumant Jayakrishnan traces the journey of his practice of creating magical worlds for performance theatre.

Can you take me through your journey in design over the years?
I started with design school in Ahmedabad in NID, and over there after the foundation year I did fine arts. I took interest in visual communications and graphics animation and in my fourth year I took up exhibition design. The same year, I started working with Mallika Sarabai on Darpana. In my final year, I worked on the conceptual set design on the musical of Mahabharata called Jaya. It toured Bombay, Calcutta and Bangalore, so that was quite cool for a student's project. In a natural progression, I worked with Barry John, did NCPA sets and was later introduced to Sanjoy Roy with whom I worked on the Muppet Show. I go to with Chandralekha in Chennai, and it led me to get a grant from the British Council which sent me to London to study design. There, I started with the Royal Academy, I had asked specifically for internships and training, and got to work at the Royal Shakespeare Foundation, The National Theatre and with BBC on a couple of shows. I was trying to extend my stay in Europe and had applied to the French Embassy and they gave me a grant and sent me to France where I learned puppetry, lighting design, theatre for the deaf and the dumb, it was kind of an opening up. It was a great learning curve. I was moved into the mode where I was the observer, not the doer. I finished with a very special project in Germany where I actually did an installation and I think it was called The Windmill Project. Coming back, I collaborated with Pooja Sood on Khadi—from Empire to Emporium [1997] and that led to some other things… like Govind Nihlani came and said would you like to design a film set for me, so I designed the set for my first commercial film called Thakshak, with Ajay Devgn and Tabu. The Khadi show also led to my working with Neelam Mansingh Choudhury who let me do her stage costume and designing for her Punjabi theatre. And after a gap of ten years I'm doing an opera. Last summer with Rajshree Pathy I designed the 'Chakraview' at the India Pavillion at London Design Biennale.

What inspires your design aesthetic?
People and spaces inspire me. Sometimes you walk into a space and you feel inspired by a particular geometry—is it high is it low, is it a dim space, a bright space… and the people around, along with my team. The interests of the people I work with define the intention of what we do. It's all about external collaborations and we become a 'we'. I'm working with bunch of people who are very different. This bond with different people stretches you…you are literally absorbing and understanding and trying to become them. You leave your ego behind. I'm very clear that our role in the artistic process is to be a channel. Because it's the one process that I've always been fascinated by—the creative process is about how to create magic. It is so much bigger than you and you're not quite sure how it comes about…you have to open that channel and allow. And there are layers to it.

Take us behind the ground status of scenography in the country and its challenges.
I was at the Bombay airport and I was walking through the artworks, and under each painting it's written, 'Rajiv Sethi scenographers'. Scenography is really a cross pollination of the arts. Which is why it's complicated for people to fathom, because how do you actually make them understand that it's more than just a set design or more than just performance or costume… it's about how something is put together. When you put multiple arts together and bring it under one umbrella; where they weave together efficiently and creatively and create some magic. I think that's when scenography is successful. Scenography, in the end, is the creation of magic but how do you create magic? With compassion to your surroundings, to your collaborators whom you want to do it for.
As for the work culture, it has improved much in the last decade but is still at the stage that one struggles with the people you choose to work with, deliver something on time within the budget. Having worked with cultures such as Japan and Korea, Europe or America, I see there are different ways to do things with professionalism and commitment. Here, however, it is not defined. That flexibility and fluidity with what you can do with limited resources has to be seen as an advantage which is why I am very happy being here, you never know what the surprises are! That said, the creative industry and the government need to come forth for support.

What are you currently working on and what is next?
I am currently working on events. There are a couple of projects with Seher that we're doing with Bonjour India. We have the Asean Music Festival in October in Delhi at Purana Qila and I'm working with Mrs Swati Piramal for an idea for Chelsea Flowers Show in London. I'm working with Aman Nath on a public space at his new property in Tijara. Then, I have to design an elephant for the elephant parade. At Serendipity Art Festival I'm doing the general spaces… we've decided it has to be sustainable, recyclable, reusable. So we're working with bamboo and local craft. It all looks very exciting.


Text Soumya Mukerji