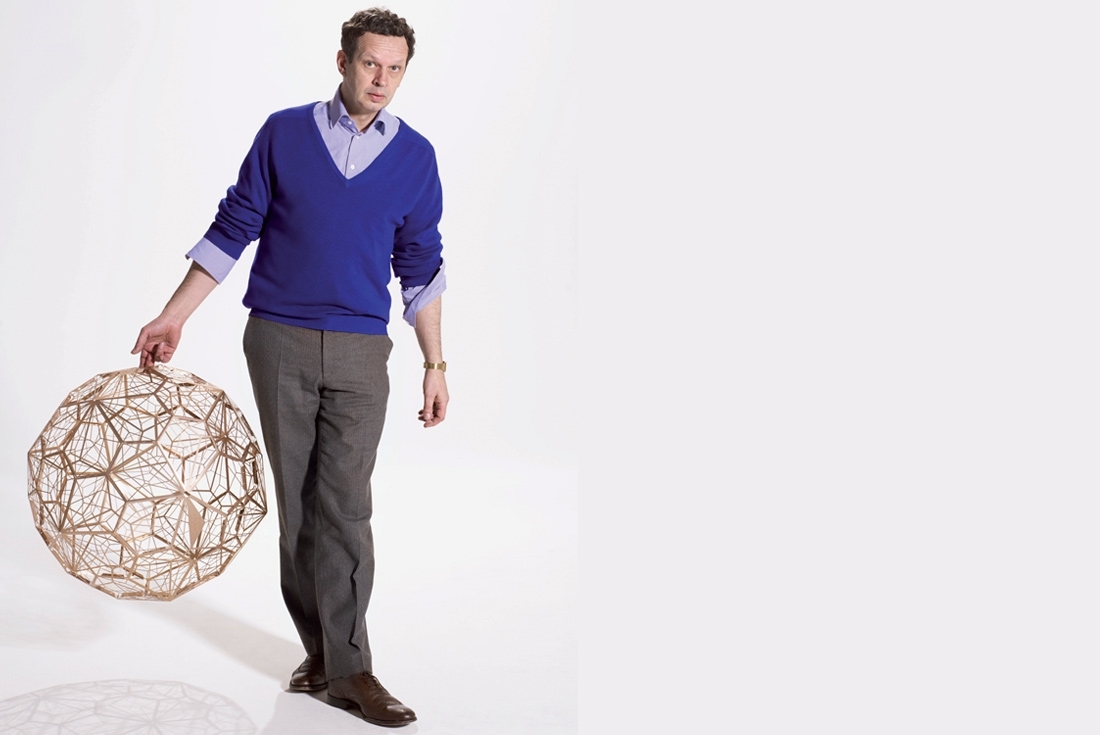 #ThrowbackThursday: Tom Dixon
The Reductionist and the Constructivist

A maverick for some, a visionary for others, Tom Dixon in the truest sense is simply a creator! For a man who was a musician, an auto addict and a late developer in the design world with no formal training, Tom Dixon has surely come a long way. One of the most influential British designers of our time, not only is he reinventing designs and giving them a new look, feel and function, but he is also creating an unforgettable experience. Just when you are able to identify his mark, he creates something different and defies any kind of expectation. Tom became a household name when he became the creative director of Habitat. In 2004 he conceptualized his own company, Tom Dixon that has been awarded generously and has made its presence felt across continents and disciplines. His designs, thought and execution are the perfectblend of functionality and aesthetic. Each product of his, be it his lights or chairs, exude high design sensibilities yet are practical, while his use of metal, colour and form create magical effects.

What were the very first objects that you designed at 25 that got everyone's eyes on you?
My first successful lamp was a large spring steel spiral with a halogen up lighter at the base that threw a wobbly pattern onto the ceiling. Then there was the Pylon Chair and the S Chair. However, I've had people come up to me and say that they own my first design – a chair, a lamp or a jewellery stand – they can't all be right.

If you had to deconstruct your design aesthetic and vision, how would you?
I am obsessed with HOW you make things, and WHAT they are made of. My style is REDUCTIONIST and CONSTRUCTIVIST, meaning I try and make things as simple as possible, and I try to be informed about the means of manufacture. I try to understand where the thing will be made, and I try to challenge the brief, and make sure that I am not repeating something that already exists.

You entered into the design world in the 80s and the design industry has evolved tremendously since then – what are some of the key changes you have encountered in the past two decades?
It was a completely different world – there were no design museums, no design shops and no design publications in the way we know them now. What was great was that there were also no big expectations and no real competition. The landscape today is the opposite – so many practitioners, so many opportunities, but as a result a very over exposed and more competitive industry.
As a designer and 'industrialist' (as you like to call yourself), what are the responsibilities you face on a daily basis, when creating designs for the world to use?
When you produce a design, you should be trying to improve on something that has existed before – a better functionality or a life changing new invention, or even if just a nicer colour. One should concentrate on the invention, engineering and marketing rather than the actual process of designing. I think that effective designers tend to be interested in the whole chain. Robin Day, Verner Panton and all those people really felt that they were going to change everything through design. It's a very humbling way to look at it. I think designers now are more concerned about the shape of the object and their own personal evolution within it. And I think a good designer is somebody who manages to put together all the elements – an understanding of materials and a belief in improving functionality – then puts the shape on last as a result of all those experiments.

What are your views on sustainable design and according to you how can designers help better the world with their designs?
For TD, this is a complicated subject, as it's always difficult to promote good practice in sustainability, whilst simultaneously selling more stuff to people. We resolve it through making longer lasting objects, with a dose of anti-fashion.

You have done various collaborations. Which ones have been the most memorable, inspiring and challenging and how do collaborations help your creative process?
My collaboration with Giulio Cappellini was extremely interesting, as I learnt how important design is to the industry, how Italian craftsmen and industrialists really respect design as an intrinsic component of life and work, and then working as Creative Director at Habitat opened up a whole new toy box for me – of international manufacturing, craft, retail, shop environments, branding and logistics.

What does the Tom Dixon brand stand for?
We are on a mission to rethink and revive the British furniture and lighting industry. Our products are designed, developed, distributed and communicated with British style and innovation.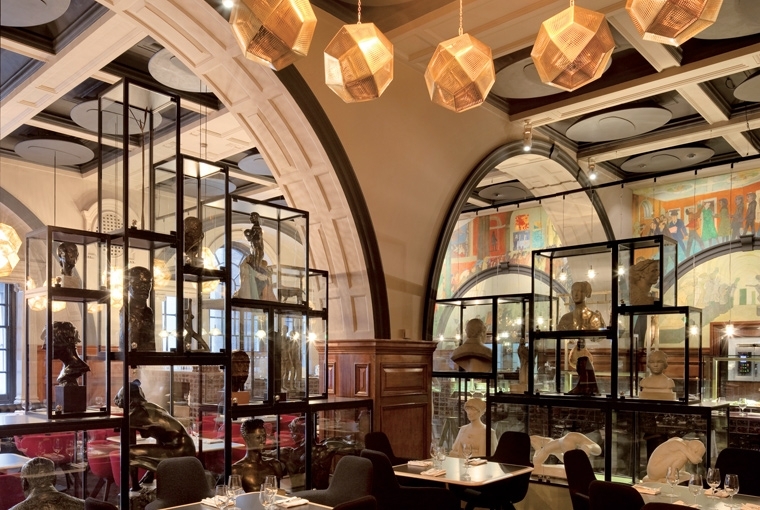 What is your work process like? What comes first – idea, material or project?
I very rarely think of the final shape of an object or the surface before I start… I'm always thinking of the material possibilities, the potential of the factory and the structure of the object, which means that I am a vertebrate designer, rather than an invertebrate! I am inspired by just about everything – cooking and architecture, engineering and sci-fi, music and contemporary sculpture, British traditions and travel. I try and visit the factory that will be making the objects, then think about challenging the brief or the request, then make some models, full size if possible.

You have touched so many disciplines from product and lighting to furniture and interiors, which do you love most?
I find it impossible to have favourites, but right now I enjoy working in lighting, as it is a field which is continuously progressing through new technologies, new light sources, transformers etc. I prefer to approach a new task with a naïve approach.

Have you had any exposure to design coming out from India. If yes, what are your views?
Sure. I have visited the National Institute of Design, and seen fashion shows in New Delhi, and you get the sense that there is a huge untapped wealth of talent that is seeking the right platform and the right markets to explode onto the scene. It will take time for this to happen but in my view it's inevitable.

Our conversation with Tom Dixon was first published in our Design Issue of 2012. This article is a part of Throwback Thursday series where we take you back in time with our substantial article archive.



Text Shruti Kapur Malhotra