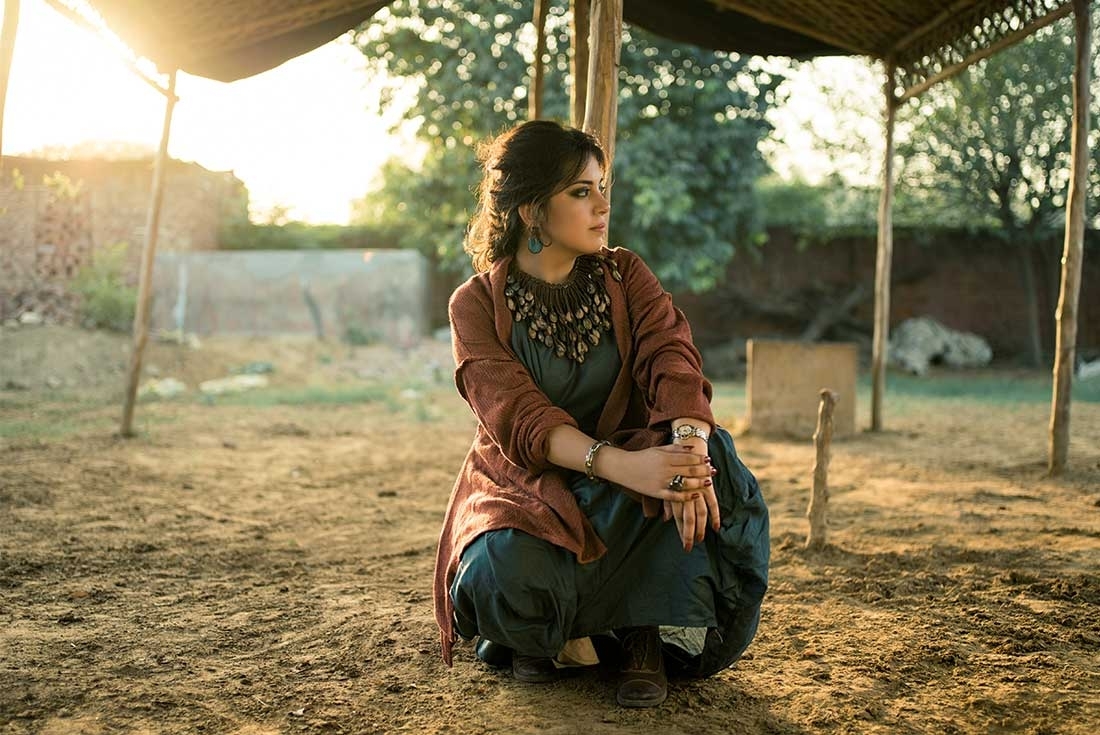 Ethereal, bohemian, emotive and non conforming through understated glamour and elegance are some of the few unvarnished ways in which one could describe Aikeyah. The label which is Isha Dhingra's brainchild, in five years of its short existence, has managed to blur the lines between prét and couture. The in-between is a sartorial approach to design ensembles which find the sweet spot taking an unpretentious approach to couture. Cotton, sheers, subtle embroideries, unassuming silhouettes and florals form the spine of Aikeyah. Stories from History, art, literature, human psychology and travel find their way into the collections inconspicuously in the form of inspiration. The founder, Isha is an amateur painter, a self- taught embroider, a traveller and a dressmaker who ventured into the Fashion business at the age of nineteen. Her refusal to work under anyone helped her forge her own path and find her own unique voice. It was in her childhood of quietude that she found herself immersed in books, craft and paint. She would spend painstaking hours making cards, sketches, portraits and beaded necklaces by hand. It was amidst these childhood pleasures that she found her calling.

Aikeyah's latest collection Yin and Yang showcased at Lakme Fashion week this year featured models in fairytale-like ensembles against the backdrop of a barren landscape, showcased in a film. The shadow of a man in this landscape walked in the opposite direction towards the horizon, away from the darkness towards the light. It solidified the mood for introspection and tranquillity with cello and meditative sounds playing in the background.

Isha takes us through the journey of Aikeyah and that of designing her latest collection.
What led you to create Aikeyah?
The search for self. Aikeyah was born in the year 2012. It was a tempestuous year. Both my personal and professional life needed a clearer and a definitive direction. Thus, while trying to find a balance between the two, a quest for a deeper meaning and the need for simplicity arose. Not only in terms of decluttering my present perception about life but also to the finer nuances of living. These acted as a catalyst which propelled me towards simple, fuss-free clothing. It was in those circumstances I found love and commitment in cotton.
I read on your website Aikeyah- the name, a Sanskrit word that means own identity was an obvious choice to name my journey. How does Aikeyah reflect aspects of your own identity?
Aikeyah is an extension of my personality. My experiences are interwoven into the designs. It gives the wearer a hint of my thought process which is subtle and simple. My designs are fluid and totally absorbed by the wearer. The name Aikeyah, therefore, is apt as it takes on the identity of those who wear them. Aikeyah takes pride in the fact that it has been consistently delivering the same sensibility promised at its inception.We draw inspiration from within. In a short span of time, we have found our archives. We don't confirm a shape, hence we belong to many. A lot of women the world over identify themselves with Aikeyah today. I will sum it up as an 'abstract', very easy on the eye, yet very thoughtful on the mind.
You ventured into business at the age of 19. How has the journey been since then? Any reason you chose to opt out of working for designers and exporters and forge your own path?
14 years today. A lot of failures, fallouts and rejections have helped build the label. It is those failures that allow us to look in the eye of fear and carry on. It is a fearless label. The journey is passion driven. It doesn't conform to social conventions nor current trends.It all began with creating a product that can be cherished for many years; it may not have embellishments to adorn, but just the silhouette, like a favourite pair of jeans.A feel-good factor is important. At 19, with no industrial experience, the vision was clear; I knew what I wanted. Now, in retrospect when I look back, any influence at that point in time would have altered the thought process.
How would you sum up your design philosophy?
What goes on the rack is an extension of my experience with life so far. It is life, in general, that inspires. It would be right, to sum up, my design philosophy as an ever-evolving experience. Aikeyah may or may not bring an affirmative applaud since it will always be an experience with the garment and not an experience of the world with the garment on you.

Can you take us through the creative process of designing your latest collection Yin and Yang ?
In Chinese philosophy, yin and yang have been described as how seemingly opposite or contrary forces may actually be complementary, interconnected and interdependent in the natural world. Two halves that together complete wholeness, are unchanging and complete. Yin and yang are the starting point for change, by splitting something into two halves. Yin/yang upsets the equilibrium of wholeness and finds a new balance with each other. Creatively, the two opposite hues of the colour palette were used. Aesthetically, the essence of the philosophy can be found in the balance of prét and couture in the collection. Mixed mediums put together communicates an opinion on oblivious couture. Absorbed with cotton, the hand details speaks incatenation between different types of clothing.

Your Spring/Summer '18 collection has been described as a visual ode to the oldest philosophy in the world.
In respect to your collection, does yin and yang symbolize something? Is there a message the collection intends to convey?
Yes, it does convey a message. It symbolises a balance between prét and couture in today's time. When in India, Prét is symbolised with the only cotton, easy breezy hashtags and Couture means only bridal, the collection aimed at opening a dialogue of an unpretentious approach to couture. It is an ode to the yin and yang philosophy by way of balancing the two genres of clothing & bringing forward a collection which can't be labelled as prét or couture anymore.


I see a rose motif being repeated every now and then through the collection. Any particular reason you chose this motif?
Not really. It wasn't deliberate. But the sheerness and the shadow play it brought along was deliberate. I don't think any other motif would have been able to justify that play.
Yin and Yang follows a two colour palate. Why did you choose the colours black and white?
As the philosophy suggests; the use of the opposite hues in the colour palette was obvious.


I see the words layered and disguised on your collection note and a lot of the garments with their layers of sheers also play out the words. Is layered and disguised generally a part of Aikeyah couture? Or does it bear some significance to this collection?
Layered and disguised are the two words that describe best the essence of the collection and Aikeyah Couture in general too. Converting the simple aesthetics of Aikeyah characterised by detailed and delicate embroideries, a special line emerged. Aikeyah Couture is an organic extension of Aikeyah. A lot of layers and the character instilled in these layers is what Aikeyah Couture stands for.
Are you working on any upcoming collections/ projects?
Yes, I am currently working on putting forth Autumn Winter collections for both Aikeyah and Aikeyah Couture. For Aikeyah the collection is called Mela and for couture, the collection is called The Scarborough fair.

Text Supriya Jain