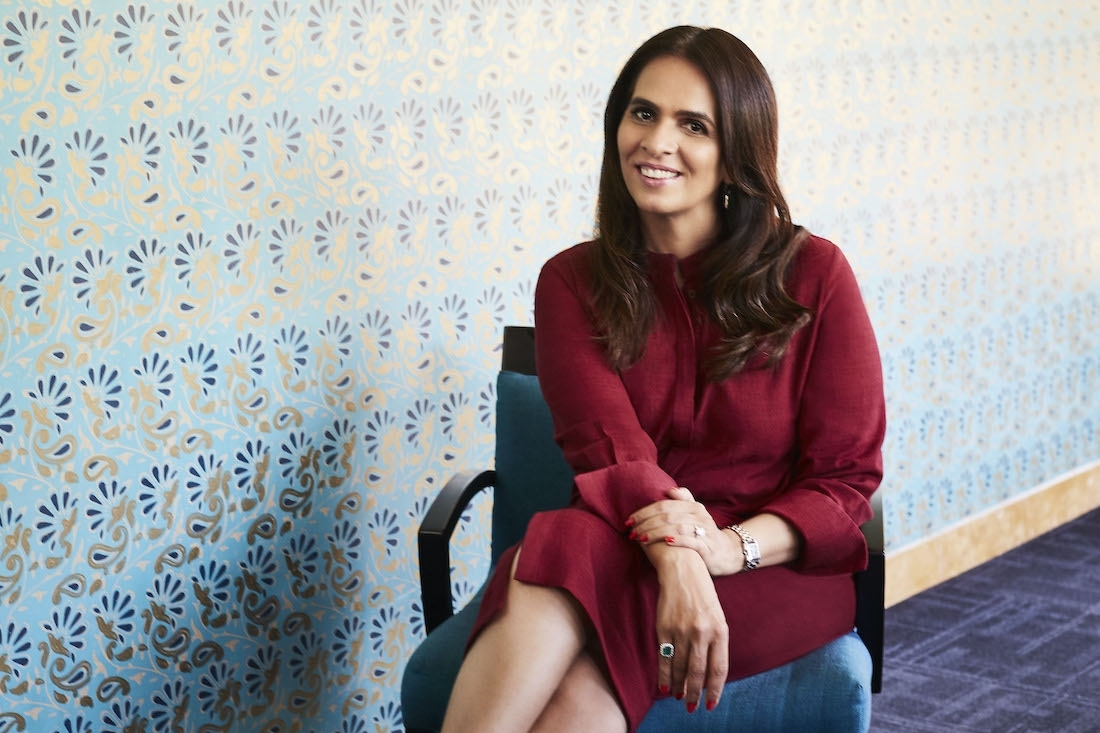 Anita Dongre:
The Fashion of Now
February started with just as much gusto as it does every year, with the who's who of fashion jetting around in their carefully tailored gigot sleeves and flared pants, to note the trends for Fall/Winter. There was no slowing down the runways in New York, London, Paris and Milan; the flesh tones, elevated and structured tailoring along with some glitz and glamour made a statement. Little did anyone predict the limbo a virus would put the entire world in just a few weeks after. The era that moved from fast to even faster fashion, and wouldn't repeat outfits already on Instagram -- perpetuating a continuous cycle of excessive consumption -- has now crumbled amidst the pandemic. The exhausted industry has been forced to pause and take a moment to itself. While the negative consequences outweigh any positives, perhaps this disruption will finally help fashion rethink its structure and move towards a more circular one.
Anita Dongre, on the other hand, is a name that has become synonymous with a model that strives to be empowering and sustainable. Banning the use of cashmere and leather for her label and sourcing alternate fabrics such as tencel to reduce the harmful impact the production of clothes has on the environment, are just a few of the many steps taken by the dressmaker to help build a long lasting industry. The world is collectively going through a harrowing time and Anita thinks that in this moment, we can build a newer and a more tender normal. Here's what she had to say about her design philosophy and the future:
We're experiencing a global pause of sorts due to the pandemic. What are some of your initial thoughts about the future of fashion in India?
Fashion has to get more meaningful and sustainable, where our sustainable crafts will pave the way and set an example. While 2019 saw a number of designers choose this form of expression, the future will rely entirely on fashion that is kind to its producers, wearers and the Earth.

Do you think sustainability, which is slowly finding its footing for us, could take a major hit due to the disrupted supply chains or do you think this slowdown will be beneficial to rethink fashion on a global scale?
If anything this disruption to world economies has doubled down on the desperate need for sustainability to be the norm. We are in this situation because we have spent decades approaching life through greed and the need to have more and better than somebody else. Whether it is fashion, food, travel or any other industry, this pandemic has proven to us that we need nature far more than she will ever need us and our recklessness will not go unpunished. Our new normal will be humane, sustainable and respectful of all lives.
You've been a part of the industry for more than two decades now, what is it that inspires you in the present moment as opposed to when you started out?
About two decades back, Indian women were finally making strides in the corporate world. These strong and capable women had all the skills they needed but there were no Indian brands that made clothes for them! When we started AND, our focus was on making sure that this 21st century woman had clothing that was easy, affordable and allowed her personality to shine through. AND continues to be a brand that designs for the corporate woman. Women still walk up to me and tell me about their first interview being in an AND jacket, or their 'work wardrobe' being built of AND staples, is testimony to that early promise. These stories inspire me every single day.
Do you remember your very first tryst with fashion/textiles? If yes, what was it?
When I was a child I visited artisans on the lanes of Jaipur's walled cities. We'd sit side by side and design glass bangles one day and a specific lehariya pattern another. From then, all the way until now, I've worked with craftspeople for a common good and a shared love of design. There's pure energy, a vibe that fuels our excitement in creation, built on mutual respect, the exchange of ideas and a quest to move the needle. Those are my earliest memories of fashion and textiles and continue to fuel my energy.
If you could sum up your design philosophy what would it be?
I think my design philosophy is built around the idea of 'Fashion For Good'. How can what I do, translate into multi-pronged value on all spokes of the supply chain and also to the Earth itself. How can I use design to uplift and empower women in India's villages, give women in urban India the confidence to rewrite the future of this country, and while doing this also ensure that the Earth thrives from this progress.
Text
Unnati Saini