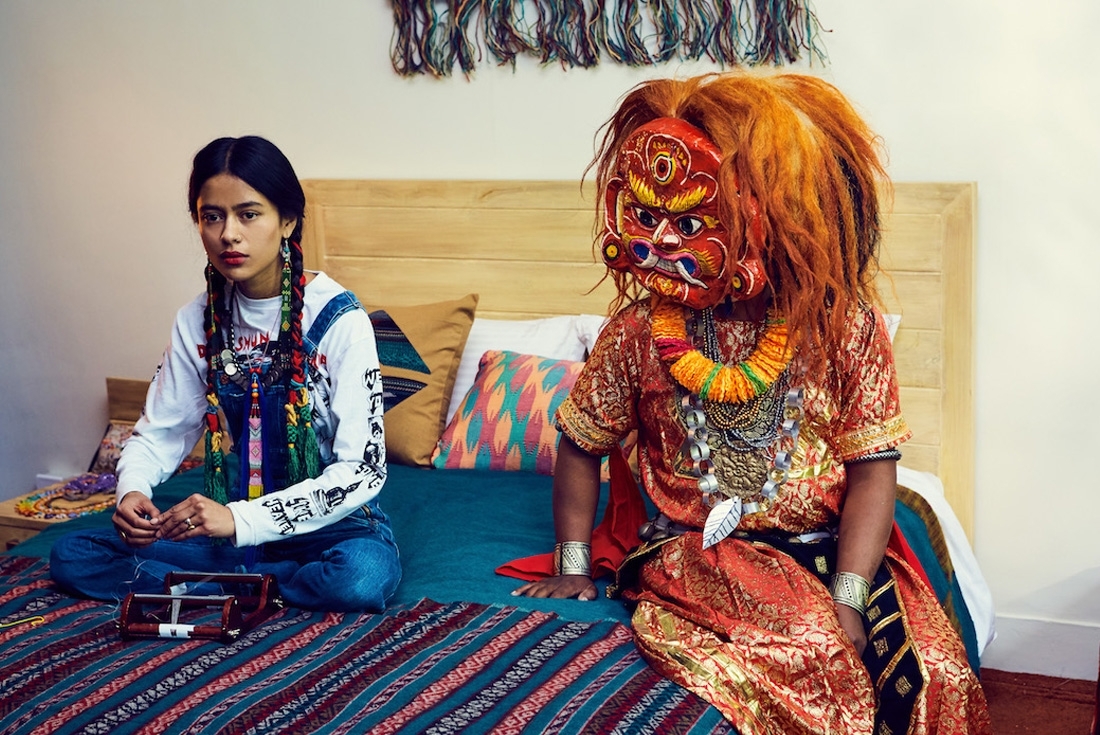 Image courtesy of Neulandherzer | In collaboration with Lufthansa
Growing up in Kathmandu, little did Arpana know that even the smallest nuances of her life would one day influence her craft as an accessory designer. The memories of her mother, the winding roads and busy markets of Nepal where she wandered collecting beads and trinkets, have quietly informed her practice. Whimsical and eclectic, Arpana's jewellery underscores her idiosyncratic style. But it wasn't until she moved to New York to study at the Cooper Union School of Art, that she really dug deep into her life and the memories of home to find who she really is. Every neck piece and earring is hand-strung by her, combining beads with pencil erasers, miniature skulls and synthetic neon hair from wigs that remind her of the ones in her mother's wardrobe. Tucked away somewhere amidst each of her pieces, is a whisper of a memory, a token of her past. Since launching her own label, she has designed for a Victoria's Secret show, and recently appeared in a short film series commissioned by Lufthansa titled Colours of Home – that explores the concept of 'heimeh' and Arpana's relationship with her home, Nepal.

I connect with her across time zones, and she deconstructs her creative process and sensibility. As she signs off, she reminds me, that the answer to your future always lies in your roots.

Can you trace back your romance with fashion and accessories? How did it all begin?
It started with my mother. One of my earliest memories is of seeing her dress and put on make up and jewellery. She was very particular about patterns and colors and never settled for anything that was 'good enough'. Her wardrobe had a huge collection of cardigans in all possible hues. It was beautiful. Needless to say, she was very beautiful herself, decked in a myriad jewels and colors. She was an actress and also had a huge collection of wigs and extensionsand crazy costumes. Everything I am today, and everything I do, started with her.

What informs your sensibility when it comes to your work?
Sincerity and curiousness to learn more about a subject matter. I do not really consider myself a designer. I find myself somewhere between art and fashion, not adhering to the standards of either but trying to find a place in both. I do not believe in and will never go by the prevalent trends in the industry. I am driven to create a market for something new - an aesthetic that people haven't seen before, and one, that doesn't figure into any trends. I think it's very important that when I work, the only pressure I feel is to make my work better.
Image courtesy of Neulandherzer | In collaboration with Lufthansa
Tell me about your childhood in Nepal. How do your Nepalese roots inspire your work?
My childhood in Nepal was very simple, basic. Growing up in Kathmandu, my humble upbringing always kept me grounded, and I couldn't have been more thankful for it. Now, most things seem excessive. I am not really consumed by them so upto some degree it keeps my life and consumption habits pretty modest. Kathmandu is a beautiful city which always had a very progressive facet, where people aren't afraid to try new things despite how small the market might be. The colors, the smell, the sounds and the chaos that I left behind, all somehow filter into my work. Life in Nepal carries with itself a sense of being and certainty, an awareness of self; as a country it is complete, not trying to be anything else. That is how I see Kathmandu and that is something I try to incorporate in my work.

Deconstruct your creative process.
I think all the time and ideas keep transpiring. My mind is like those cartoon or animated videos that show that process of zooming into the brain and then you see all the little parts that are together and zapping and creating electric currents! That's probably how it is all the time so I am not the type that sits, draws and then re-draws and corrects and sketches. I 'see' it in my head and then I start to work. I always put on music, and as I work, I sing along. Sometimes I can spend hours in the same spot, threading beads together, and I think to myself – there could be nothing better than this.

How has New York influenced your aesthetic?
NYC has helped me become more of me and less of what I think I need to be. Partly because this city is individualistic in nature, therefore a huge number of people are not afraid to dress and behave the way they want to. I think that fact that I happen to be doing art in NYC at a very transformative time in my life as I'm getting older and more comfortable with myself also has a lot to do with influencing my aesthetic. It has given me an opportunity to spend a lot of time with myself and my work, and I think because I know myself more now than I did before - and that feeling has helped me become more expressive without feeling like I'm being judged.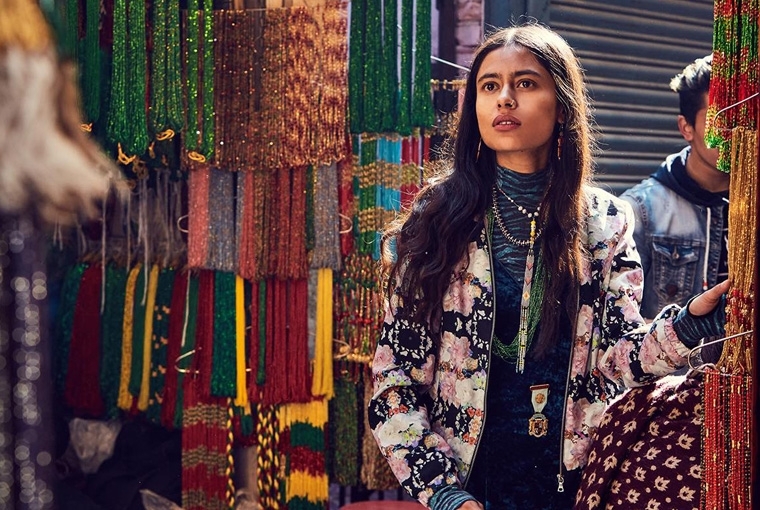 Image Courtesy of Neulandherzer | In collaboration with Lufthansa
What does it mean to be a Nepalese artist living and working in New York City? How effortless or difficult is it?
Nothing is effortless in my opinion. NYC is tough. It can filter out people fairly quickly for many reasons - how expensive, fast, busy, product driven, materialistic, capitalistic it is, but then alongside that, it offers a lot - multi ethnic world cultures collide here. But I think if one knows what they want from their work and their life, and is generally willing to work hard and work smart, New York can be the best city in the world for an artist. It toughens you right up, at least, it did so to me.

Fashionable or stylish?
Stylish. Always.

Is there a dream project?
Ah! So many! Make an album, play a badass superhero in a movie, work with Bjork in any way possible. Haha! Work with Jane Goodall, be in a Hindi movie with Shabana Azmi, Nandita Das, Naseeruddin Shah and Aamir Khan, help make education and conservation of wildlife better in Nepal, travel around the world and collect jewellery from different corners of the world. I could go on.

Give us a peek into your next collection.
I am working on many series simultaneously. Right now, I am working on a project, using Japanese go yens, and the series deals with a fictional story of the queen of Ancient Japan and Queen of Ancient Nepal who share these necklaces as a bond that last eons. I am also busy creating my first ever all metal series in collaboration with tattoo artist, Bruni Levy.

Where do you go from here?
Ah, if only I could answer a question pertaining to the future with certainty..

Take a look at Arpana's work here.


Text Ritupriya Basu