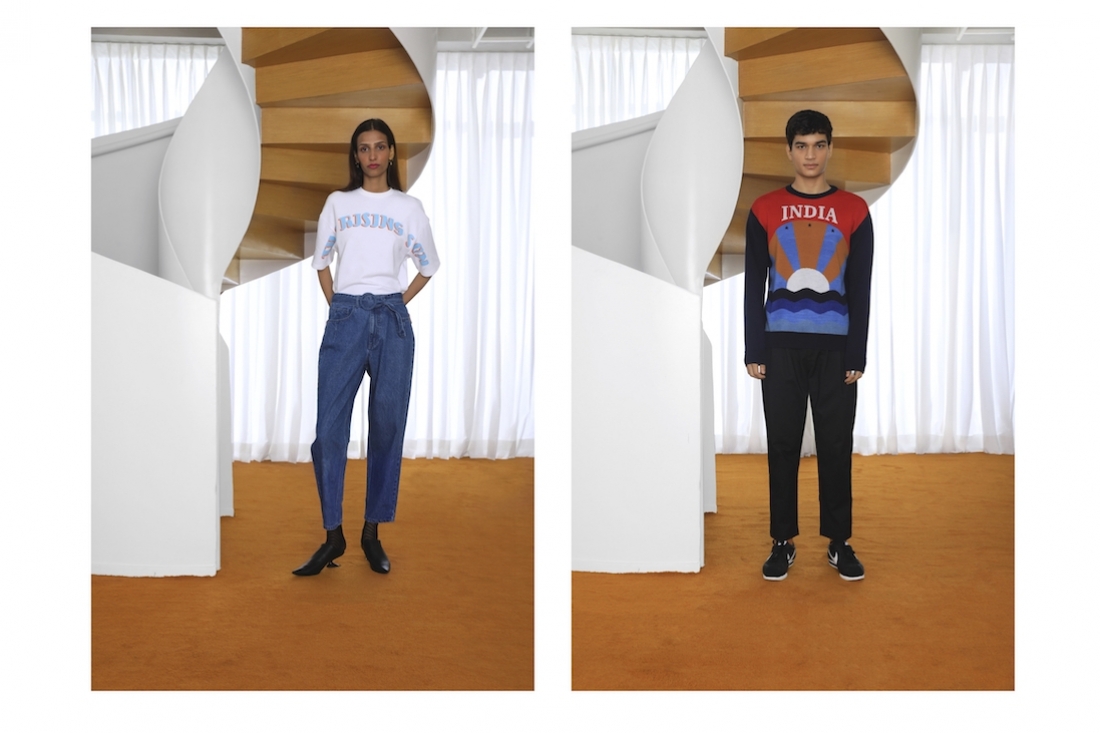 Bhaane, as a culture first brand has always highlighted people before clothes. It evolves all the time, but the underlying thread is humility. 2020 is about a new vision but not one that is removed from the past, instead a voice that has been shaped by the landscape of contemporary India, which reflects millennial challenges, engages with the environment, with culture, politics, and sustainability.
For Cruise 2020, creative director Nimish Shah has presented an extension of Bhaane's inclusive-Indian design tag in a contemporary e-shop that features men's and women's ready to wear. His debut collection for the brand draws its inspiration from the 90's, as the designer integrates his signature thriftshop sensibilities with pop-culture references one experienced growing up- varsity sweatshirts, memorabilia, graphic tickets and museum maps. The ingenuity of the mood-board is heavily drawn from the conversations between the rousing trio – Anand S Ahuja, Sonam Kapoor Ahuja and Nimish Shah. We spoke to Nimish to know more about the collection. Excerpts from our conversation follow:


Tell us a little bit about yourself and what led you towards the world of fashion designing?
I studied Product Design from London College of Fashion and that decision came to me very organically because I was always inclined towards fashion imagery but I was not very sure if I can design. I didn't know if I just liked looking at fashion objects, so I was not very sure but I was always creatively inclined. I was also very keen on fashion and design management, which I later studied as well. It started there and then I got a lot of experience across industries like multi brand stores and design houses. So it all sort of came together to a point where I knew that I didn't want to be a traditional designer, I wanted to work on other things like at one point I was dappling with the idea fo how do you make one pair of short right or one pair of jeans right, combination of fashion commentary and storytelling. Just overall, creating like a package to sell or to consume. Finally one thing led to another and I started making clothes.
Which artists and designers have influenced you work?
I like cinematic appeal on screen that is choreographed to one point. So like Jacques Tati's Playtime is great which literally fells like a set and the life on a set. I also like this kind of mess within everyday life that makes it so second hand and thrift. So if you look at like movies like The Dreamers, it just is all about how you touch ever single thing. Like you don't touch your face that often but what if you do and it talks about all such emotional touch-points and also the curiosity that is very non-traditional which has so much beauty within it. So for me movies likes these, anything Wes Anderson, Pollonski, all of these genres, they are just so theatrical. When people think of things like you wear brown with black or blue with white and I think like, what if you don't and what if you're colour blind and you put together things, I absolutely love that. This is how I think as well when I am designing, like how bizarre of a styling can you do, how weird can it get, on a day-to-day basis, not just for a statement.
How would you define your design sensibility?
Frugal. Conscious. Hand-me-down look. Its a lot of borrowed sensibilities. Its all very seasoned and aged. Lots of improper things. There are ill-fitting clothes, intentionally. I am almost like this person who is all about anti-Italian cut, I like the non-ironed, full of creases look and feel. And there is finesse in the way you wear it, there is a design element in the length of the sleeve or the trouser. So, you dissect it and then you re-design it within it. Its like calibrating something and not starting from scratch.
How was the collaboration between you and Bhaane brought about?
It was very organic. Sonam approached me, and I really thought it was just going to be a lunch. She is so straight. There's hardly any build up to anything. It was really like, "Are you free tomorrow? Can we get lunch?" I said, "Okay, let's do it!" And then I met Anand. We were talking about what I was up to, and about what they were up to. She just very casually asked, "What do you think of Bhaane?" And while I was telling her this, she asked, "What do you think of Delhi?" My immediate reaction was, "I hate Delhi!" And then she started laughing! I would only visit Delhi, you know? At best, it would be for two days. The longest I've stayed in Delhi was for three days, during fashion week. Even then I fell sick one day! I've never stayed in Delhi for a long time. So, when she asked me that and I said, "I hate it!", she just cracked up! She was like, "Oh my god! This is not going to go anywhere!", because we're really talking Delhi, and getting it right. But for me, all of those things like the city, and the space where you come from, and your story were very secondary because when you're so driven to develop an honest product, it always comes down to getting the product right, getting the experience right, and then everything else comes around it, comes later, comes before. That's the beauty of it! That's the beauty of being in India. We all understand a white person may come in, complain about why there is so much dirt. But the thing is, I know it's not right. It has to be corrected. Can that become your full-time agenda? Can you work around it? It's really about what you do best. You either govern well, or you make things well or you're a good marketeer. So, we need to identify that. For me, that is the beauty. Which is why Indian design in coming in the forefront because we identify these limitations and we overcome them and then we celebrate it. We celebrate it with awareness. It's not simply celebrating it with dumbness. It's really about understanding these things. We get the elite. We get the local. And we know we're on a higher ground because we have the privilege of being able to use the local or involve them in our process. It all kind of makes a character-ed object versus an artisanal one piece at a time. I'm not making art, I am still making fashion commodities. So, we know all these things and we work with various talents. Everyone has a contribution in the company.
What was the main inspiration behind the collection?
When we changed the name, so many people asked me. And it is still part of the questions right now. In a way it feels like we're following a new numerology for success. We're looking at the question of why do you need to change the name? People look at it like you know get some form of cosmic alignment right. All of that aside, but I feel like that is such an Indian thing to do as well - to look at the charts and look at what is going on. We had our reasons for wanting to change it. It could have happened without it making a big noise, and we could have just added it without making a big deal about it. But it was really like passing of the torch. It was a big moment. So, now for me, that immediately became an inspiration. I just find everything very funny. In my head, I'm laughing all the time. I found that incident very funny – the fact that we added another A. So, for me that A became like a big starting point and it's Anand's initials, it's two starting letters of the dictionary. Everything led to – start. It was a re-start, in a very sort of, poetic way. But funnier more than poetic. So that became my starting point for the whole design discussion – to think how do we take this forward? And then the whole idea of Bhaane 2020, where you answer questions like, how are we modern, how are we owning our identity, how are we character-ed. All of these things came together in a design brief. It was my personal aesthetic of thrift stores, hand me down approach, which is where the whole collaboration came about where we're looking at how can we have an iconic element within our small offer. It just becomes about very, very subtle elements. So I had little peg points. And I just wanted to expand those points into creating a big fashion dialogue. It was not about doing one runway. It was not about one press release. It was just about getting the whole collection and several drops and exciting a various demographic. It was not only for models and celebrity to wear. It was about the everyday person. And I was making sure that it fits them, they get it, they have fun with it.
We spoke about India and Olympics which is our biggest dialogue for the next collection. It is 2020. And we're sort of the rising sun! What does it mean to be the rising sun? We're exploring coming of age. We're exploring somebody who has not done anything in life but then there's a lot of expectations from that person – like an 18 year old boy/girl. Then immediately that led to athletes, and there's so much expectation on an athlete – I mean imagine the psychological pressure! So the next collection is all about that. And it is just the starting point about how do you represent your country. Is it just by having Indian skin? What else makes you Indian? How else do you represent through your awareness of tradition, your culture and your vision of the future? What do you aspire to? So various points coming together. At one point I was like, "How did we become a souvenir shop for the country?" It is literally like a gifting shop. When you come to India, what can you buy which has these elements. And it is not the same elephant and camel business. We're talking about what from the modern India can people take back with them. And consume it, and not frame it! It's not some ethnic piece to dress up in.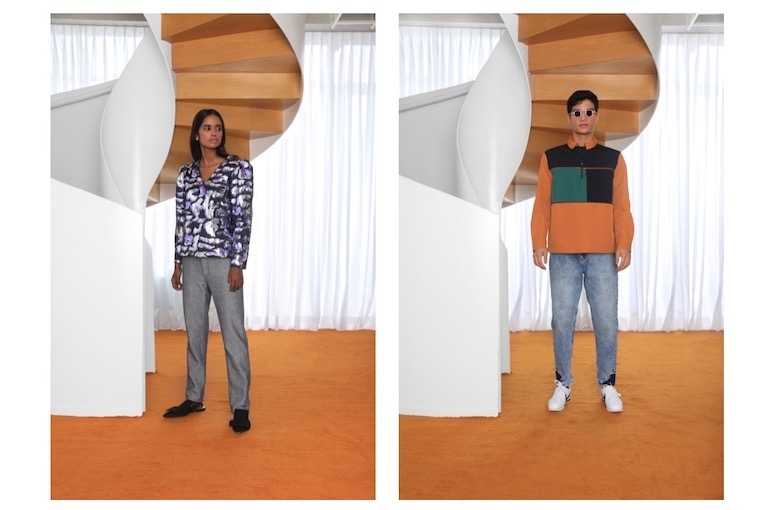 Could you take us behind your creative process for this collection?
You know it starts on material. We explored a lot of material options, mostly Indian, a lot of international. It's putting together all material right, putting them in context. And then there is an ongoing research on what people wear, what works and fits. Then it gets into technical about identifying a silhouette and developing that. Research is mostly technique. And then the silhouettes come in a little bit later, once we know the spirit of the collection, what we want to create and produce. I really swing it, I don't have a process. I stepped into the field. I went to Himachal to look at the textiles they were developing. I had already worked with vendors in Calcutta so I knew what to expect. Some of them were my previous vendors so we were kind of fine-tuned with the quality and the aesthetic. We've done a lot of Indigo dyeing, dip dyeing. So, it's a natural product -100%.
Lastly, what's next for you?
Like I said, the next mood board is very sports inspired – India at Olympics in Tokyo. We're looking at how India and Tokyo have come together. We're putting all these elements together. So that's really on the design front. And I don't really care about that as much as the brand. For me, it is about how do we engage customers, how do we conduct our events, how do we put people together in a group and for what? So, this is why the culture bit is really important for me. Culture is pretty much our third collection. So, we do women's wear, men's wear and then we have a culture sub issue. It is identifying talent, identifying artists. How do we put all of that together in our offer as a brand? When you go into details of one particular thing, that's too small and micro. We're looking at - at large brand building and rigorously building that up.

Text Muskan Nagpal