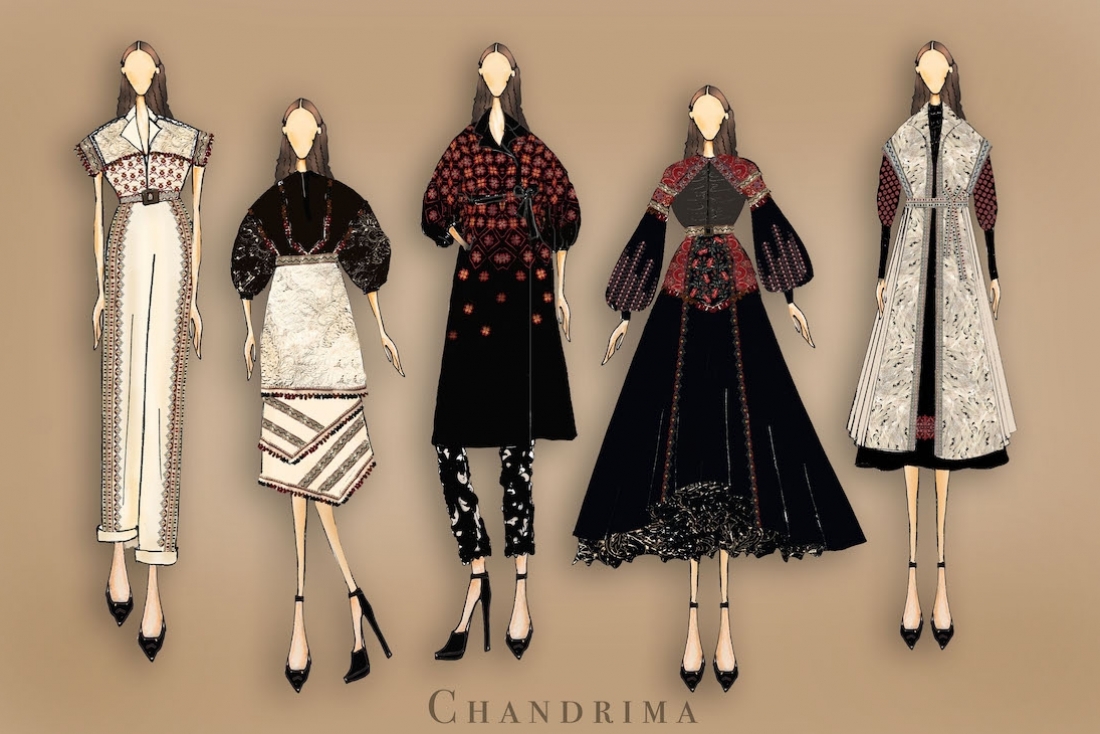 CHANDRIMA
by Chandrima Agnihotri
The Designer
I am Chandrima Agnihotri, the owner and brainchild behind the brand CHANDRIMA, based in Delhi NCR. With an inclination towards observation in small details, I have always been an art-lover, a nature's person. I believe that creativity is going beyond the usual. It is about how differently a person explores ideas and how one experiences life. With this thought process and curiosity to explore shapes and materials, I had always wanted to study design and be a fashion designer. A graduate of Fashion Design from the country's most prestigious institution National Institute of Fashion Technology, Mumbai, I started my career by working under celebrated designers and pioneers of the Indian Fashion industry like Rohit Bal and Abu Jani Sandeep Khosla. After gaining industry experience in haute couture and ready-to-wear for almost seven years, I started my own womenswear label CHANDRIMA in 2019.
The Label
Having worked with Rohit Bal as a senior designer for six years, I decided to take the leap towards my ambition and launched my own label CHANDRIMA, armed with hard earned learning coupled with an innovative approach. The label celebrates diversity in cultures and craft-forms by creating ready-to-wear womenswear for the urban women of today.
The Inspiration
I usually draw inspiration from my surroundings. The people of the world, their cultures and the way they live in societies, be it their folklore, their clothing or their lifestyle. The fact that the human race is so diverse in its choices and beliefs, yet united by nature, drives the source of my inspiration. The essence of my debut collection, that will be seen at the Gen Next show at Lakmé Fashion Week, is Cross-Cultural folk. The collection in its entirety, celebrates diversity in craft forms by blending techniques and fabrics prominent in nomadic communities in India along with international style. Inspired by the distinctive style of embroidery done by the Jat community of Kutch, that is based on cross stitch, the collection embodies cultural richness of India. The techniques of this exquisite Indian embroidery and handloom are combined with European lace hand cutwork in order to create a global appeal. The motive behind the collection is to sustain the folklore of India and cultural diversity by incorporating our crafts and bringing them to global platforms through fashion.
The Future
I feel honoured to be associated with Lakmé Fashion Week for the launch of my brand at such a prestigious platform like Gen Next, combined with great mentorship and guidance. It is the kickstart a young, upcoming brand like us needs at the onset of its journey. I'm positive and excited for this showcase and wish to create and explore more crafts with a modern interpretation in future collections to come. Going forward, post LFW we want to expand our footprint into multi-brand luxury stores with key focus being high fashion that is also wearable and commercial. We are also excited about our upcoming website where we will be able to showcase and sell directly to our customers.