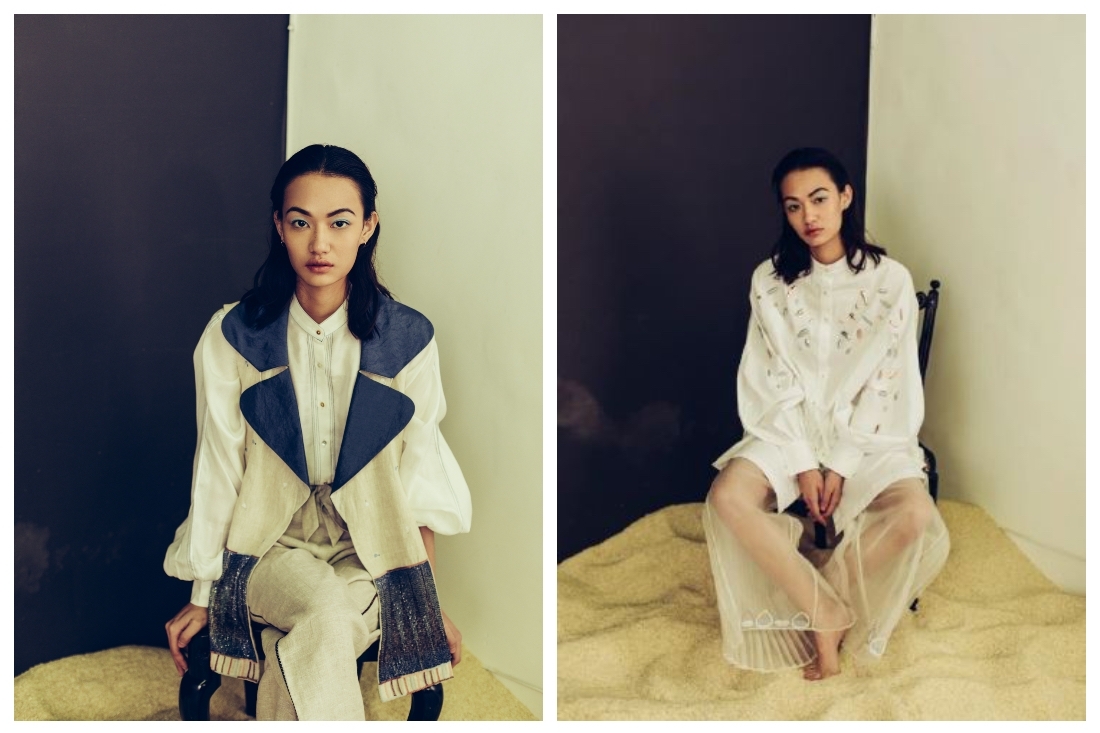 Graine by Harshna Kandhari and Mannat Sethi
The Label
GRAINE is a collaboration of mind and heart, co-founded by the sister twin. The former link Harshna Kandhari, is the intuitive visionary behind GRAINE with a master's degree in finance while the latter Mannat Sethi is the impressionable heart of GRAINE with a history of art and a formal degree in design from NIFT Delhi. It's usually an after-hours conversation or a fun encounter in the everyday that gets the sister duo to put their contrasting worlds together and create. Design for them was first art on canvas which then culminated into design in the form of dress making. "GRAINE is the intangible spirit that gives each one of us form and character. If we move against it, we get splinters, if we move towards it, it makes us sensitive towards the direction of life." The path led by the philosophy, at the studio, GRAINE birthed from crafting run of the mill using distinct elements. Elements that are a result of detailed research and fore thought which combined together create an identity native to GRAINE. On one hand is the brands responsibility - focusing on re-purposing discarded rubber tyres, while on the other, transforming traditional crafts, 'badla' and 'bakhiya' being one of the favourites; into contemporary motifs, composed in structured silhouettes, distinct forms and playful artworks. "Time gives us a different perspective to the same thing." In the past year, we've been able to gather our knowledge, understanding, resources and develop a mature sense of design and execution. Fortunately, in the year 2019, there have been enough opportunities for talent like us to impart a different definition to occasion wear today.
The Inspiration
We often hear that we are what we wear. She who embodies GRAINE has to be just one of us. She is one who is finding her gota but in her pleated skirt. In today's world, everything comes across as a disclaimer. We want our clothes to come across as a polite introduction of one's individual personality, their strength being defined by their choice of lifestyle moving from a domestic environment to the busy cubicles of work to a social lovable gathering in the evening. We would say, she is "consciously eclectic". At Lakme Fashion Week SR 2020, GRAINE threads around its fondness for an Indian barfi - A Millennials take on a traditional Indian barfi, defined by distinct form and texture. Drawing inspiration from this our design direction follows reflection, layering, form, linear play, Grain, absorb, distortion, appliqué. Fabrics like linen, twill, sheer organza create an interplay of texture on the runway. Watch out for the surface details, a result of detailed research and fore thought at the studio. The concept of GRAINE responsibility is embodied with the use of re-purposed rubber tyres that are meticulously cut and embroidered by zari artisans. The bakhiya stitch and mukaish tilla wires are conceptualised in Contemporary motifs and modern translations. Our embroideries marry our fabric in play composed in silhouettes that define the GRAINE woman as "consciously eclectic".
What's next
The year 2019 concluded with acclaiming Gen Next and the opening of our flagship store in the heart of New Delhi, at The Santushti Complex, showcasing our love for art and design together. Post Lakme Fashion Week SR 2020, GRAINE will be open to windows of the international market, making designs available globally and more importantly being widely available to the one who really matters – the GRAINE buyer. There will also be inclusion of more artisians and sub cultured crafts.