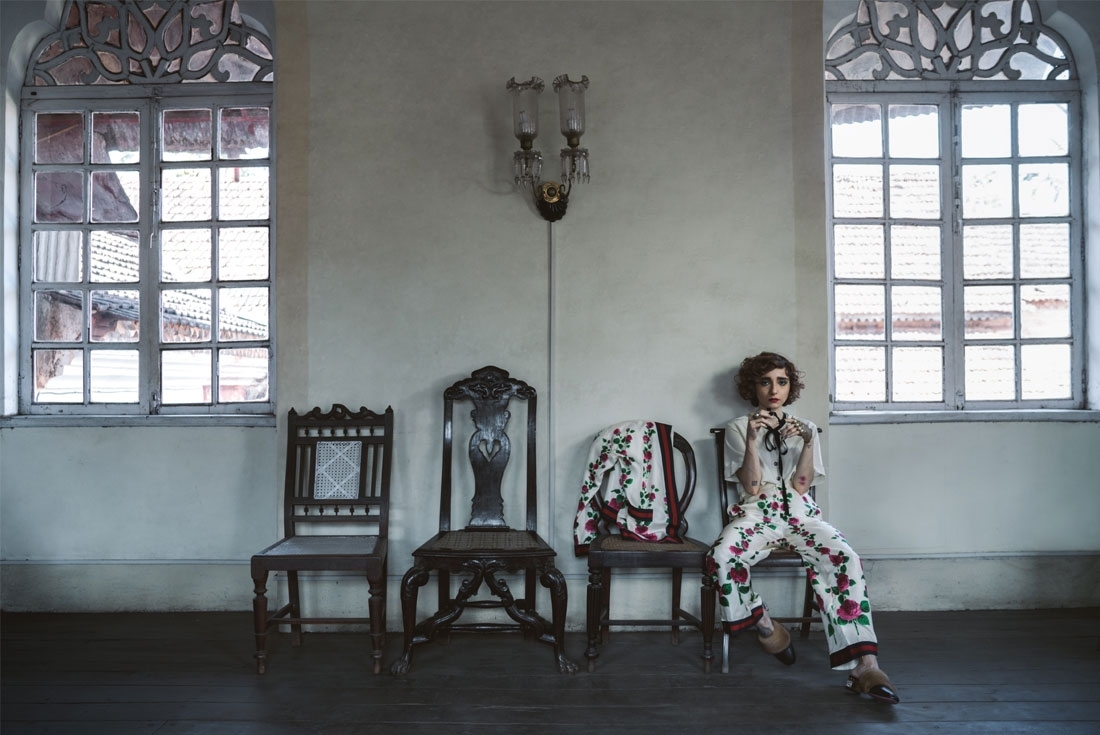 Photography Rema Chaudhary
Intrigued by life and driven by its eccentricities, she calls herself the "slowest" blogger out there and is not in a rush to be anywhere. Kayaan Contractor picked up her androgynous sensibilities with a touch of London underground, while she lived in Canada where she fell in love with menswear tailoring and silhouettes. She tells us exactly where her inspirations come from and where she wants to be next.


The Artist
Kayaan returned to Mumbai after being relocated to Toronto, with no intention of starting a blog and has not gone back ever since. This became her home again. 'I started styling while I was in Bombay, just to keep myself occupied and it was never about the money or followers'. Her fashion career took its first leap with her first styling project; on a film with Yashraj. It was when she collaborated with a friend on a fashion blog, where things picked up pace and she found her place in the styling scene. 'We started that blog without a thought of money or recognition, nothing, it was just like a hobby', she remembers. But little did she know, that her 'accidental' blog would escalate into her profession. Her sudden departure from the venture created a stir, but she was determined that she wanted to do things differently.

Thus after three years of soul searching, travelling and collecting more stories, Shapeshifter, Kayaan's real vision was born. 'This is what I wanted to do, I wanted to tell stories. I wanted to sell an experience. I wanted to keep it purely fashion. I scout for locations myself, even if it takes me a week. I wanted to stay away from just finding a pretty wall and posing against it', she remarks with a chuckle.

It is probably the perfectionist in her and the reason why she calls herself the 'slowest person to create content' among them all.
Her Inspiration
It was the time when Instagram was just picking up and all she wanted to do, even now, was to create beautiful pictures. 'I enjoy being this image maker', she states.

Kayaan isn't trying to make a point but is being herself when she says 'It is not about the followers or the numbers. I get very less work because of my numbers, and that's a shame because I'm ready to work tenfold and create some amazing imagery.'
Her inspiration comes from very different places and not just people or magazines. It usually comes from meticulous details such as just lighting miles away.


Her Work
'It has become a bad word to say blogger or influencer', she tells me with a heavy voice. With an effort to shed on that with a fresh perspective, she continued doing what she wasn't in the first place. Kayaan's approach to her image making isn't restricted to just styling. She has her say on makeup, hair, art direction and everything possible. Being an all round creating master, as she calls it, is her ultimate motivation. And putting together different teams for each project, is a result of her perfectionist trait but having fun with it is her style. 'I'm not a professional makeup or hair artist, so I don't want to call the shots but at the same time, I make suggestions and that's how we work together. It's always good to work cohesively where everyone is on the same page. That's how my teams form.'
Her Aesthetic
'It's not my aesthetic to be a sheep' was her opening statement. As a strong believer in the idea of selling experiences, her method of storytelling is organic. It is probably why even if you are in the same place as Kayaan, she would be looking at things with another perspective which reflect in her sense of style.
'I keep a check on quality of everything that I wear, I do like to dress up and I do like to wear good clothes. My style is very androgynous and carefree, more than anything. If somebody doesn't like my look, I don't get influenced by what they have to say. I'm that person.'

As any other fashion rookie, her sartorial flair from being very raw and shabby, has evolved into tasteful and confident. So she advises aspiring bloggers, 'To stay mentally strong and know exactly what you want, you can be on a budget and produce the most beautiful things.'

For someone who is still stuck in 2017 in her head, Kayaan hopes 2018 has great things in store for her and we only expect more beautiful images from her.


Text Garima Gupta


Image credits
All photographed by Rema Chaudhary