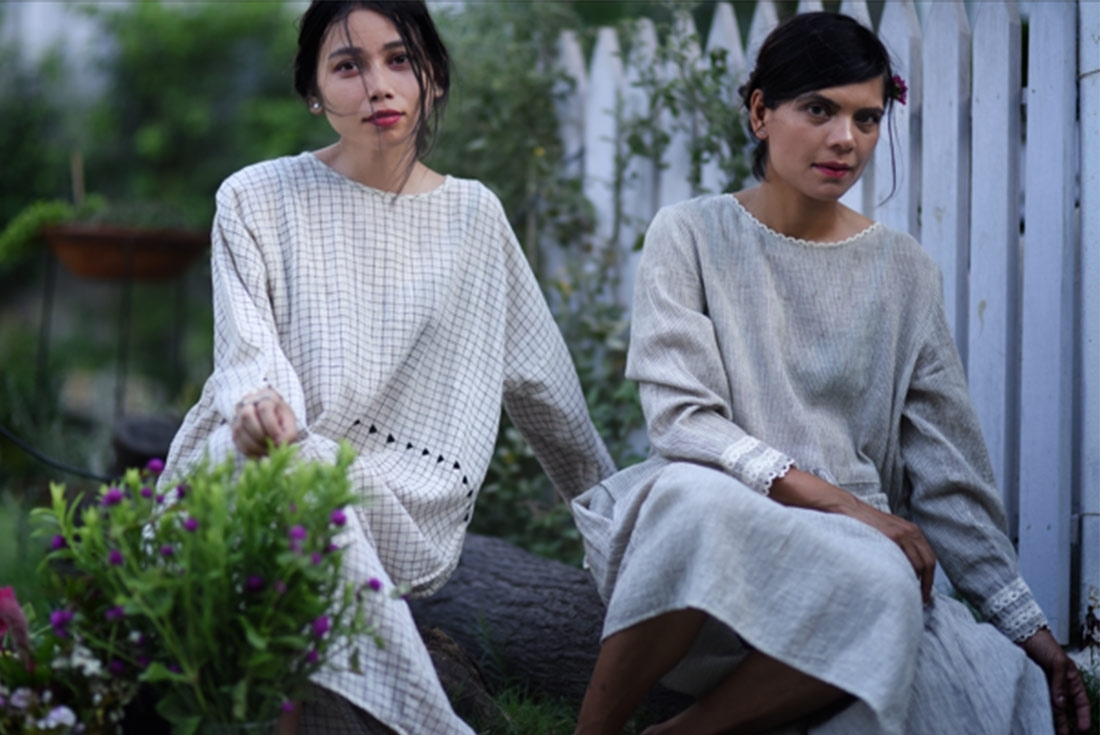 How does the thought of an entirely biodegradable jacket sound? Kinche, Payal Jaggi's label brings this idea to life. Kinche is divided into two sub labels, Kinche and Kaito. Kinche is a completely upcycled product while Kaito is purely organic. While the former comprises tailored and fitted clothing, the latter takes a more free-flowing approach with flowy dresses, tops and sarees. What's unique about the label is that each piece that it produces leaves zero carbon footprint on the environment. Whatever nature produces, it consumes. Payal embodies this philosophy effortlessly through the use of natural materials which would eventually dilute into the soil, doing more good than harm to the environment.

The Designer and the Label's inception
Payal has successfully delved into Fashion styling, Image consultancy and Visual merchandising gaining the much required experience which later helped her to start Kinche. Also, her love for travel contributed to the label's distinct aesthetic as a lot of the separates under Kaito are named after cities. Prior to starting the label, She worked as a Fashion stylist and a curator for 15 years. On asking her about what led to the inception of Kinche, she tells me, 'Nothing really, I wanted to wear a jacket, I couldn't find it in India. I wanted an eclectic jacket. I wanted a good, fitted jacket which will make me stand out, a statement piece. I love statement pieces. Again, my consideration for something being organic and environmentally friendly is always there' and thus, Kinche was born.

Materials
Kinche doesn't use a single synthetic product in the manufacturing process. Payal picks up kantha quilts on her travels across the country, as she is strictly working with Kantha presently. Each of these quilts is 30-40 years old.Pure metal zari is sourced from Bhutan. Vintage sarees are used for the lining. Brass buttons are sewed onto the garments. She sources fabrics from Jaipur, Dhaka and Bengal. Azo free and vegetable dyes are used for dyeing the fabrics, the water left after dyeing can be put back into the plants and would in turn, help the plants to grow.
Biodegradable Finishings
Each piece designed and made under Kinche and Kaito uses cotton thread for the finishings. Although not as strong as polyester, a double stitch works the charm. 'It is a lot of fun to explore sustainable fashion.Sourcing is a tough part but that doesn't mean you can't find the right materials. All Kaito buttons are made out of sea shells, they are not plastic' Payal enlightens me.

Slow Fashion and Sustainability
'Fast fashion, slow fashion, I don't believe in that. I think fashion should be democratic. As long as you are not damaging the environment for your happiness. We've already damaged it enough, right? We are already at a brink, what else is left? That's why whenever I feel like designing, I design. I don't like doing yearly collections. There is already too much being wasted. The whole idea is not to waste. The whole idea is not to dump fabric into the Sea. There are about 60-70 designers on the ramp who have about 30-40 pieces, so you are giving a choice of 18000 odd pieces to one person for summer when the summer only lasts for max 2-3 months, so I think its a waste of money and most importantly, I don't want to damage the environment for my passion' Payal tells me as she goes on talk about her love for the environment. I have always been environment conscious being a horticulturist because I know how chemicals seep into the soil and kill plants. Other than that I lived in USA for a long time. I have returned to India after 15 years. I have lived in Singapore, Australia and USA and people are more aware there and also the conscious effort there of separating your waste at home,staying conscious, not wasting water and efforts from the country motivated me. I started practicing that here, in fact in my house we don't use any chemical to clean we use vinegar'. Kinche also makes very good use of the fabric that is left after stitching the garments. The katran or the waste fabric collected after the stitching process is sewed into pillows and quilts and given to people living on the street.

Kinche Kaito Woman
'Strongly feminist, strongly aware of the women rights. I would prefer women who are aware not just about themselves but about the environment also and usually strong women. If the clothing can help women and validate their thinking, then why not?'
Evolution as an eco friendly designer
I have discovered a lot of new things. It is a learning process, I think more than giving to the environment, I am taking from the environment. I am learning a lot. I know that you can have a completely beautiful wardrobe without affecting the environment and we don't even think about. Clothing dump is the biggest dump in the world, by the way. I have learnt to buy less. I have learnt to buy key pieces. I have learnt to buy pieces which actually make me feel good rather than frivolously picking up stuff. I am sick and tired of nylon in the market. It also gives me static, I have a skin problem so that also motivated me to make skin friendly clothing which doesn't irritate my skin'

The Future
Kaito's new collection is going to be organic knits now. I like trying new things so I am going to try to get into knitwear. We are also working with organic sequins so that we don't add more plastic to the environment. They are are coloured with AZO free dyes which are completely chemical free dyes. they are less bright. They have zero plastic in them. They are completely metal. It will dump in the environment and the over 10-15 years it will get diluted unlike plastic which will take 300 years.

Other ventures
Apart from running Kinche, Payal also runs a cafe in Gurgaon Called Cafe Soul Garden, which is soon to be converted into a zero waste cafe.

Text Supriya Jain