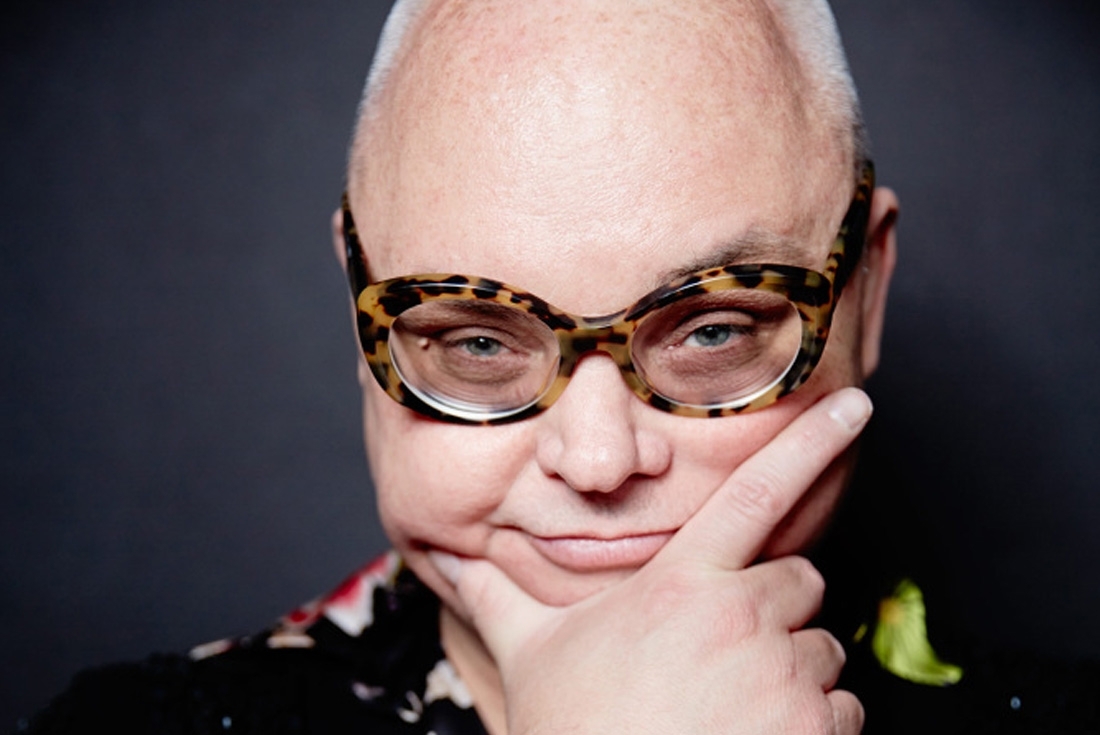 Interview of the Week
Image Courtesy of Mickey Boradman
Mr. Mickey

A fashion thinker, influencer, philanthropist, Editorial Director for the super cool Paper Magazine, Mickey Boardman is a very important figure in the fashion world; he is an authority who has used his power not only to talk up fashion but also to talk against any kind of wrongdoings in fashion. He loves what he does and does it pretty darn well, but at the same time he uses his skills to give back in his own way. Whether it's building schools and hospitals in India or his charity sales for various causes or helping empower women in Nepal, Mickey is more than a stylish maven who is one of the most photographed faces in New York. His artistic ingenuity goes beyond clothes, accessories and trends. He has always thought out of the box and while Parsons didn't quite get him, Paper embraced him and loved the progressive thinker that he was even while interning more than 25 years ago. He found a place where he felt belonged and decided to stay, and as they say, the rest is history…

When did your romance with fashion begin?
You know, it's one of those things that I don't remember, because it always existed. I was born in 1966, so the early 70s for me was a time that I became aware of anything including fashion. My mother, at that time, wanted an afro even though she was white yet she wanted a white lady afro. So she had a wig that she wore, and at the time I did not even realise that it was a wig, I got to know that much later. She dressed very glamorously, so she was one of the hip mothers. From the very beginning, she also dressed us like freaks I have to say. I remember my first day of school in first grade —she put me in maroon pants that had a pink fish pattern and then a light red button up shirt that had monkey heads on it. My brother and I always had long hair, people always thought I was a girl. We were in bell-bottom pants with turtlenecks that had big zip accents on it, so I felt we always dressed differently than a lot of people. And that was all thanks to our mother as she was not conservative. In terms of discovering fashion, from a very early age I loved looking at magazines, loved watching old movies and seeing the clothes in them.

What era of fashion have you been most intrigued by?
The 60s have always spoken to me. On some level, the 70s was just a hangover of the 60s in terms of fashion. The bourbon housewives like my mother embraced the crazier looks of the 60s. If I had to pick one era that always give me a thrill, it will have to be the late 60s—the supremes in Las Vegas. I love glamour, I love sequence and there is something about Las Vegas particularly in that era. Having said that, I still love Las Vegas today, it is wonderful, larger than life but at that time it was a sort of an insider thing then — it hadn't gone through the phase where they had to make it family friendly. It was about gambling, about hookers, about the rap pack. It was a really glamorous thing and people really dressed up. I am really attracted to anything where people have to dress up, whether it is fashion week or Academy awards. I am really old school like that. When my parents used to travel, they dressed up. Like my mother would wear pantyhose and high heels shoes—now people wear dirty sweatpants and carry their own pillow. I really do think that a big turn and huge change happened in America when women stopped wearing pantyhose because back in the day, if you were dressed up, you were wearing pantyhose. Women now wear bare legs, so all the old school idea of getting dressed up went out of the window with the pantyhose. Same goes for men, back in the day they wore hats and jackets to places. As I was born in 1966 I really don't remember being aware of the late 60s, but there is just something about that era that even till today, speaks to me and gives me a thrill.

"I always say, if everyone just did what they do and put their best skills to work in any way to make the world a better place, we can make a humongous difference. I am not laying down bricks at the schools. I am not a doctor curing diseases. I am a shopper and I am a fashion person, but I am using my skills to make a little difference."
You have been with Paper for over 25 years—can you tell us a little about working there?
While at Parsons, a friend of mine was friends with the managing editor of Paper, and asked me to intern. I loved the product so much, and they loved me. So I was in school seven days a week, where they did not get me and/or like me and then I would go be an intern at Paper, and they loved how I dressed crazy and they were so welcoming that it felt like home. I always say, if Paper was a plumbing supply store, I would be a plumber because I felt so welcome and so appreciated there that I loved it. My dream had always been to find a place where I felt belonged. And I was not a trained writer though I am a fun writer. I was not trained to be a photo editor or a fashion critic, but those were all the things that I learned from reading Paper, and working there and being under the wing of the founder, Kim Hastreiter. Once you have that, it's hard to go to another place where you have a job and one that you don't care about or doesn't feel like family.

What are some of the biggest changes you have encountered in the fashion world?
The biggest change has been the democratisation of fashion. When I first came to NY, I went to my first fashion show when I was still in Parsons, at the time it was a small thing. It was for industry insiders and for some of the friends of the designer. People didn't necessarily know about it. In America, a big change happened when fashion week started getting covered, award shows started getting covered. A huge change in all of that was when the late Joan Rivers started doing red carpet interviews at award shows. And suddenly, every event where celebrities were dressed up became news opportunity, so it was on E Entertainment and different channels. There were reporters on the red carpet to show what people wore, and similarly with fashion week, people knew it was happening and even those that had nothing to do with fashion were interested. They would come and stand outside the shows and try and get inside the show, and the shows got bigger.

How has Social Media affected Fashion?
Fashion particularly spiralled in the advent of the internet and social media, because now, you or I as magazine professionals have the same access to fashion shows as some kid in Bangalore who just goes on the internet and gets to see the Balenciaga show on live stream. Images from the fashion show get posted on Instagram and other social media even before the show has ended. Some people have embraced it, like Burberry recently invited writers like myself to come to the venue and got our photos taken, which they then gave us to tweet and post on Instagram. So they are people who have embraced it, like Olivia Rousteing from Balmain is a huge celebrity on Instagram, and that's part of the reason Balmain is such a success with young people, because they feel connected to the brand through Instagram, and Balmain also loves to dress and work with people who young people really care about, like Kim Kardashan, Bella Hadid and Kanye. So I think that the internet and social media has changed everything. Back in the day, when I went for Marc Jacobs' show, no one would really take pictures and one would see those images when magazines published them. Now, people see them immediately after the show if not during the show, because if you don't post them as soon as possible, then you have missed the boat as people have already seen them and are not interested anymore. This has really accelerated in a crazy way. This kind of accessibility and exposure has caused problems to the life span of fashion for retailers, because by the time something comes into the stores, you have already seen it all over. For example, you see the Marc Jacobs show, you fall in love with something you feel is so amazing it's a whole new direction in fashion, you see it all over social media, every editor posts it, every fashion lover also posts it, celebrities wear it at events. Magazines shoot it and by the time it is published, you have already fallen in love and fallen out of love with it. And by the time it's in the stores, it seems old news.

"You see a Marc Jacobs show, you fall in love with something, you see it all over social media, every editor posts it, every fashion lover posts it, celebs wear it at events. Magazines shoot it and by the time it is published, you have already fallen in and fallen out of love with it."
So how do you feel fashion brands are performing amidst the tech revolution and political and economical upheaval?
Right now, we are in a crazy time politically and economically. Talking about the changes in fashion technology, I think we are at a place where people just have to decide what works for them, and that's why there have been so many changes, with some designers showing men's and women's wear together. Some designers are doing 'see now buy now' fashion. So I think that's great, as fashion is not the most modern industry, the thinking can be very backward. I think this shake-up has been good because they are actually getting the fashion companies to think how to proceed, and what would work best for them. Also, a lot of designers are deciding to do shows. For me, one of the best fashion moments in the recent times was when Tom Ford decided not to do a show, and he did a video with Lady Gaga. The video with Nick Knight was amazing, I think they got so much bang for their buck and got so much more mileage then going for another runway show...and Tom Ford is top of the line and is glamorous and does amazing runway shows, but it's like everybody does runway shows. So to do that music video got so much attention with young people, especially with Lady Gaga fans, and I feel that was the best money he has ever spent. So hopefully we'll see people being more creative and innovative, rather than just doing what everyone needs to do.

Fashion is becoming genderless—what do you think has assisted to that change?
I love women's clothes. I have no gender identity issue. I am a man and happy to be a man. I identify with men, but I am gay. Women's clothes for me have much more fantasy, creative innovation, and there is something about them that stands out. At least in America, men like to dress to blend in whereas women like to stand out and look sexy and be colourful so that's really what women's clothes do. I have many friends—gay and straight males who appreciate fashion in that way. Clothes in America for men are usually very baggy and then there are men like Mick Jagger who is straight, but likes to wear tight clothes. They wear women's clothes and it's not a gender identification thing, it's not a sexual thing necessarily, it's just wanting to look a certain way. A huge part is also that we are in a place in the world where issues of gender identity have made huge strides. Back in the day, when I was younger, you would never see a trans person, or you would never see them being given respect, if you saw them on television they were serial killers or some horrible degenerate psychopath, and now you see people like Hari Nef who have been on covers and walked the runway. There are boys in cosmetic ads, there is a boy who has a contract with Cover Girl. So for me those kinds of things are much more important than any kind of scientific or sociological advancement. A boy wearing makeup for a commercial like Cover Girl alongside Kate Perry, the biggest pop star in the world—that is huge progress. Now so many people are more fluid, they are attracted to the same gender, they wear both gender clothes. There is no gender inherent in a piece of clothing.

Let's talk about India and your love for it—what is it about the country that pulls you in?
There is something magical about India. India, to me, is a country of extremes; it's an assault on all your senses, good or bad. It's magic, it's maddening. My whole life, I never had a secret longing to go to India. But when I did get an opportunity to go to Mumbai for Fashion Week, the minute I stepped out of the plane, I knew instantly that this is the place. It feels like the future, you can see the potential. It's one of the few countries that I feel has a different approach to everything. You have a national dress like the sari—in Western countries we all dress the same. The colours, the smells, the food—I am vegetarian and vegetarianism is very much respected there, and everything is so big, so crazy and so special—it's kind of hard to put into words.
"India is an assault on all your senses, good or bad. It's magic, it's maddening. I never had a longing to go to India, but when I got an opportunity to go to Mumbai for Fashion Week, the minute I stepped out of the plane, I knew instantly this is the place."
What are your thoughts on Indian Fashion?
The thing that I find interesting about Indian Fashion is that you have someone like the incredible Sabyasachi who is doing things that really grips India and Western fashion. The same way, I love Miuniku, the sisters who make clothes that you won't even know are Indian—they speak to the West, and I know many editors who love their line and shoot it. So for me, that's the quandary of the Indian Fashion World, where you dress the domestic market which is huge and lucrative, or you go outside of it. Here, there are people like Naeem Khan, Bibhu Mohapatra and Manish Arora, who have done a great job of spanning the two.

You are also involved in charities and doing a lot of work in India. Can you tell us a little about that?
I work with a bunch of charities, but one that I closely work with is called Citta, I think it means intelligent and illuminated and many other things. An American guy called Michael Daube started it. Basically, he found a drawing in the garbage 25 years ago that he though looked interesting, and it happened to be a David Hockney drawing of fashion designer Ossie Clark. Michael has had an incredible life, travelled the world, and early in life and he had been a volunteer at Mother Teresa's hospital in Calcutta. So when he found the drawing, he took it to Sotheby's and sold it for 18,000 dollars, which was way more than what it is now. So he took that money and went to Mother Teresa and asked her what he could do with it, how he could utilise that money for a good cause, and Mother Teresa said build a hospital in Orissa now Odisha. So he built a hospital in a town called Juanga, which is about a 90-minute drive from Bhubaneswar, and since then he has done 12 or more projects in India and Nepal that span schools, hospitals, clinics and women centres, and the latest project is in Jaisalmer. The Rajmata of Jaisalmer donated an old fort outside of Jaisalmer to the organisation, so we are raising money to restore it and build a girl's school and a women's centre to teach the local women of Thar Desert to make handicrafts that will be sold in the gift shop of the restored fort. So it's about empowering women, educating children, and it's about helping world communities develop.

I had known Michael for years and thought he was a handsome hipster as he does many things—he is an artist, he has made costumes for films, he works with a lot of interesting creative people. I am also a shopaholic and needed to clean my closets, so I had about 40 garbage bags of clothes that I gave to a company called Housing Works that has thrift stores all over that sell clothing, furniture and books to benefit people with HIV and Aids. I decided to have a charity sale and in between those sales I went to India for the first time, and fell in love with it. So I thought it'll be great to find a charity that does work, in India and someone suggested why don't I do a fund raiser for Michael's charity for the hospital. That was about eight years ago, and since then we have done a bunch of sales, a few cocktail parties, and we have done in-store party things and we have raised 250,000 dollars which is a fortune to me. We have also provided healthcare to the women who work at the centre. So when I come to India, it's a combination of fun and visiting places I have not been, and then visiting Juanga to see the schools and clinics, and Jaisalmer to see the project there. It's a combination of loving India and trying to do something that will help the community. Because I am a shopaholic, selling things gives me the same thrill as buying things so I always say, if everyone just did what they do and put their best skills to work in any way to make the world a better place, we can make a humongous difference. I am not laying down bricks at the schools. I am not a doctor curing diseases. I am a shopper and I am a fashion person, but I am using my skills to make a little difference.

Lastly as a fashion influencer, what kind of responsibility do you shoulder?
I think one thing we have learnt in this particular time— because of Trump, because of Brexit, because of political upheaval in the West—is that we are fashion people but at the same time we are people, and I think everyone has a responsibility to speak up when they see injustice, and to support and speak up in favour of the environment. I think people in the past have always assumed that fashion people are shallow and only care about accessories and don't care about the environment. But we do see [particularly with the younger generation] where the clothes come from— are they made in a factory in Bangladesh where people are treated poorly, where their lives are put at risk, where children are working rather than going to school. I think this kind of consciousness does resonate amongst the millennial; however I don't know how much of that translates, as kids still want to shop at Zara and H&M. They want to shop at fast fashion places where the clothes are usually made in Bangladesh. But people have woken up and expect companies to be ethical, to be responsible, and be transparent about how they do things. I don't wear any fur, any leather, and earlier I was a bit hesitant to comment on designers that would use fur but now I don't shy away and speak up against any kind of wrongdoing in the fashion world.


Text Shruti Kapur Malhotra