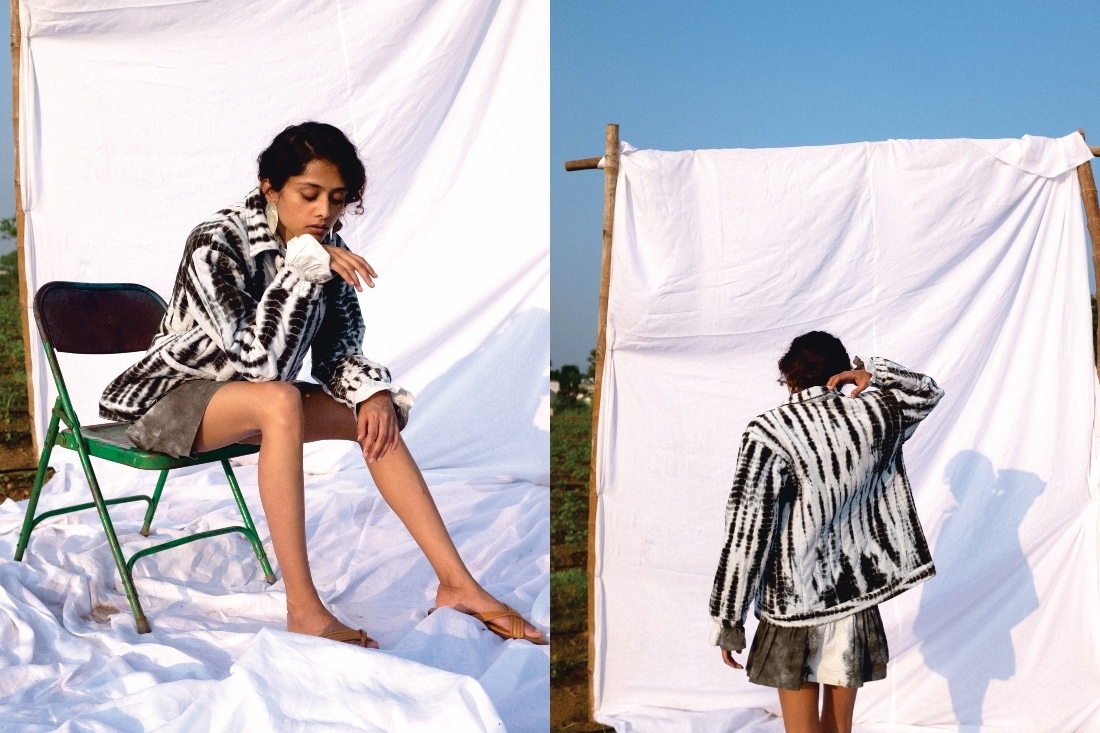 The crisis of clothes is real. The cost of fashion isn't just the price tag dangling off the rack full of clothes decorated neatly together. The true cost is determined behind the scenes, in little dilapidated sweatshops which more often than not, house employees far more than their capacity. It is determined at the farms where regular techniques take up thousands of litres of water to produce just some cotton fabric. It is determined at processing units where chemicals from dyes are released into natural water bodies, rendering them unfit for use and thus destabilising the natural ecology. It is determined by the weaver who gives it her all to create a unique piece yet her labour goes hugely unrecognised.
The creation of our clothes is a repetitive cycle that only strips bare the environment, without replenishing what we constantly take away. Inspired by a Sanskrit word which means essence of nature, Oshadi is a contemporary label that takes into account all that they're borrowing from nature for constructing our clothes and gives back with equal fervour — creating a harmonious relation between the local community that creates and their natural surroundings.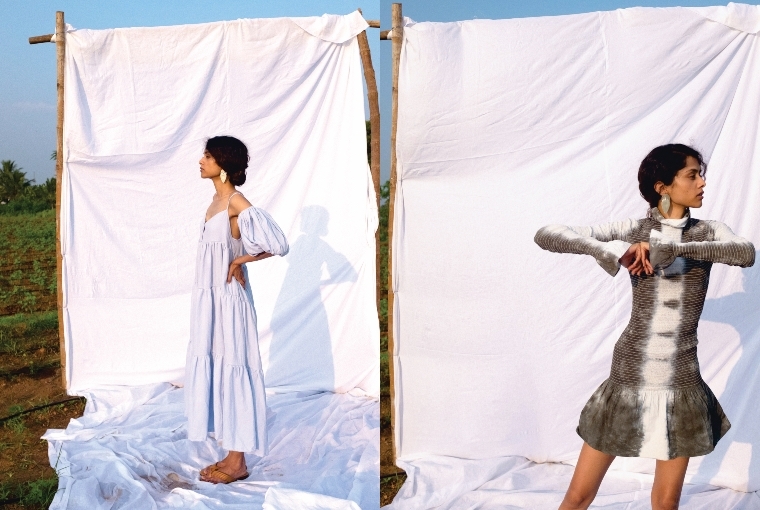 Founder Nishanth Chopra explains to us in detail the kind of regenerative farming the label indulges in. 'We formed a direct connection with each hand and process intertwined in the textile supply chain. At our cotton farm in South India, we are working to regenerate — the native species of plants and animals, ground water by saving and using rain fed water for irrigation and restoring the natural cycle that existed long ago, which was disturbed by our race for excess. Alongside the farm, we are also working to recreate all processes including ginning, spinning, dyeing and hand weaving to function in a more humane and thoughtful way.'
Sustainability may be the new magic word to market fashion but we can never know if it is truly benefiting the environment or us. Regenerative farming simply means to eliminate all forms of chemicals and farm strategically in a manner that strengthens the surrounding ecology. It replenishes the soil and other crops being grown. One aspect of this includes the ginning cotton. This variety of theirs is created with a compost heap that is filled with approximately 15 tons of waste from food processing units, nutritious weed plants, vermicast and cow dung. What is then created from these composts is used as an ingredient for their regenerative cotton creme.
Handwoven Merino Tweed in the making
Nishanth Chopra grew up surrounded by textiles, he remembers playing in heaps of soft fabric as a child — the business ran in his family. It was only obvious for him to be interested in the field. He considers himself to be a curator of materials, people and processes that work in symmetry with nature. His journey with Oshadi began with Richard Malone, a design graduate from Central Saint Martins. Richard designs the clothes whereas Nishanth is the one who overlooks the entire agricultural process. He adds, 'We began by looking at the extractive fashion supply chain and designing a new old way of working with and within the local community and nature.' He is further deeply fascinated by the interconnectedness between fashion and agriculture, a trope commonly overlooked by many. It is something that drives the practice at their label. Nishanth continues to educate himself more about the ecosystem and the cycle of how a garment comes to be, seed to sew as they call it, which then translates into their attempts to recreate the supply chain from ground up, with fair and modern practices.
The Oshadi creative process is lucid. They believe in being truly organic. For them it's of utmost importance to work with all the artisans and farmers and not alienate them any more than they already are. A collection is put together keeping in mind the diverse skills and techniques possessed by the artisans, they're all an equal part of the entire process.
Kuppuswamy and Eswari at the farm
The idea behind sustainable fashion may not be as esoteric as it was a few years ago. Pandemic or no pandemic, the industry today is on the verge of choking because of fast fashion. Despite the grave situation we find ourselves in, consumerism is rampant. Ideologically, shoppers may claim to accept the need for slower fashion and lesser buying, but ironically, shopping patterns account for no real change. Reports suggest an alarming spike in the profits of Zara India for the financial year 2019-2020. Talking about combating the pressure of competing with fast fashion, Nishanth elucidates, 'We feel no pressure from things beyond our control — we play our part to contribute what we can. Of course our work has been a result of the manic caused in the environment, and lives of people who work within the industry, but I think we can only do what we can as a brand. In order for a real change to happen, every individual in the industry needs to play their part in all fairness and conscience.'
Things are looking up for team
Oshadi
. They were moving studios just before the lockdown. The pause in between gave them a hiatus from the ever demanding cycle of fashion and textiles. This meant acquainting themselves more with agricultural practices, understanding the importance of soil within the process and the deeper meaning attached to living in the community. Before signing of, talking about the future of fashion and summing up the label's philosophy, Nishanth adds, 'We are unsure what the new normal is for fashion, but for us it has always been a new normal since day one — working to rewrite the conventional systems of the traditional fashion and textile supply chain.'