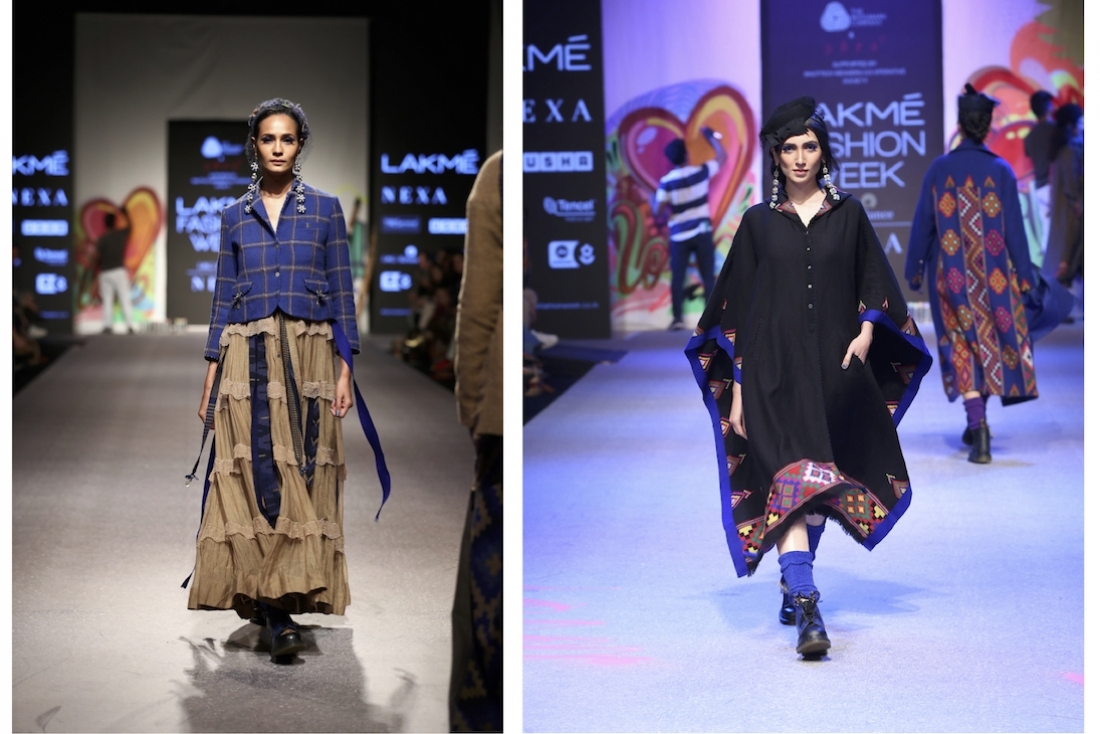 Pero x The Woolmark Company
Global, traditional and eclectic is how Aneeth Arora, the creative mastermind behind Péro describes her Fall/Winter collection that recently made its debut at Good Earth in New Delhi. The dressmaker has always believed in creating a narrative that evokes nostalgia for our traditional crafts but also in playing around with the textiles in a manner that lends the garments a contemporary flavour. The collections that emerge are reminiscent of indigenous cultures but reflect the mindset of modernity. We had a chat with Arora about how her collaboration with Woolmark came out to be, sustainable influences for this season and much more. Here's what she had to say:

What inspired the juxtaposition between wool from Australia and the hand looms of Himachal Pradesh? One usually doesn't ponder upon Kullu and Australia in the same train of thought.
We've been working with Australian merino since the past 10 years. We are one of the very few Indian brands who have been using pure wool with such dedication. Woolmark discovered the same and approached us for a collaboration. All these years we were developing our wool in Kullu itself but we weren't working with traditional weaves rather utilising the skill of the crafts people there and innovating weaves with the local talent. When our collaboration with Woolmark came about they were already involved with Bhuttico and wanted us to work with them as well. Bhuttico is known for its traditional weaves and Pattus, we thought it was a good opportunity for us as well since we have always worked closely with traditional crafts. We intended to identify the motives that they had and work around those with them. That is how the collaboration started.
This collection has collaborations with various artists such as Zake, Epok amongst others to recreate the streets. Was there a certain intention you worked with while conceptualising?
This conceptualisation of the streets was also because Woolmark wanted us to spread the message about wool and popularise it. They wanted us to elaborate on its qualities since the Indian market is quite unaware and hesitant to use the material for all seasons. We figured preaching wouldn't help in getting the message across, it's easier to introduce an element of fun for a message to resonate with the audience. Péro is a global brand and the same clothes are in shops in Paris as well. Our approach for showcasing the collection was meant to be global, we had a theme that was in sync with India as well as overseas. While our message of promoting wool with the Bhuttico crafts people was quite serious our jovial take on it hopefully left a positive impact on the audience with regards to the usage of wool.
The label has always indulged in sustainable practices. Tell me a bit more about the tarpaulin up cycling. How did the idea strike with such a banal object?
While I was developing wool in Kullu, it was raining at the time. Also our colour palette at the initial stages was fairly bland, it was just khakis and indigos. The only vibrant aspect was the geometric motif from the traditional shawls in Kullu. I happened to observe a few people using these blue plastic bags to cover themselves, further they had these tabs on the sheds of their roofs. It then struck me that it could be a good accent colour for the season. We worked on adding the electric blue as an accent colour for wool as well. We further also thought of adding the tarpaulin that people used on their roof as one off pieces for the show, we added a raincoat and a skirt made of it. The inspiration began with the local people and their everyday usage of the material, we wished to promote it and hence made it a part of the show.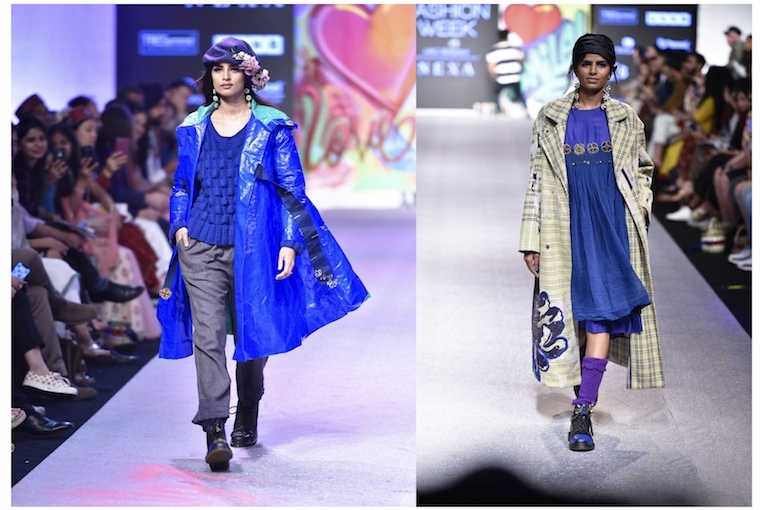 What is it that excites you as a creative individual while working with Indian textiles?
I feel that the possibilities are endless and that is always exciting. People always ask us if we fear running out of inspiration due to our constant work with Indian textiles. But I feel the more we work with these, the permutations and combinations are so many that you're always looking forward to innovating with the same set of people. It furthers feels good to challenge our own selves and the crafts people to keep being able to create newer things with the same set of skills. While we don't tamper with the traditions or the indigenous technique but we do experiment with colour, scales. There's also this cross cultural influence that makes working with Indian textiles exhilarating. There's so much happening in every region in India, there's so much possible within the cluster itself.
Your collections usually are an amalgamation of something old and something new. Is this how you envision the future of fashion to be in the country? Staying connected to history and roots?
It's also because we're drawing a lot from traditional textiles and folkloric costumes and clothing. There's already this angle of using something that is old, it needn't just be about traditional crafts but also the inspiration and the aspect of nostalgia. If a person is very nostalgic about what they're seeing, it connects very well with them. There are two ways with which we always recreate the old. Firstly we work with the age old crafts prevalent in the subcontinent, secondly the inspiration we take in terms of styling or in terms of the themes that we put together to showcase our collections. We consciously keep the old school charm alive with what we're doing and I think this is the future because we're all moving towards handmade goods and garments gradually and that is how our old traditions are coming back. So I think the future is also about mixing the old with the modern and having a global twist to it.

Text Unnati Saini