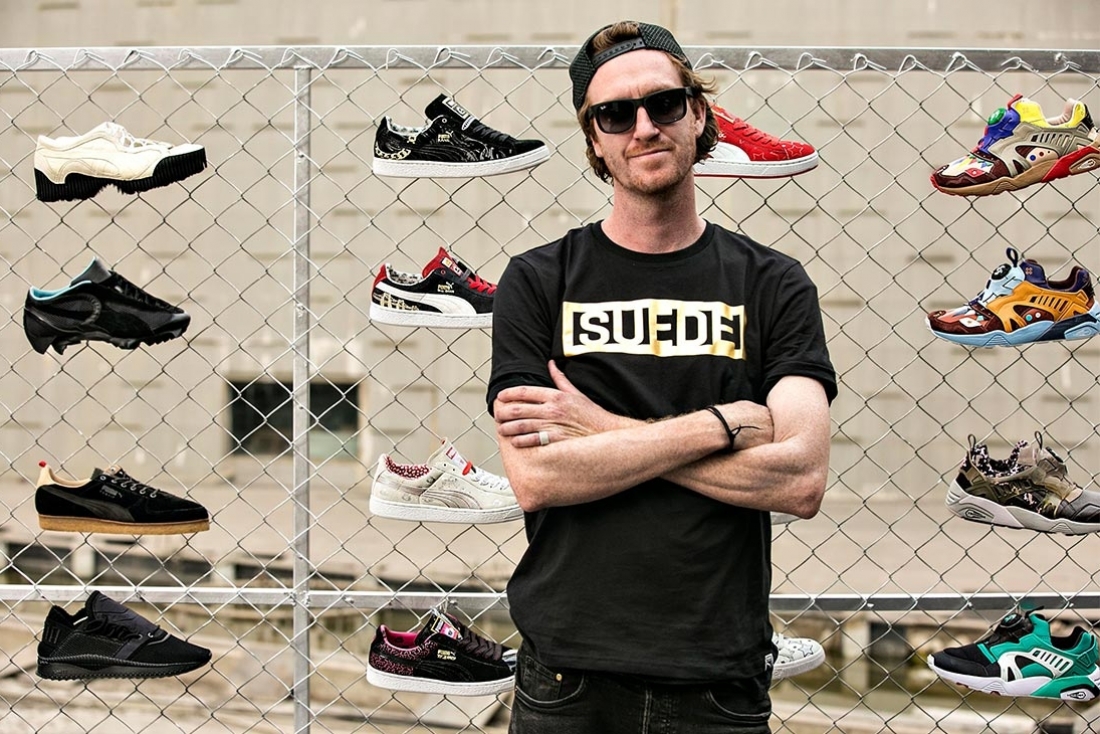 Peter Fahey
Sneaker Pimps
The world's largest travelling sneaker exhibit has toured the world over 14 times, produced more than 500 shows in over 63 cities, which has made it one of the most famous cultural events for urban youth worldwide. Founded in 2002 in Sydney, Australia by Peter Fahey, Sneaker Pimps showcases rare, vintage and limited edition sneakers wrapped in an immersive experience. Peter, a skaterhead by heart shares what drew to him to India for his next big sneaker party.

The sneaker connoisseur and collector, Peter started spending his days on a skateboard from the young age of about ten. 'Naturally, through skateboarding you kind of wear out sneakers very fast because the boards ruin them. So from burning them out so soon, I was always going through sneakers stores looking for shoes to skateboard in. From there it became an obsession. So I ended up with a whole bunch of sneakers not knowing what to do.' As Peter found himself working in the events industry, the idea of a travelling sneaker exhibit struck him. He started out with displaying shoes for friends and family, and invited his sneakerhead friends to do the same. 'But the show is much more than that', he adds. He brought in fashion, art and music as well.

Peter first attempted to bring the show to India back in 2006. He says, 'Back then, due to recoil in the market, I didn't see much of a scene here. So we waited and waited. Three years ago, we started getting emails and proposals from India, to bring the event here. I decided to take a real good look here because I found out that the sneaker culture in India is on the rise. So now is the perfect time.' Sneaker Pimps has collaborated with Puma to celebrate fifty years of the iconic suede, and makes its debut Indian shows in Pune and Delhi in March 2018.

Peter sees the present as an exciting opportunity to bring this unique collection of kicks here. He expects a ton of young enthusiasm and sneaker fanatics to witness live the assortment that they have only seen on the internet. 'In the next five years, the scene will be vast here and retail will be more specific. The population is ginormous and the excitement is real. I have met ten sneaker collectors in the last two weeks and it's promising. The scene boiling right now and it will explode soon,' he shares eagerly.
PUMAxSneakerPimps in Pune, India
For what to expect in the upcoming shows he just wants to break new ground. His ideology is to 'Coming to countries where sneaker culture is residing and on the brink of developing and kind of showing what every country is going through and what we feel the sneaker culture is. And also mix in a local environment to it.'
PUMAxSneakerPimps in Pune, India
Some of Peter's previous sneaker events have featured the works of artists such as graffiti legend street artist and illustrator Futura, Dave White, Stash, Mister Cartoon and Shepard Fairey, as well as live skate demos with international pro teams. Plus, a collection of sneaker inspired art-work, fashion and photography.
In honour of The Suede's 50th year, Puma is dropping 50 exclusive kicks in collaboration with legends of the music world, the streets, fashion industry and pop culture through 2018 in the country.
After the very successful Pune edition, Sneaker Pimps is headed to Delhi on 18th March.

All about Sneaker Pimps here.

Text Garima Gupta