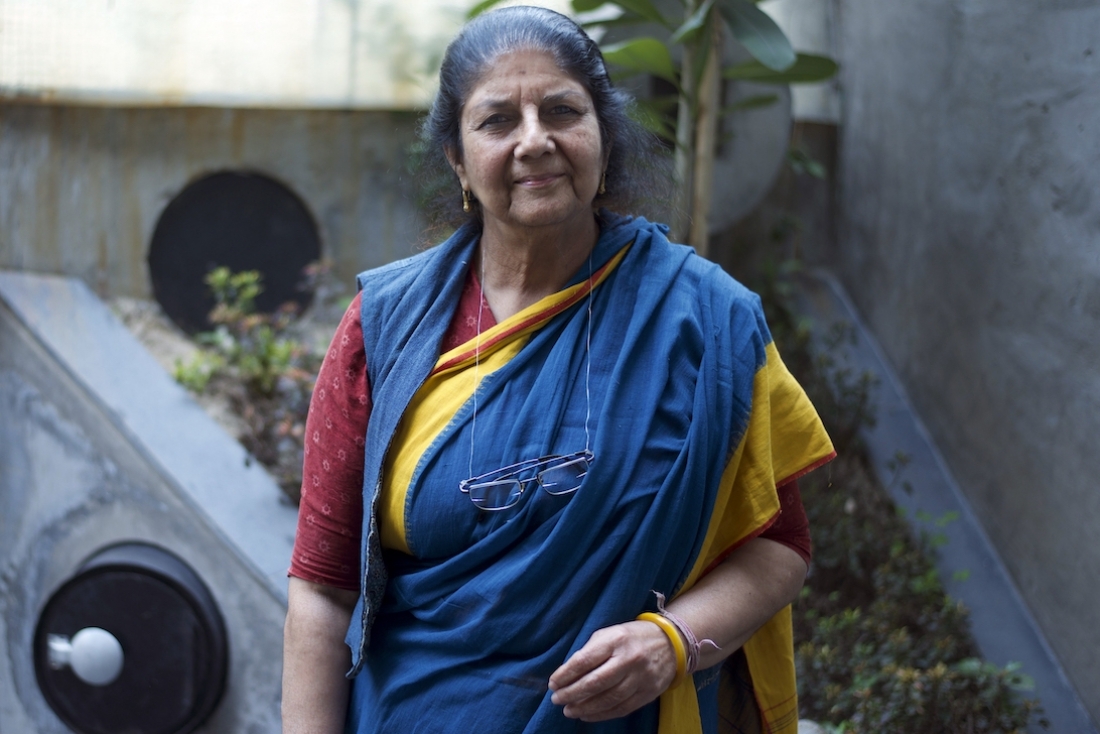 Photography: Sharad Shrivastav
The Sari Professor at India Fashion Week
Rta Kapur Chishti
Perhaps there's no better way to describe Rta Kapur Chishti, whose mind seems to be flowing multifariously when we meet her. The sari workshop at her Sari School is about to begin and she has many things on her mind—are we missing one person; who's that on call; ah there's this interview to do, a photo-shoot; is the presentation ready—her staff buzzes about to assist, there's so much to juggle. Which, of course, she does as effortlessly as she manages her dhoti-drape sari—the timeless garment that she has inarguably mastered through decades of research, travel, weaver engagement, documentation, entrepreneurship and outreach. The sari, around which revolves her life's work, is a design marvel with infinite possibilities, a work of art, a fashion statement forever.

As she gets ready to hold a special session at the India Fashion Week, we are reminded of these lines from her book, Saris of India...
The sari is not only known by different names [Lugda, Dhoti, Pata, Seere, Sadlo, Kapad] in various parts of the country, it is also conceived differently in form and structure, in usage and custom. It is a stretch of fabric long or short, wide or narrow, according to the way in which it is worn.

Despite a hundred and eight variations of the sari drape and wearing styles, there is a personal variant always possible. This distinguishes the sari as the most unique and versatile of garments. In constant play with the body, in stillness and in movement, allowing for adjustments at all times. Be it the vigour of working in the fields or squatting on the kitchen floor, it transforms itself according to need and function. In the manner of her carrying the sari, the wearer reveals her nature and demeanour. The bold and the shy, the silent but inquisitive, the athletic yet graceful, all manner of women hold their saris with characteristic ease, almost as if it were their second skin and not a textile extraneous to themselves. The personal pleasure of draping the unstitched, fluid garment over and around the body, adjusting it with little tucks and pulls to suit one's own particular form, is sensuous. It creates a picture of flowing grace that conceals as much as it reveals…'.
I try to understand the authority that is Chishti, and why she believes that the sari is a past with the possibility of a very fashionable future.
What is your first memory of the woven form and how did it set you on your journey?
A process of awareness began with the Master Weavers exhibition in 1982 and continued through a series of six subsequent exhibitions initiated by Martand Singh and supported by the government of India which attempted to discover whether a level of excellence was still possible in the tradition of hand-crafted textiles. It led to the recognition of a handful of craftsmen in different parts of the country, who were still capable of giving us a glimpse of the best of their inherited skills. They gave us the confidence to move beyond the museum masterpieces, to look for what "could be" achieved today. Though the experience of searching, finding and attempting to revitalise within a contemporary context was exhilarating in itself, it left one with a feeling of standing on thin ice. How little we know about the craftsman, his capabilities and the dire circumstances out of which design emerges. What exactly is possible within a specific area of skill? How can the range of handloom weaving, printing and dyeing be developed further without adequate knowledge of its specific capabilities, capacities, potential strength and limitations? This growing awareness and the realisation that too much had already been allowed to die, out of sheer neglect, combined with a final assault of powerlooms and mills during the second half of the 20th century, brought a sense of urgency to my documentation project [1001 Saris of India]. . And then the desire to travel, it was my form of learning about the country through textiles.
In fact, you can catch a glimpse of the initial Vishwakarma series at A Search In Five Directions, an exhibition that is going on at the National Crafts Museum up till 31st March. Martand Singh, who headed that project and also the sari project, said that it will stay with us at least 50 years and we should develop it further. Thankfully there has been a resurgence of interest in the last 5-8 years.
"Women once rode horses in saris in Jhansi in Uttar Pradesh and even before our eyes, swam in rivers and ponds in their saris tucked between the legs, much like an unstitched pair of shorts or draped longer in pantaloon- like fashion, in places as far apart as Shajapur in Madhya Pradesh and Kothapalli in Andhra Pradesh."
What do you think is the cause of this resurgence?
We are a 10-month predominantly warm to hot climate country and although it is a fast disappearing garment for everyday wear, the sari will survive as special occasion wear. Indian women today prefer stitched garments and western wear of easy-to-maintain wash-and-wear fabrics. Yet, they once rode horses in saris in Jhansi in Uttar Pradesh and even before our eyes, swam in rivers and ponds in their saris tucked between the legs, much like an unstitched pair of shorts or draped longer in pantaloon- like fashion, in places as far apart as Shajapur in Madhya Pradesh and Kothapalli in Andhra Pradesh. If the principles of these wearing styles were put into practice, many more could possibly be evolved for contemporary needs. Interestingly, the sari is asserting a growing presence in the boardrooms of multinational corporate organisations, in the law chambers and courts and among new power professionals who are conscious of their identity and wish to draw strength from it.
What, according to you, is the relationship between Craft and Fashion? What is the biggest challenge in establishing this connection of the traditional with the contemporary?
For me, primarily it is to do with skills that are replicated on machines. Machines can do practically everything but they can do it in a certain quantum, and if you want something that has greater variation of design, or texture, you will need to use something that will go slower. And handloom work is ideal for that. In fact, big companies should invest in R&D toward that direction. If they had the imagination they could use this sector beneficially.
The problem is that people don't want the headache of working with an artisan who is working on a different time frame, working in a different circumstance; he is not working in an urban milieu and it requires effort to communicate. It requires a language of communication physically and a desire to communicate which is also lacking. People want it the easy way out. They want to go to Nehru Place and buy fabrics and just cut them up and make them into garments. That does not make fashion. People who work in the fashion industry internationally work on fabric years ahead of when they work on fashion. They create their own fabrics to make what they want of it. The kind of look it has to have, the kind of fall, the kind of drape, the cleanliness. You have to develop the base fabric to get the end product.
Your book—Saris of India, Tradition and Beyond—brings into perspective India's most defining garment with an insight into all the textile patterns, draping styles, lives of the weavers and their families and how the industry has changed. What went into the research and writing?
This book has emerged from travel based research conducted over three-and-a-half months in each state featured in the book, except Goa and Kerala. Each state was initially mapped out according to weaver/printer settlements and products, from gazettes and other records that went back a hundred years. The states were covered by my colleague Amba Sanyal & I together or individually with the respective research teams in the states. We travelled with the teams at least for the initial six to eight districts, keeping diaries and swapping them with team members every night, just as we had kept them on our very first tour in 1984. The period of field travel is between 1984 to 1991 primarily, though Andhra Pradesh was covered in 1997, and I had to undertake short verification tours in 2002-03. Looking for what was traditionally woven in the area on the scale of living memory, exploring design directories & fabric structures with the oldest weavers in large gatherings of thirty to sixty weavers in a village. This helped to initiate our researchers into the hectic process of listening, discussing, writing, traveling and photographing at the pace of two to three villages, ten to twelve hours traversing approximately a hundred kilometers each day. Working on this project, has been a rewarding experience, even though it has meant much more work for us, with the teams spending over a year or more putting together the material on each state.
Tell me about your labels, Taanbaan and AnandaKhadi.
We got into hand-spinning but getting the right raw material meant getting into cultivation. So we got into the process of cultivating our own yarn to get the raw material that we wanted every year, procuring it, working on the making of it in terms of the whole process of cleaning, carding, combing, reeling… cottons to silks and everything else. Basically our label is about cultivation to end product, whether it's a wearable garment, whether it is home furnishings.
The sari, in an iconic way, stands for the seamlessness of fashion across a country and a subcontinent. What does it personally mean to you?
It means something that can be recreated constantly. You don't have to wear it as it was intended to be worn. It is not a structured garment and therefore the stitched sari does not interest me because it is already structured, so I can't change it. But I can change a sari every day and that's the way it is meant to be worn. Why lose possibility, why structure a garment!
"The process of creating a sari has to be made sustainable. Fashion has to make it viable for people who are producing it, otherwise why will they do it?"
What is the most misunderstood thing about the sari?
That it is difficult to wear, that it is cumbersome. Do you think it is easy wearing a dress? I don't think so! Have you seen on television how people have to keep their legs crossed when they wear a dress and even when it's long, how they have to keep their legs a certain way because if you keep them apart you are done off! It is not easy to maneuver like the sari is. That is also apart from the fact that our legs are not our greatest assets. On the other hand, revealing the feet, the ankles and toes is great…people often look at the feet before they look at your face! Therefore the toe rings, therefore the anklets, therefore those beautiful accessories for the feet.
As someone who has seen the process from the very inception of its weave all the way to ramp and retail, what loopholes do you see in the journey of the Sari?
This whole problem is, why should it cost so much? Because five or ten people will be involved in the whole cultivation-to-end-product cycle. Before the Khadi exhibition, people did not calculate the wages of spinners or cost of cleaning, combing, carding. And it generally takes a gestation of 3-6 months before the garment is a finished piece.
What I think is that the system should be so viable that the spinner thinks it is better to stay in the shade of her home and work rather than go live in a city slum and become household help. Weavers are losing a high-skill livelihood without alternative options, facing starvation-like conditions and joining the ranks of the unskilled. The process of creating a sari has to be made sustainable. Fashion has to make it viable for people who are producing it, otherwise why will they do it? They won't want that livelihood just because you love wearing a sari! Why should they? If your children can become engineers and doctors so can theirs. I have weavers whose daughters have become engineers so that's lovely but what I'm saying is, if there was a way they could get a good earning from the village, their children would also consider taking forward this rich legacy of ours. They do not have to spin all day, they could spin four or five hours a day, much like meditation. Why do I sit in puja or prayer for one hour? It is a form of meditation; it is a form of total being with yourself. And being in silence which we have lost. Everybody is yapping all the time. There's the phone, media… I'm not a backward looking person but at the end of the day our life has to be humanly elevating. Weaving is meditation too. Consider this, if you perceive your work as drudgery and I relieve you of the drudgery, what is the use of sitting in front of a television box?! Then you do something elevating that the human mind and human capability is supposed to do! That is what this whole process is worth, we need to give back to the artisans this respect, this opportunity if the sari must play its role as an agent of change.
Text Soumya Mukerji